Written by Dave Pankew // Photos By: www.knfilters.com | 18 March 2010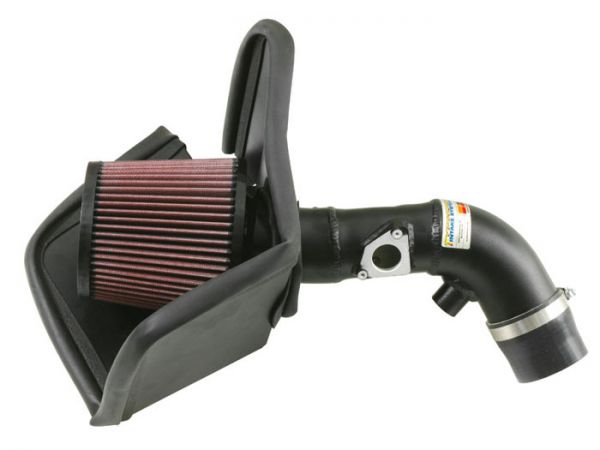 If you are in the tuning game for any length of time, chances are you have owned a K&N filter at some point over the years. The legendary filtration company has literally built something for everything with a motor. Its slogan couldn't be more blunt: "If we can't increase a vehicles horsepower, we won't build a system for it." Its mission statement is most evident in the dramatic improvements over stock airboxes. For example, the last generation Mustang SVT cranked out an extra 30whp on the dyno and the practical MazdaSpeed3 put down another 23whp from its turbo-4 on the rollers. Regardless of what type of car you drive, K&N has an application for it, and quite often more than one style is available.
A case in point is the Honda S2000, a car that has been popular to tune especially with prices dipping well below $10,000. While the first version of the car pushed an industry leading 240 hp out of a 2.0L, the 2.2L featured a broader and more responsive torque curve but both versions still left power on the table. If you have seen its monstrosity of a stock air-box, it is obviously inefficient. It has a 90-degree bend, restrictive snorkel and footprint as large as the F-Series head! Just about every enthusiast that owns an S2000 has removed it and, we imagine, has long since dumped it into a landfill. Over its production run, however, K&N Filters has come out with a number of different products to meet the needs of the aftermarket.
For most platforms, K&N manufacturers a variety gear for different systems in the car including, oil filters, plenums and even O2 sensors. When it comes to filters, it has everything that moves on lock including: OEM drop in filters, custom filters, the FIPK (Filter Injection Performance Kit) and the cold-air Typhoon intake kits. For this particular article, we wanted to focus on a simple install with big gains, which came in the form of the FIPK for the 2.2L F22C motor. The kit comes in powder-coated black (wrinkle red and polished for the Typhoon) and has a thick, mandrel bent 3-inch tube that meets a cone filter surrounded by an insulated housing.
The install is painless. It took more time to remove the old factory air-box than it did to mount the new FIPK intake. The process was straightforward thanks to detailed instructions. First step involves mounting on the filter side and tightening of the hose clamp with supplied silicone coupler. Next, ensure that the MAF plus is fastened securely and that any dirt, debris or oil residue is removed. After everything is tight, it is time to fire up the engine and check to see that everything is retightened after it warms up.
For most cars, the ECU should be given some time to learn the new volumes of air it is seeing from the Mass Air Flow sensor. Sometimes it takes a few minutes and in extreme cases, more than a day. After the warm-up, it was time to check out how that car was on the road test, for sound and pull. The K&N open element cone filter sounds far better and less muffled than stock. Tuners know it offers a few juicy sounds coming from inside the engine including VTEC above 6-grand. Beyond the sound benefits, there is an obvious bump in responsiveness and the perceived power gains were proved on the rollers.
As with every intake, K&N thoroughly dyno-tests its products for maximum gains. In the S2000 AP1 chassis, it makes the world's most powerful naturally aspirated 4-banger that much more powerful. Considering Honda already jams 140 hp per liter into this powerplant, K&N was pleased to announce they found and extra 9.55whp at 6500 rpm! Pushing the worlds most potent inline-4 past 145 hp per liter!
Beyond the power gains, there are collateral benefits to adding a K&N intake. The first is fuel efficiency, due to fewer restrictions which allows your car to run leaner and therefore use less gas if you can resist stomping on the accelerator. Then, of course, there is filtration that will meet or exceed standards from the OEM manufactures, so it won't void any warranty. The filter carries a one million mile warranty since it is reusable with the optional cleaning kit and then re-oiled. Finally, there is the pride factor. All K&N intakes are designed and built in the USA, a concern than has never been as important as it today.
Source:
K&N Engineering
FIPK Short Ram Intake
www.knfilters.com