Written by Dave Pankew // Photos By: www.scatcrankshafts.com | 18 March 2010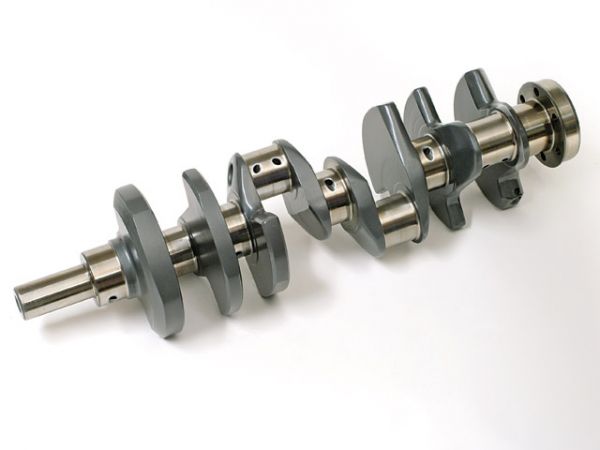 SCAT Enterprises, Inc. has been making high performance crankshafts and connecting rods for the automotive aftermarket for more than 40 years. Its customer base includes some the most respected names in the business, multi-billion dollar companies like General Motors, Daimler Chrysler and Ford to name just a few.
SCAT is extremely proud to announce the newest addition to their prestigious customer base, Honda Racing! SCAT's business evolved from Ford, Chevy and Chrysler, but SCAT has and continues to develop the most exhaustive line of crankshafts and connecting rods for Sport Compact, in the automotive aftermarket.
SCAT can make any Sport Compact crankshaft out of billet material to your custom specifications. They also offers a line of forged crankshafts for Honda, in stroke ranges from 89mm to 98mm. SCAT cranks are made from 4340 steel or EN30B material and come in three different counterweight designs, Standard Weight, Pro Comp Lightweight or Superlight designs.
All of SCAT's Standard Weight billet and forged crankshafts come with straight shot & chamfered oil holes, are of them are Nitride-hardened for superior wear resistance. It also has lightening holes in all rod throws, large radius on all journals and are precision-ground, heat-treated and shot-peened. .
If you jump to their Superlight design, you get a computer generated symmetrical counterweight system which incorporates the pendulum cut on the inner face of the counterweights. This metal removal lightens the crankshaft without sacrificing strength. What is does accomplish, is remove unnecessary material, thereby further reducing rotating mass. SCAT's Superlight design is ideal for competition engines using lightweight components, and running higher RPM's while demanding lightening acceleration.
Complementing their line of Sport Compact crankshafts is a complete line of H-Beam connecting rods for Honda/Acura, Subaru, Mitsubishi, Nissan, Toyota and more. The H-Beam connecting rods come standard with ARP 3/8-inch cap screw bolts and feature a special doweled cap for specific cap-to-rod adjustment.
In 2009, SCAT established U.S. Crankshaft, a division dedicated to the manufacture of custom billet crankshafts to meet the unprecedented growth in the area of its business. At the core of the operation is specialized crankshaft manufacturing equipment, the centerpiece of which are two American GFM crankshaft milling machines. Currently running in the shop is a wide range of Sport Compact Billets including Honda, Subaru and Porsche, all meeting custom specs and exacting tolerances.
SCAT is one of the most respected and innovative manufacturing companies in the automotive aftermarket. It has a tradition of excellence, which has been developed over its 45 years in the manufacturing of high quality crankshafts, connecting rods and engine components. SCAT has a expertly trained team of professionals dedicated to customer service, technical support, innovation and quality.  SCAT stands ready to service all of your Sport Compact needs.
Source:
SCAT Enterprises
Sport Compact Cranks & Rods
www.scatenterprises.com