Written by Dave Pankew Photos By: www.quakerstate.ca | 24 February 2010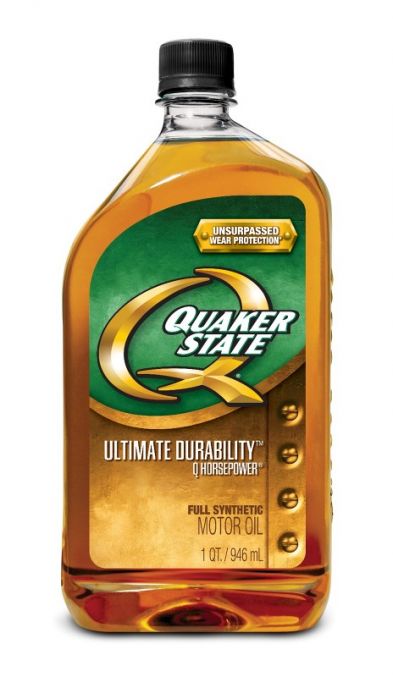 It has to be said that the Quaker State of today is not your Grandpa's motor oil. Even though, my Grandpa did use it, their modern formulas are so dramatically different that everything has changed except for the name. The company has launched and (re-launched) a number of products and is on a mission to change the perceptions about the brand being used in high-performance engines and popular myths about synthetics. As the official oil of Hendricks Motorsports , it is safe to say if it can meet the criteria of the tight tolerances in these high-revving engines then your car is definitely protected.

Quaker State has formulated its motor oils to meet the toughest industry tests.  Quaker State Advanced Durability that provides 2x the wear protection of the standard industry test. Enhanced Durability, that provides protection to those vehicles that do a lot of stop and go driving or towing, such as the 4x4, SUV & Truck motor oil and Quaker State's very best Ultimate Durability Q-Horsepower Full Synthetic.

Recently, we had to the opportunity to try a 5W30 in one of our test vehicles and were pleased with the benefits. Since the test vehicle is a street car, we were expecting to see smoother operation and perhaps some improved mileage. The BMW donor was equipped with a Double VANOS valve train, which was clearly heard ticking on cold days but the Ultimate Durability solved that issue. The improvement in fuel economy was actually noticeable since the BMW is equipped with a mileage meter that dipped below 10L/100km even though it is a big V8.

In addition to our non-scientific approach to reviewing Ultimate Durability, Quaker State provided us with information to back up their claims. This formulation is heat activated to protect your vehicle even under the most extreme driving conditions, whether it is sustained high RPMs, excessive heat or heavy load, the formula resists viscosity break-down.  Exceeding the industry standard ASTM Sequence testing IVA, Ultimate Durability was found to beat other claims for minimal friction-related wear. The oil also has the best possible resistance to thermal stress and prevents viscosity break down. Exceeding API and ACEA standards as well, Quaker State has been hard at work to address the ever-changing OEM standards as well.

Quaker State Ultimate Durability meets or exceeds the demands of key Original Equipment Manufacturers (OEM) specifications, such as Ferrari, Porchse, GM Corvette, Chrysler, Ford, Mercedes,BMW, Volkswagen, as well as other North American and Japanese Manufacturers > That is the confidence that Quaker State brings to consumer that use there products, 100-percent warranty coverage and peace of mind that your expensive engine is protected for years to come when you use Quaker State and follow the manufacturers recommended change interval.

Available at all major retailers, Quaker State is determined to change the perception about its synthetics. With a huge presence in NASCAR, it is continuing to show its support for the next generation of car guys (and girls) in the tuner market. Its commitment to lubricating high-end brands equates to superior engineered oil that can meet the demands of grip, drift and street.
Source:
Quaker State
Ultimate Durability Synthetic
Canada: www.quakerstate.ca
USA: www.quakerstate.com