Written by Dave Pankew Photos By: www.prosportgauges.com | 24 February 2010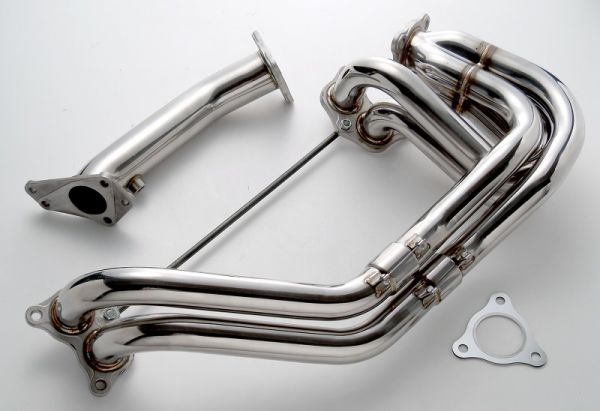 One of the more distinct exhaust notes today is that being belted out by the Subaru Impreza WRX. In stock form it is audible but with an aftermarket exhaust it is unmistakably the 2.0L boxer-4 rumbling away. Opening up the exhaust in these cars does wonders for their force fed performance and there are many choices out there. However, finding an affordable header for the WRX has proved challenging because it is a very elaborate pieces.
In response to market demands, Prosport (yes, the gauge company) has branched out and built a cost-effective header for the WRX. With an MSRP of only $599 these headers are priced to move. So much so that Prosport increased the stock on hand for 2010 because several times in 2009 it was sold out between production runs. The mission in 2010 is to fill all of the orders with WRX owners looking to crank some more ponies out of their EJ20-powered WRX.
Prosport aimed to provide both a reliable part and one that was dyno-proven to make some jam. It started with the ideal materials: T304 stainless steel tubing and billet. With fantastic craftsmanship, all of the joints feature beautiful TIG welded joints. The 3-bolt flanges are an impressive ½-inch thick to prevent warping and cracking. The entire assembly was weighed to prove that 10 pounds has been shed from your car- every bit counts.
According to Prosport, the key to making power is making the exhaust exit in a hurry. The Prosport headers do just that featuring a whopping 45mm inner pipe diameter. However, flow will be affected by the smoothness of the inner tubing and that is where Prosport has invested the extra time. The inside of the entire system is ported and polished to maintain a smooth exit. No need to break out the Dremel tool and pick-up where some shady company left off. You will not have to waste your time porting and polishing or making this part fit properly, it is a true bolt-on affair.
The kit consists of everything needed for a quick and painless install. Along with the header, the stainless steel up-pipe is also included including five new studs to connect the up-pipe. Inside the box are top quality gaskets and fasteners to keep the exhaust flow sealed up. Prosport includes detailed instructions and of course everything carries the 1 year warranty against any defects or cracks.
What's inside the box is nice and all, but tuners want to know what's inside the boxer! Prosport bolted-up their header to a stock WRX and the results were impressive over the baseline. The dyno certified that the piece makes 20whp and 13lb-ft proving that this is one choked up engine from the factory. These headers with their port and polish treatment really liven up the WRX. Add an aftermarket exhaust and it will perform and sound even better.
If you just bought your WRX and are looking to add your first mod, the Prosport header along with an aftermarket exhaust is a great start. It also manufactures headers for the 4G63 and the RB25 Skyline motor, amounting to one of the first steps to making a monster. While you are at it, check out Prosport's website for a huge assortment of gauges and niche products like oil coolers, catch cans and boost controllers.
Source:
Prosport
Subaru WRX Header
www.prosportgauges.com