Written by Dave Pankew Photos By: www.optimabatteries.com | 24 February 2010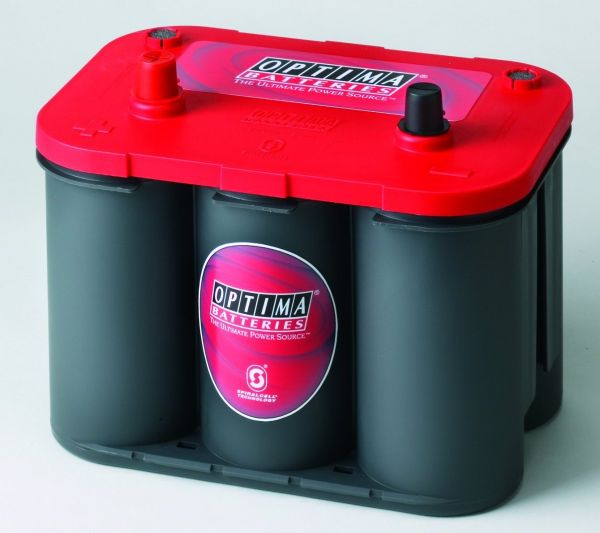 Back when people were into cars in our parent's day, the choices for batteries were very basic. There were a handful of lead acid cells on the market that were large, heavy and filled with corrosive liquid that could spill when tipped. Today, technology has made batteries lighter, more powerful and non-spillable. The form factors on some of the batteries today have become impossibly small. Optima has made powering your car and its accessories a top priority by integrating its patented technology with high efficiency for all automotive needs.
Optima has engineered its products to deal with performance upgrades and high-demand electronics found in cars today. Their patented SpiralCell technology provides efficient operation and is non-spillable, which is great for any form of motorsport. To accommodate the market, Optima has classified their cells into distinct categories. The RedTop and YellowTop batteries are primarily for the automotive segments, while the BlueTop is for the marine segment. While the YellowTop and RedTop batteries may appear to be similar,they have very distinct advantages depending on the usage.
The Optima RedTop is geared towards  high performance starting duties and is designed to deliver exceptional cranking power. The RedTop provides starting and power for vehicles with stock to moderate electrical loads. It works best when the discharge cycle is shallow and the alternator takes over after the battery fires up the vehicle, making it ideal for daily drivers, race or show vehicles with typical electrical requirements and an alternator.
The YellowTop, on the other hand, is a different beast because it is a dual-purpose deep cycle and starting battery that meets the demands of extreme applications. With its extreme cranking power and deep cycle capacity for multiple accessories, the YellowTop can power race vehicles where there is no alternator! The clean power output, higher energy storage capacity and ability to run large audio systems or other high demand electronics makes it the battery of choice for audio enthusiasts The low internal resistance of the YellowTop allows for consistent output and faster recharge, in addition to allowing it to be charged again afterextreme drains over and over again..
After you have chosen the right model, the correct form factor is imperative. Optima has designed many different cells and choosing the right one allows for it to fit into your battery tray, power and ground, trouble free. Selecting from the correct battery group means that Optima has ensured it will fit your vehicle and the terminals are easily accessible by stock wiring. If your application is not stock, Optima has a wealth of information on the dimensions, weight and configuration of their cells, so you can rock the custom application that you desire.
Finally, buyers have to ask themselves what they need the cell for. If it is an exceptionally large audio application they will also have to determine how many cells they will need. Engine start performance is also an important consideration since we don't all live in the same climate and extreme cold tests a batteries strength. As well the demands placed on batteries for racing are extreme with ignitions firing at high RPMs and elevated heat levels. It is safe to say that enthusiasts with a car with a stock system can get  a RedTop. If the application has an upgraded system or is for full race, no alternator or extreme audio system loads a YellowTop is required
Regardless of the application, Optima has the enthusiast market covered. Its commitment to advances in technology and motorsport is impressive and since its products are now widely available at big box stores, Optima is a solid choice to keep you running strong.
Source:
Optima Batteries
RedTop & YellowTop Cells
www.optimabatteries.com