Written by Dave Pankew // Photos by Manufacturer | 24 February 2010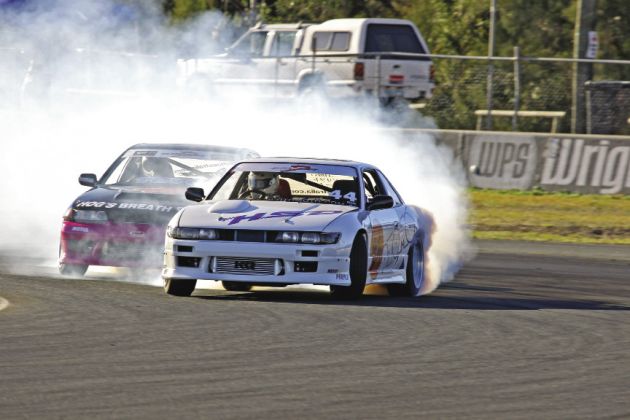 There are many coilover suspension options on the market today. A lot of high level technology has filtered down to more affordable coilovers as opposed to systems that may cost much more. With more selection available, the task of choosing the right suspension for your application can become more difficult.There are a lot of sub-standard coilovers out there, not to be confused with the many solid choices on the market that just happen to be affordable as well. HSD coilovers are just one of those suspension choices, packed with features but priced much lower than competitors.
HSD has been around for more than 20 years supplying both OEMs and the aftermarket with dampers, springs and coilovers. It is quite possible you have experienced an HSD-made product at some point, but with a different name on it. The company's decades of suspension know-how has resulted in quality design, performance and numerous applications. HSD has gained a lot of notoriety in Australia and Europe, but have only recently made waves in North America. From what we've seen so far, the HSD brand has set its sights on the North Amercian enthusiasts and positioned themselves as a quality alternative to a few more pricey coilovers currently on the market.
According to HSD Canada, "These coilovers are well-built and feature the same construction and technology as coilovers costing $1,000 more."
Although HSD offers four lines of impressive coilovers, we chose to focus on their most popular design, the HR series.
The HSD HR coilover system is designed for street cars that have the occasional track day or drift event. The HR coilover deals with both the rigors of everyday driving as well sustained use on the track but is relatively comfortable. Without the harsh operation of ultra-high spring rates and unforgiving dampers, the HR is an entry level coilover that offers plenty of adjustability. The top-adjustment knob is convenient and allows for 15-levels of dampening adjustment with a simple twist. The height adjustment is made via, cranking aluminum collars with supplied tools to achieve the proper ride height and spring pre-load. Even though you can have your ride slammed, the spring load and damper throw remain the same. HSD offers
a variety of spring rates to suit every style of driving, from the street to the track.
The design and construction of the HR coilover is one that will last for many years. The 44mm monotube design both dissipates heat and provides superior damping. The higher pressures in the monotube mean that the oil is stabilized within the chamber even under heavy use. The main body is solid steel that is powder-coated to resist corrosion. HSD Canada maintains that for a market with more extreme weather, like Canada, the durable steel body is a better option than the more expensive HA series, which features softer aluminum material.
All HSD aluminum collars and pillow-ball mounts are anodized in green to resist corrosion and improve looks. The pillow-ball mounts feature high quality noise free bearings for smooth operation and allow for front end camber adjustments.
The applications list includes many popular platforms from Nissan, Toyota, Lexus, Honda, Acura, Subaru, Mazda, Hyundai and european platforms such as BMW and Mini.
As HSD continues to gain popularity worldwide, they are expected to make a big splash here in North America. Coilovers have always been cost-prohibitive for many enthusiasts even though they are highly desired and can be the single best upgrade for certain platforms. HSD HR coilovers have the features, construction and performance of similar products, but are far more affordable and backed by a one-year, no questions asked replacement guarantee.
HSD is clearly committed to delivering high performance and great value as the brand's coilover systems have proven popular in competition and with enthusiasts worldwide.
Source:
HSD Canada

HR Coilovers
www.hsdcoilovers.ca