Written by and Photos by Dave Pankew | 04 February 2010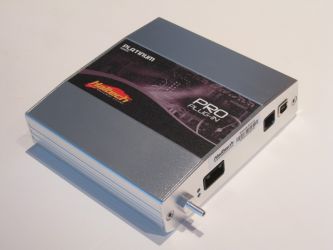 Most people don't know that the easiest horsepower gains to get from your motor are actually hiding in there just waiting to be unlocked. Many engines are tuned from the factory to maximize efficiency and reduce warranty claims at the expense ofmore power. New car buyers want driveability and decent gas mileage, but for performance-oriented drivers, they know there is a lot of power left on the table. How much power? Well, depends on the car, but in our experience we have seen 20whpextracted from a Nissan 350Z with an exhaust and as much as 44whp in a twin turbo Skyline!
Haltech knows how to tune engines of all variations. The Australian-based company has been producing engine management systems since the 1980's after a successful prototype for a magazine project car.
Packed with features, the Haltech Platinum Pro has all of the technology tuners need. The unit includes:
• VE fuel mapping
• Dual mapping, for "on the fly" map switching
• Soft cut rev limiter & 2 Step aux rev-limiter
• Closed loop gear dependent boost control
• Stepper motor or BAC valve control and closed loop idle control
• User-definable mapping points 32x32 map resolution
• Anti-lag launch control
• Wideband closed loop 02 control
• Sensor calibration capability
• 5 additional user-definable inputs with 4 outputs
• Onboard & PC datalogging
• Advanced engine protection
Haltech produced the World's first ECU that could be tuned on-the-fly while the motor was running. If you ask around, some tuners swear by Haltech and cars equipped with their technology have been competing in motorsports around the world. After enjoying a high degree of success with their E6K standalone computer at the beginning of the decade, Haltech USA fell in to an uncertain future soon thereafter. After a brief hiatus, they are back in a big way with the award-winning Platinum Pro ECU.
Entered as a new product in the Performance Product section at SEMA, the Haltech Pro Plug-in for Skyline R32/R33 vehicles equipped with an RB26DETT motor won the coveted 'Global Media Award' amongst some very fierce competition. And it is for good reason, since this ECU is a Plug 'n' Play experience for a powerplant that is very popular in the original car or swapped into a new chassis.
Haltech's ECU lineup currently consists of three ECU ranges, from the basic entry level Sprint 500 and Sprint RE ECU's, the workhorse Sport series, to premium level Platinum Pro series; Haltech has your EFI needs covered. With up to fourteen channels capable of controlling injection and ignition duties, the Haltech Platinum Pro ECU lineup can handle engines up to twelve cylinders including 2, 3, and even 4 rotor engines! These units are capable of controlling sequential injectors setup
on 4, 6 and 8 cylinders, and semi-sequential injection on 10 and 12 cylinders.
When it comes to ignitions, whether it is distributor, coil-on-plug or aftermarket CDI systems, the Platinum Sport has the technology to control them. From naturally aspirated motors to fierce turbo and supercharge setups, the Platinum Pro is ready to tune for maximum gains.
Another high point of the Haltech Platinum Pro is the ease of installation and use. After sensors are installed, simply unplug the harness from your old ECU and it slips directly into the Haltech. Load the windows-based software on any laptop and the ECU is accessed easily through a convenient USB port. Gone are the days and annoying serial connectors, which are non-existent on most modern laptops.
Stay tuned as we are currently tuning a Haltech Platinum Pro R32/33 ECU to tune a Skyline GT-R gunning for over 1,000whp in an upcoming tech article! With over $20,000 in the motor alone, the Haltech has the control to push this car beyond all challengers at the dragstrip and on the road course.
Haltech USA
Platinum Pro Plug-In ECU
www.haltech.com