Written by Garry Springgay // Photos by Manufacturer | 04 February 2010
The AL-1920-EDP comes with a ton of standard features and flexible installation capability, such as :
• 2-way touch screen controller
• 4 button transmitter included
• Multi-vehicle capability
• Low temp auto start
• Low voltage auto start
• Run time extender
• Run time expiration warning
• Parking timer
• Remote start timer
• Stick shift compatible remote start
• Turbo timer
• Seven onboard relays for maximum flexibility
• Limited lifetime warranty on all components
• Up to 4 aux outputs
• Includes dual zone impact sensor
• Coded override (99 possible combinations)
• Starter Interrupt included
• Mini 2-in-1 "Psyren" included
• Locks when triggered
• Simultaneous horn honk and siren alert
• Unauthorized Transmitter Alert TM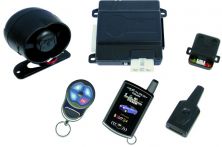 If you're looking for a full featured security system that also provides the comfort and convenience of remote starting, check out the new Excalibur Security Remote Start system from Omega Research. The company has been a leader in vehicle security for over 30 years and their experience shows with the AL-1920-EDP. This feature laden security and remote start system will deter even the most sophisticated thief. Equipped with Omega's ECHO 2-way technology, you can monitor the status of your vehicle at all times. Intuitive reporting via the colour touch screen remote gives you real-time alerts for all security and convenience functions. For the ultimate in convenience and comfort, the built-in remote start capability will let you keep your vehicle warm in the winter and cool in the summer.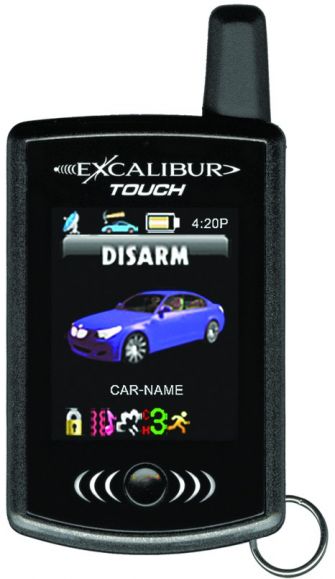 If you've seen the movie "Gone In 60 Seconds," you realize how efficient thieves can be. With today's technology and a savvy thief, they no longer need to "clone" your remote transmitter; they can add an entirely new one and they don't even need your transmitter to do it. Once they program your system to respond to their own remote transmitters, they gain access to your car's contents, including the personal information (like your home address) you keep in the glove compartment. Thieves can come to
your home, use their transmitter to disable your alarm, steal your laptop, garage door opener, golf clubs and more. With no signs of forced entry, you're unlikely to file a police report and thieves can repeat the crime again and again.
If you have the Excalibur AL-1920-EDP, however, the patented Unauthorized Transmitter Alert will sound an audible alert each time you turn on the ignition for the next 48 hours, when transmitters are added or deleted from your system. For additional safety, an LED light will blink equal to the number of transmitters programmed to work your system. If an unauthorized change has been made, you can delete it, preventing unknown persons from gaining access to your vehicle. The AL-1920EDP is truly a state-of-the-art vehicle security platform offering comprehensive vehicle protection and convenience. Check it out at a dealer near you.
Excalibur
AL-1920-EDP
www.caralarm.com