24 July 2013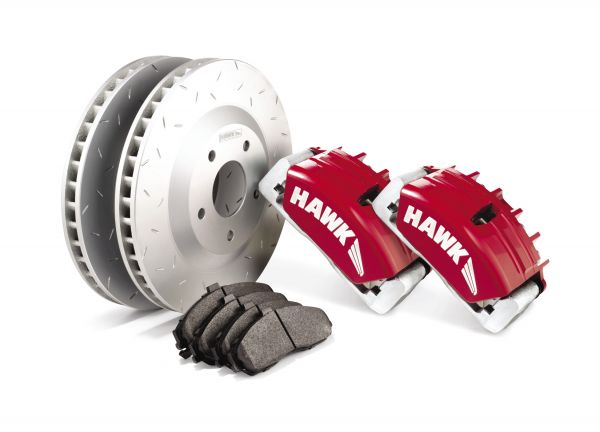 Most people know how important a strong and effective brake kit is when upgrading your vehicle. Your control and overall speed around a circuit depends heavily on your braking. More importantly, it's an area of your car that you never want to have to worry about – ever.
There are a number of kits on the market, but the group over at Hawk Performance recently introduced an impressive new line of Talon Performance brake calipers, and these aren't your standard stoppers.
The core performance of the Talon caliper comes from its bulletproof construction – these things are made to withstand anything you throw at them. Foremost, the pistons are made from solid 303 bar stock stainless steel, giving you reliable, strong stopping power compared to conventional aluminum pistons, which tend to fade in high heat. The machined billet aluminum caliper body saves on weight and is loaded with high-temperature dust seals throughout, keeping your internals grime-free and properly lubricated at all times.
But what makes the Hawk calipers better than the competition? The complete system offers as much as 55% better clamping power over original equipment – and that's a lot of bite. The three-piston caliper setup is ideal for street or track use and, although it might not seem as strong as a five- or six-piston option, go around any track and there are plenty of three- and four-piston options on top cars. Best of all, the Talon performance calipers don't take up as much space as larger versions, meaning you avoid OEM clearance issues so you can run smaller wheels and/or stay clear of unwanted size upgrades.
The entire system is designed for ease of use with top-level performance. If you're comfortable running brake lines, these can be installed in no time. Not only do they bolt directly on to the stock mounting points, but they will work seamlessly with existing master cylinders and factory ABS systems.
Speaking on the release of Hawk's newest addition to its performance brake lineup, Sales and Marketing Director Andrew Hisey spoke on the idea behind the new Talon calipers.
"Demanding customers want a performance upgrade that is easy to install and dramatically increases the stopping power of their vehicles," he says. "Whether for sports car fitments to rein in horsepower, or light truck and off-road applications to manage payloads or challenging terrain, our new Performance Brake System will help these vehicles stop as well as they go."
The kit is designed to function as an effective upgrade solution for performance driving on the road, the race track, dirt tracks and everything in between. Built for most any performance car platform, the Talon calipers and Performance Brake System is also available for late model Corvettes, Mustangs, Challengers, Chargers and Chrysler 300 offerings, as well as Chevrolet, Ford and Jeep trucks. It offers significant savings over other bulkier big brake kits, and from calipers to pads and rotors, are designed to give you strong, long-term performance. They're definitely worth checking out, and you can do so at www.HawkPerformance.com.