Written by Mark Pereira // Photos by Mike Gazda and Mark Pereira | 10 December 2009
Growing up we've all heard our parents say it's what's inside that counts! Well, I guess that's true if you are referring to the remote-mount STS Turbo system and a stampede of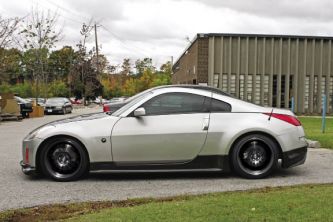 400 raging ponies under the hood of our 350Z! But this wolf in sheep's clothing project car was indeed in need of an extreme makeover. With the big power turbo install and bulk of other performance upgrades clearly addressed under the hood, we knew it was now time to pick out some aggressive and functional aero parts to compliment our shadow black Konig Runaway wheels and complete the exterior of our battle ready Z33.
When it comes to body kits and exterior upgrades for the very popular Nissan 350Z, aftermarket brands and manufacturers are plentiful. The toughest part for us was that we simply had too many options to pick from for our project Z33. Luckily, after a quick Google-session searching for parts, we came across the one-stop-shop at Andy's Auto Sport (www.AndysAutoSport.com). Their top-notch website offered all the authentic brands and parts we sought after for our project car, so it was simply a matter of narrowing it down. According to their website, "Andy's Auto Sport carries more than 40 different brands of body kits, more than any other company in the world!"
After taking a close look at the information and impressive line up of vast vehicle applications on www.AndysAutoSport.com, we were surprised to learn how easy it was to
search, source and ship the performance parts we wanted to order. Thanks to the easy navigation, competitive pricing and simple process, we promptly slapped down the company credit card to do some serious damage and create a whole new look for our once subtle-looking Nissan coupe. We also went a step further and got in contact with Andy's Auto Sport General Manager and resident expert Eric Ferguson to select all the right parts and even learn more about Andy's Auto Sport and the all-star roster of products they carry before we made our decision.
"The goal of www.AndysAutoSport.com is to educate and help consumers as much as it is to deliver a convenient and quick way to shop and purchase products online," says Ferguson. Their enormous website has more than 3-million web pages filled with custom auto parts. "We have a website staff of 7 people whose only job is to add more products to our website, to update existing product listings, and to make our website easier for customers to use."
From experienced tuners to first-time enthusiasts, Andy's easy-to-use online "Learning Center" is a quick and perfect place to start. The professional team at Andy's Auto Sport has put their years of industry experience and knowledge to good use and created an informational guide that can answer questions any enthusiasts might have about different products available. The Andy's Auto Sport Learning Center is a fantastic resource for anyone considering aftermarket upgrades or any new parts. Covering topics from body kits and interior upgrades to suspension and performance parts, this valuable resource of aftermarket Q&A information can transform you into an automotive expert in no time.
If you have any automotive questions in general, we'd suggest you go ahead and take a look at www.AndysAutoSport.com, as their helpful online tools provide valuable
information, and advice to educate you on your next purchase. Plus, Andy's Auto Sport makes its own exclusive line of styling products. These products have been featured on hit TV shows, DVDs and magazines (ours included) and can be found in the media section of their site. Clearly they aim to offer more than your usual E-store experience, as Andy's online catalogue features great selection, countless categories, brands, products and service.
After a few more hours of window-shopping and browsing through www.AndysAutoSport.com, we found love at first sight with the Seibon TT-Style Carbon Fiber 4-piece lip kit. We decided to go with a more exotic, lightweight material like carbon fiber to continue with the race-inspired theme of our project 350Z. Known for impeccable fit and finish, Seibon carbon fiber products are designed and constructed to be functional, aerodynamic and look hotter than Megan Fox in your bedroom! Seibon products are at the forefront of carbon fiber technology, using high modulus carbon weaves that are both lightweight and strong. Their carbon products utilize a glossy clear coat that is UV-protective and will help protect from discoloration over time.
This subtle carbon fiber Seibon lip kit is a clean design that flows flawlessly with the original bodylines of the Z33 with tight OEM-like fitment and strong aftermarket style that's sure to get noticed! We then selected a Seibon TS-Style carbon fiber hood to compliment the kit and its vented design is terrific for relieving the engine bay of trapped heat while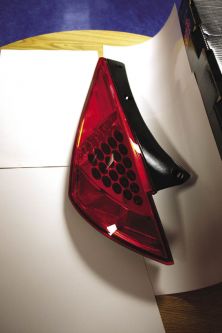 providing a more aggressive appearance.
The team at Andy's Auto Sport has a great working relationship with many reputable brands and partners such as Seibon, so we weren't surprised when our order arrived in record time without any complications. We couldn't be more impressed with our choice to work with Andy's Auto Sport for all our project car needs.
Our long-time friend and custom car builder "Crazy" Frank Valenti at 20Hz Audio (www.20hzAudio.com) expertly installed the 4-piece body kit with literally no modification necessary. The TS-Style vented hood proved to be too large to safely squeeze into any of our project cars for transport, so our Editorial wrenching duo of Dave "Hypeman" Pankew and myself rolled up our sleeves and installed the hood at our office after hours.
The final touch to the exterior came in the form of a subtle lighting upgrade. Since our project car is a 2004 350Z, we updated the OEM rear taillights with a set of fresh LED taillights from ANZO USA, which we also ordered through Andy's Auto Sport (yes, they really do carry everything!).
Manufacturing and distributing some of the best body kits in the business means Andy's Auto Sport always has a large selection of popular and authentic parts in stock and ready to rock. Andy's Auto Sport is a true aftermarket leader, manufacturer and trusted dealer who understands the needs of today's tuner through delivering solid customer service, selection and value. Thanks to our partners at Andy's Auto Sport and Seibon, our project 350Z now looks the part and turns serious heads at every event it attends. For more visit www.AndysAutoSport.com or call (800) 419-1152.