Written by Dave Pankew // Photos by Lindsay Tadros | 10 December 2009
Do one thing and do it well. That's the advice I've always been given. If you look around our industry, there are many great companies out there firmly focused on their core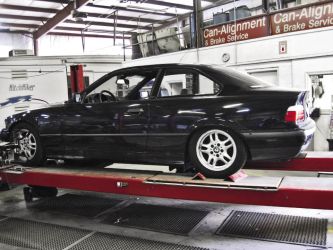 business and perfecting their craft. Case in point, Specialty Products Company (SPC Performance). They carved out their reputation building suspension components for circle track, muscle cars and hot rods producing applications that just didn't exist elsewhere. Over the past decade, SPC has realized there is a huge demand for niche products for Sport Compact and European vehicles too.
Since many of today's customized cars are lowered, SPC released all kinds of camber correction kits and various arms to correct the change in geometry. Our 3-series BMW tester was a textbook case of too much camber and was simply chewing through tires at an alarming rate. Not only is this expensive, but also dangerous since the inside wall can overheat and cause a blow-out. Our E36 has been fitted with Bilstein PSS coilovers on their lowest possible setting which resulted in an aggressive -3.5° of camber and no way to dial it out with stock arms.
We turned to Vickie Wheeler in the Marketing Department of SPC to consult her about how we can correct the problem while keeping the car slammed. Simple, they have not one, but two different styles of rear camber arms for the 1992-1999 E36 (except Ti and Z3). These arms coincidentally also fit newer style E46 chassis as well. Although, SPC makes an affordable steel EZ Arm (#67110) we opted for the sexy #72110 aluminum arms. These 6061 T6 aluminum clear anodized arms feature red anodized lock nuts and loads of thread to adjust the camber from -1.0° to 3.0° in total.
The range provides even more camber than we already had (not recommended) or could allow us to adjust it positively to almost zero. Our installer also happened to be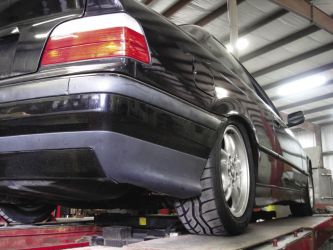 alignment and race car set-up guru, Scott Murfin from CAN-Alignment just outside Toronto, ON. Murfin recommended we also install the #72070 SPC front camber plates as well to make tweaks up front for a perfectly balanced car. Installation was a snap with detailed instructions and all necessary hardware. SPC supplied the outer bolts for the rear arms but you definitely want to buy new OE inboard bolts that they don't supply because in our case both snapped on disassembly!
Murfin corner balanced the Bimmer and then set it up on the alignment rack. He noted that all four corners were different and he would finesse the SPC rear camber arms, front camber plates and the OEM tie rods to create a cornering monster. After getting a baseline, I jumped in to ensure my weight was accounted for in the driver seat. Murfin ended up with the following settings: front left camber was -1.25° and -1.0° on the right and in the rear, the settings were reduced to -2.5° and -2.25° for a balance between grip and tire life.
The end result was new life to this aging tuner car. The small BMW gripped harder though corners with minimal understeer and the Falken RT-615 tires no longer make any noise in protest. After a track time visit to Toronto Motorsports Park, the lightweight 2866lb BMW held its own with many higher horsepower cars, proof that you don't need crazy horsepower to go fast but rather, the right suspension setup.