24 April 2013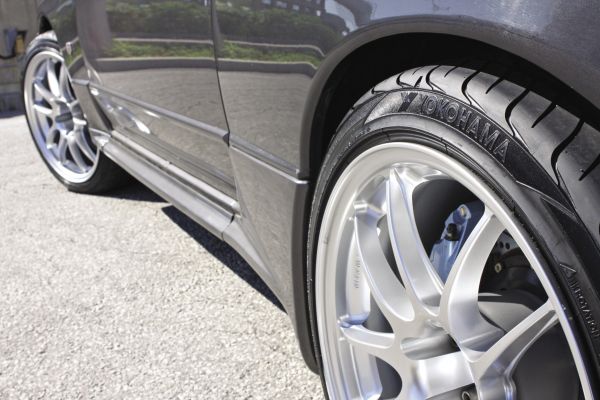 Tires – they are the most important part of your car. Not only are they responsible for keeping you stuck to the asphalt, they are the last piece of your power puzzle – the better they are, the quicker and more responsive to your throttle.
Most of you also know that different tires are made for different applications – whether you take your car to the track, or cruise around and show it. There are a lot of tires out there that claim to pull double-duty on the street and at the track and that's not always a bad thing – especially if it's a rare occurrence to let your car go wide-open. But a soft street tire with excellent grip will wear out pretty quick on the track and likewise, a hard DOT tire that is durable on-track could spell disaster on wet street conditions.
The guys here at PASMAG run different tires for each application, so we put together this guide to help you choose the best for yours. To give some insight on some of the newest products, our editorial team was sent out to test some of the best of what the industry had to offer, travelling from New Orleans to Utah to burn rubber on some of the coolest tracks around. We also included some of the hottest performance and show-worthy wheel options to match your ride and your rubber.
Take a look, hopefully you'll find something that's just right for you. And if you're unsure of what all the numbers and letters mean, the info below should help put you in the right direction!
Choosing the tire that's right for you
When choosing the right tire, there are more factors to consider than just size. You will have to examine the Uniform Tire Quality Grading or UTQG. The UTQG gives an insight as to how well the tire will grip, how it performs under high temperatures and how long the tire should last.
The UTQG is made up of three categories:
1) Tread wear – This is the number designation given to the tire to determine the wear rate of the tire. The higher the number the better. A rating of 300 should last approximately 30,000 miles (in ideal conditions) and likewise a 400-rated tire should last twice as long as a 200 rated tire. But remember, this does not determine performance – many high-performance tires have lower ratings because they provide excellent grip, but wear fast.
2) Traction rating – Rated from high to low, tires either receive an AA, A, B or C rating. The rating depends on the ability of the tire to stop on wet pavement. Generally you want this to be high, but again it depends on your use (ie. if it's going to be a street or track tire).
3) Temperature rating – Again rated from high to low, tires are given an A, B or C designation for their ability to dissipate heat and resist heat degradation. The temperature rating is based on a 30 minute test at high-temperatures to ensure against sudden tire failure or a drop in performance.
Letters and numbers: what's it all mean?
265/35 R18:
265mm (10.4-inches) wide
35-profile is 35-percent of the width (sidewall height = 92.75mm or 3.6-inches)
R is for radial technology
18 is for the diameter of the wheel (in inches)
Finally there is the load and speed rating found on every tire. From the factory, these values are expressed as a number and letter after the tire size. Sometimes the speed rating can also be incorporated into the tire size (ie. 265/35 YR18).
A 93Y on the load index means the tire can handle up to 1433 lb. of load. The Y indicates the top speed rating. See the chart below for the complete measurements.
Speed Rating
Q = 99 MPH, 160 km/h
R = 106 MPH, 170 km/h
S = 112 MPH, 180 km/h
T = 118 MPH, 190 km/h
U = 124 MPH, 200 km/h
H = 130 MPH, 210 km/h
V = 149 MPH, 240 km/h
Z = 149 MPH, 240 km/h
W = 168 MPH, 270 km/h
Y = 186 MPH, 300 km/h
Load Rating

Load Index Pounds Kilograms
71 761 345 91 1356 615
72 783 355 92 1389 630
73 805 365 93 1433 650
74 827 375 94 1477 670
75 853 387 95 1521 690
76 882 400 96 1565 710
77 908 412 97 1609 730
78 937 425 98 1653 750
79 963 437 99 1709 775
80 992 450 100 1764 800
81 1019 462 101 1819 825
82 1047 475 102 1874 850
83 1074 487 103 1929 875
84 1102 500 104 1984 900
85 1135 515 105 2039 925
86 1168 530 106 2094 950
87 1201 545 107 2149 975
88 1235 560 108 2205 1000
89 1279 580 109 2271 1030
90 1323 600 110 2337 1060
Lastly, with the 'hella flush' craze, everyone is trying to go wider with lower offsets and stretched tires. While we admit it can look sick when done right, these fitments are no where near recommended widths, camber or offsets. In some States and Provinces it is illegal to have any part of the wheel extending beyond the bodywork. Obviously you want to do it right before dropping down a ton of money, so make sure you do your research!