30 July 2012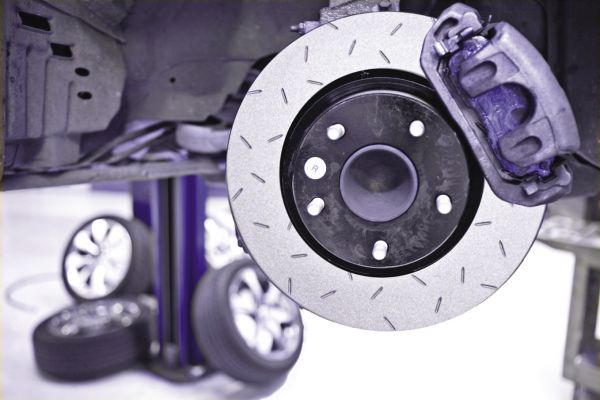 Most enthusiasts that have drilled or slotted rotors have them because they simply look cool. And, sadly many aftermarket rotor manufacturers design rotors simply to look cool as well. Truth is, there's an incredible amount of importance placed on how a rotor is designed and fortunately for us, Hawk Performance is one of the companies that puts a tremendous amount of thought and engineering into its products.
Hawk Performance gathers data and tests on the race track where the boundaries of technology and performance are constantly pushed to the limit. You can find its products on race cars in nearly every major racing series, every grassroots racing series and even most casual enthusiast track days. The reason for this tremendous presence is simple – Hawk products work.
Take a look at Hawk Performance's Quiet Slot brake rotors for a second. The first things you'll notice are its cool looks and unique slot design on the rotor surface. As mentioned earlier, for most that is reason enough to want these rotors on your car; but, for Hawk Performance Quiet Slot rotors, there's much more to them than meets the eye.
For starters, slotted rotors first came into existence to improve braking performance. But, like many good things in life, there is a trade-off, which has traditionally been the case with cross-drilled or slotted rotors. Common complaints focus on a sort of whirring or buzzing noise caused by the way the air and brake pads cross over the slots or dimples in the rotor. This is not the case with Hawk Performance's Quiet Slot rotors though. In fact, they're called "Quiet Slot" rotors because the design, placement and size of the slots on the rotor surface have been tested and meticulously placed in a pattern that specifically eliminates the aforementioned whirring noise without compromising performance.
The design of the Quiet Slot rotors enhances performance in a few ways. Adding a slot to a rotor improves initial bite – the performance of the brake pad under initial contact with the rotor surface when you go to hit your brake pedal – where each slot provides a sharp biting edge that helps the brake pad grip the rotors better. The trade-off is that if you add too many slots, you are decreasing surface area of the rotor face, which can have the opposite effect. The Hawk Performance Quiet Slot rotors have an excellent design that maintains a staggering 98% of the rotor face surface while still adding a lot of slots to improve that initial bite.
Hawk Performance doesn't stop at improving braking power and efficiency, its also makes Quiet Slot rotors out of a blend of premium alloys that result in a metal compound that not only helps reduce noise, but improves strength and heat resistance over standard iron rotors. To add icing on the cake, those two things lead to improved rotor and brake pad life. These rotors look better, stop better, run quieter, resist heat better and last longer than those old iron OEM blanks you have on your car. So, what are you waiting for? Hawk Performance offers Quiet Slot rotors as direct OEM bolt-on replacements for hundreds of vehicle applications.3
hawkperformance.com
@HawkPerformance
facebook.com/HawkPerformance
youtube.com/user/HawkPerformance