Written by by GARRY SPRINGGAY | 24 November 2011
If you have an in-car video system that's not equipped to directly connect an iPod/iPod Touch, iPhone or iPad but you'd like to have the ability to view the content of your Apple devices in the car, the folks at Scosche have come up with the perfect adapter cable for you. It's called the "sneakPEEK auto" and it provides a proper interface between the Apple connector on your device and your video system's RCA type audio and video inputs. The Scosche sneakPEEK auto allows your passengers to watch movies, TV shows, or music videos in your car. It's compatible with iPod video playback, photos, AirVideo, Netflix, and YouTube apps. And it will also keep your device charged, thanks to the robust 2.1A charging capability.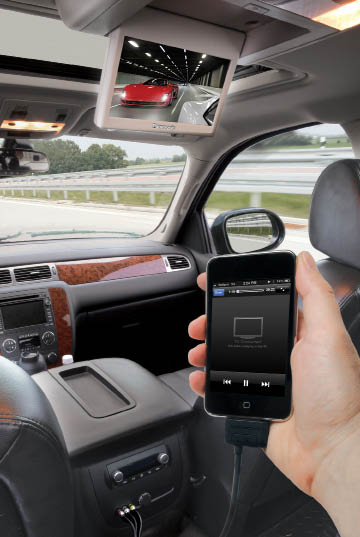 The adapter simply connects to the Apple connector on your device, and with a nine foot cord, it can be used pretty much from any seat in the vehicle. An integrated toggle switch on the edge of the Apple connector allows you to select between your usual sources or the Apple device, and will keep charging your device even when the car's sources are being used. The signal cables are dual shielded with braided copper and foil and the RCA terminals feature tapered metal barrels for a reliable connection.
Installation is dead simple, with only a switched power and ground wire to connect to your car's electrical system.
If you'd like to check out the sneakPEEK auto or any of the other fine Scosche products, you can visit them online at www.Scosche.com.