Written by Dave Pankew | 25 February 2011
There are many myths surrounding performance intake systems. Some of them on the market never make the advertised horsepower and may require a retune to do so. Also, some intakes sacrifice filtration and cause leaner conditions in order to make power, both of which will only end one way: in disaster. The folks at K&N Engineering know a thing or two about making some jam through improved air intakes systems because it is all they have been doing for over 40 years!
K&N is primarily concerned with filtration with making dyno-proven horsepower a close second. Lucio Tapia from the K&N Marketing Department says, "If we can't make measurable horsepower by adding an intake system, then we don't make one. Period."
When we rolled up at the K&N booth at SEMA they had a number of new intakes for us to take a closer look at. There were applications for the: Nissan 370Z, Subaru WRX STI, Camaro SS and one that literally made us take a couple glances at what we thought was a misprint on their display. The latest MazdaSpeed3 is a fiery 5-door with a 2.3L turbo motor cranking out 260hp, which apparently left a lot on the table with the stock air box design. K&N has been able to extract a staggering 24.22whp and 25.41lb-ft of torque with the new Typhoon Cold Air Intake. If you take a look at the baseline numbers, it's more than a 10% power gain just by adding an intake alone! The bump in power makes it one of the highest percentage gain in the K&N lineup and one design that MazdaSpeed3 owners are eager to slip under their hoods. We wanted to know a bit more about how they make that happen. You'll remember from our K&N Shop Tour published in the 2010 SEMA Issue (12.09) that K&N is home to several dynos, bench testing equipment and a massive R&D department to make the magic happen. Sure, anyone can bend some pipes, stick a filter on the end and hope for gains to be seen. However, K&N is determined to tune each intake for maximum gains throughout the powerband with no risk of doing damage to your car.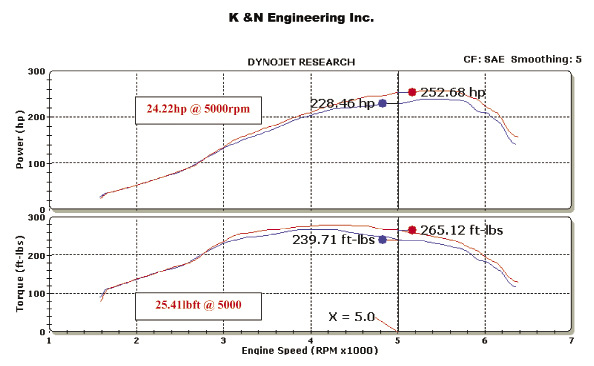 The MazdaSpeed3 Typhoon intake is available in a Short Ram version. This system replaces the factory air box and intake tube. At the heart of the system is K&N's legendary high-flow washable, reusable cone filter which is isolated from engine heat by a heat shield. The powder coated mandrel bent aluminum tube is complete with fittings and a mount for the air flow sensor and dramatically smooths and straightens airflow into the engine. All of the required couplers, clamps and hardware are included in the box for a quick and painless installation. Detailed step-by-step instructions are included and installation takes about an hour. To take your MazdaSpeed from a 228whp car to almost 253whp that quickly can't be done with other upgrades. Best of all, the powerband is extended with peak horsepower 500rpm ahead of where it used to be!
For more visit www.knfilters.com