Written by Dave Pankew Photos By: www.gfb.com.au | 29 July 2010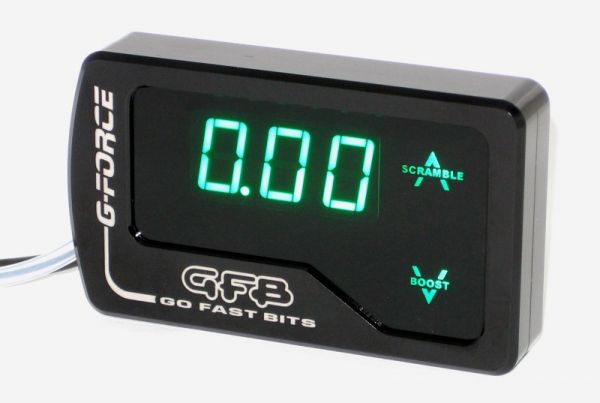 Life before electronic boost controllers meant that making changes to your boost levels was a real hassle. You had to pull the car over, pop the hood and mess around with the bleeder valve. Then it got even more fun when you had to hop back in your car and do some pulls only to realize it was either too high or too low and the steps had to be repeated. Most manual boost controllers were also unreliable and prone to spiking, so tuners wanted to upgrade to Electronic Boost Controllers (EBC) but nothing was affordable. Even today, many EBCs are still expensive but the people at Go Fast Bits (GFB) in Australia have just solved the dilemma.


The Go Fast Bits G-Force is an Electronic Boost Controller aimed directly at the serious enthusiast with all the stuff you need, but without the extra (read: costly) stuff you don't. But don't let yourself think that means cut-down features, as the really cool thing we found is that the GFB G-Force is both jam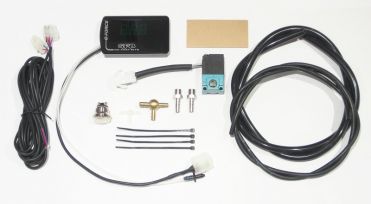 packed with features and competitively priced! With an MSRP of only $299USD, it doesn't have any competition but you don't have to sacrifice quality, reliability or advanced features with this unit. The device works on any turbo car, whether it is single or twin, sequential or matched and can handle extreme boost levels up to 50psi!
We opened the box and everything needed for the install is included. GFB recommends soldering all wires and insulating them with shrink-wrap tubing for a positive connection. The solenoid is a tough cast aluminium piece that operates ideally at temps less than 100°C (212°F), so keep it away from the hot side of the turbo system. All of the tubing, barb fittings and even some mini zip-ties are included for a lasting connection under the lid.
The GFB G-Force is an attractive device with its black anodized aluminium housing in a 1/2-DIN format so it can be mounted in a variety of locations. The bright green digital display is easy to read and doubles as a boost gauge, which can be displayed in: Bar, KPa or PSI. The operation of the G-Force is simple and the instructions are easy to follow. The menus offer six individually programmable boost settings to tailor peak boost and rising-rate for various conditions. The drag racers that tear up the 1320 find this invaluable as boost memories can be sequentially selected on-the-fly using a supplied remote trigger to achieve maximum traction by reducing wheel spin in any gear. Scramble boost will appeal to those who road race with a "push-to-pass" system. In this situation, instantaneous boost pressure increases can be achieved with a simple press of a button to get around slower traffic but not over-do it in the corners.
The G-Force also integrates a 'Spike Stop' feature to control turbos that are prone to boost spiking. The 'Spike Stop' feature is invaluable when you are focused on driving and not on your boost gauge. The closed-loop control strategy can be selected to prevent boost taper, and there is also an over-boost warning to save your pistons from detonation.
With all of these cool features and a minimalist design and an excellent price-point of under 300-bucks, the G-Force is a must have for any tuner on a budget. The unit is also designed and built in Australia, so you know you are getting a quality piece of engineering. The G-Force is just as at home in any street car as it is inside a race car, making it one electronic boost controller worth a serious look.
Go Fast Bits
G-Force Boost Controller
Intl:
www.gfb.com.au
USA:
www.globalperformanceparts.com