Written by Dave Pankew Photos By: www.aeromotive.com | 15 July 2010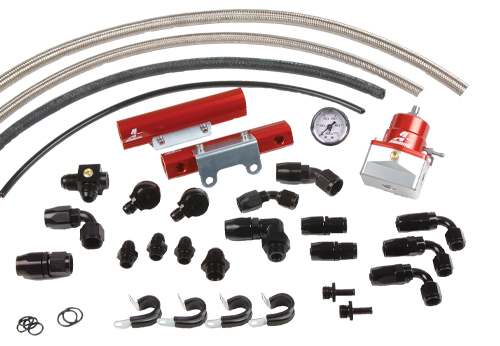 Aeromotive knows fuels systems. In fact, it's really all they do and they have been perfecting their craft for decades. Cutting their teeth in the domestic world, you can bet their products perform because teams campaigning 4000hp top fuel cars use parts from the Aeromotive catalog too. Aeromotive has been involved in the Sport Compact arena for a while now and decided they would put their fuel dynamics knowledge to work. One of their proven products over the years has been their billet fuel rails, so they decided they would compliment their system with an end-to-end fuel solution.
One of the common problems tuners have in upgrading their fuel systems is finding the part numbers for all the necessary components. There are fuel rails, regulators, lines and fittings of all different sizes with enough part numbers to make you dizzy while combing through catalogs. Well, Aeromotive has taken the guess-work out of it and prevented ordering the wrong parts that simply will not play nice together. When it comes to providing adequate fuel for your car, you do not want to make a mistake. A lack of fuel means you might lean-out and burn a piston but at the same time, too much fuel pressure might cause failure in a component and lead to a fire. Aeromotive has all of those areas covered to ensure that you will have a high performance fuel system that meets or exceeds your performance goals.
Presently, Aeromotive has focused their efforts on an end-to-end solution for the Subaru WRX and STi. Offering fueling kits for both the EJ20 and EJ25 flat-4 motors in the '04-'06 Impreza chassis, Aeromotive has one part number for dozens of products. These return-style fuel systems have all of the necessary requirements to be mounted up from the fuel filter forward to the injectors of your choice. Each kit consists of high-flow billet fuel rails which are constructed of CNC-machined 6061-T6 aluminum and anodized in the trademark red. Also included is an Aeromotive billet adjustable fuel pressure regulator and fuel pressure sensor. All of the braided lines and AN fittings, ORB-port fittings and O-rings needed to complete the system are also included. Included is the custom OEM-style return system with fittings for the system to work flawlessly. Add an Aeromotive external fuel pump and you're good to go. Just slot-in your favorite injectors and you're done.
With simple and easy-to-follow instructions, your Subaru will have more fuel available for the new turbo upgrade. More air needs more fuel and this simple solution will get you there faster with fewer mistakes and risk of failure. Aeromotive is a serious high-performance aftermarket manufacturer specializing in fuel delivery and various components. Utilizing aerospace tolerances and procedures, three generations of track experience and engineering, Aeromotive has become the benchmark for delivering fuel.
Source:
Aeromotive
Subaru WRX and STi Fuel Systems
www.aeromotiveinc.com