Written by and Photos by: Dave Pankew | 27 August 2008
Get a Grip!
Goodyear Steps in to Explain Tire Tech!
Ever been at a car meet and heard terms like Load Index and UTQG Rating being thrown around? Do you actually know what people are talking about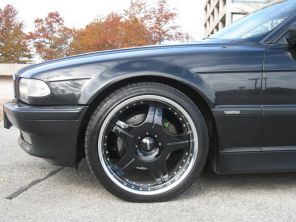 or do you simply nod your head in agreement while wondering what re-run of Family Guy might be on tonight? Well fear not because PAS has you covered and the next time you go to a track meet you can join the conversation.
We asked our friends at Goodyear Tires to explain a bit about the science behind their tire technology, reading sidewalls and general insights to the world of tires. Goodyear supplied us some of their F1 Asymmetic tires for review and explained how they selected the sizing for our application. The F1 Asymmetrics came in a staggered sizing typical on most BMWs. The fronts are 255/35R20 and the rears (which used to be 255/45R18s) have been supplanted with massive 295/30R20s! They are larger than what is found on the Nissan GT-R. When I told people about our intentions, they said it was not possible but with proper research and triple checking of the measurements, we knew it was.
What is considered proper tire sizing for your car? Using tires that are not similar to OE manufacturers specifications can be both costly and dangerous. Then again, the trend is to go larger and that can be done safely to achieve that custom appearance. When choosing a larger tire size you should run with something that is as close to the original diameter and circumference as possible. You want to be within 0.3-inch of diameter and using a online tire calculator that accuracy is possible.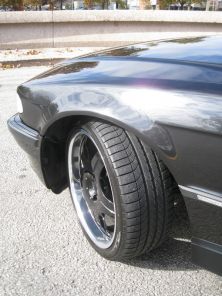 The new wheels were the 2-piece forged Orden from Axis. The staggered set was sized in 20x9-inch and 20x10-inch with slightly more flush offsets. You want to choose a tire that is suitable width for these wheels, stretch them and you may achieve that 'Drift0r' look but it really is a road hazard and a harsh ride. Go too far over and the tire will balloon up and cause uneven wear in the center. Each tire width will have a range of what rim widths are ideal. To check how your tire will fit on the wheel, you have to read the sidewall.
---
All tires including our Goodyear Eagle F1 Asymmetrics are decoded like this: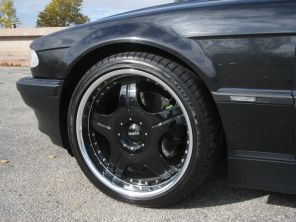 255/35R20:
255mm (10-inches) wide
35-profile is 35-percent of the width
(sidewall height = 89.25mm or 3.5-inches)
R is for radial
20 is for the diameter of the wheel it is being fit on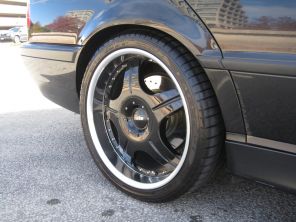 295/30R20:
295mm (11.6-inches) wide
30-profile is 30-percent of the width
(sidewall height = 88.5mm or 3.48-inches)
R is for radial
20 is for the diameter of the wheel it is being fit on
---
92 indicates the load index 1389lbs or 630kg maximum load over each tire.

The load index is of critical importance on a big car like this BMW 740i Sport, which tips the scales at approximately 4500lbs wet weight, factoring in an aftermarket stereo. The load index on the sidewall reads '92Y' making it capable of 1389lbs and 630kg maximum load on each corner and are Y speed rated. The load index ranges from 71-110 but typically most passenger car tires are between 80 to 100 to accomodate the needs of cars, SUVs and trucks. The load is rated as the maximum vertical weight applied to the tire measured at optimal psi and a constant ambient temperature under lab conditions.
Y Speed rating is 186mph (300km/h) making it the highest rated
Q = 99 MPH, 160km/h
S = 112 MPH, 180km/h
T = 118 MPH, 190km/h
U = 124 MPH, 200km/h
H = 130 MPH, 210km/h
V = 149 MPH, 240km/h
Z = 149 MPH, 240km/h and over
W = 168 MPH, 270km/h

Y = 186 MPH, 300km/h
---
Ever wonder how your tire is going to perform or how long it is going to last? The Uniform Tire Quality Grading (UTQG) listed on the sidewall is a code that tells you everything you need to know. The Goodyear F1 Asymmetric lists a UTQG 240-AA-A, which means by this is a summer only tire. 240 indicates the treadwear rating, AA indicates traction rating, A indicates temperature rating.The '240' treadwear rating is the result of a stringent test performed on a DOT-designated street course. Tires are tested on the same vehicle over the same course during the same conditions. The tread depths are measured after each 800 miles, then the same procedure is done on a closed, monitored course for an additional 7200 miles where both tires are compared and given a value that reflects wear within a manufacturer's line of tires. The traction ratings are either AA, A, B or CC making ours the highest rated. The test is conducted for grip under heavy braking on damp pavement and assigned one of the four ratings. The 'A' temperature ratings are fairly straightforward as a measure of the tires sustained high speed temperature tolerance for 30 minutes. Since the tire is the higest rated, the construction of the tire can withstand higher speeds and resulting temperatures.
240 indicates the treadwear rating
AA indicates traction rating
A indicates temperature rating
A = 114mph
B= 99mph
C=85mph
The new Goodyear Eagle F1 Asymmetric provides everything you could ask for in an Ultra High Performance Tire. It is a quiet tire, which absorbs many of the road imperfections despite its low profile sidewall. When it comes to grip these tires had enough to keep up with much more nimble vehicles. During our spirited driving test, the big 740i was right on the bumpers of BMWs like the: 328ci, 318Ti and even an E30 325iS. The wet traction is capable and precise during cornering and braking.
With proper wheel and tire selection you can completely change the look and performance of your vehicle. Quite often consumers do not do their research and let the tire shops sell them whatever looks good in the store. Go on to manufacturers websites like www.goodyear.com or enthusiast forum boards to find what others have success with. In our case, the rear wheels were upgraded from 18s to 20x10-inches with a 295/30R20 tire. The new rear tire is a full 40mm wider than stock providing plenty of contact patch. The BMW runs 3° of negative camber in the rear which improves cornering dramatically but will wear faster on the inside of the tire.


---
51 Max. PSI


The most critical part of information on the sidewall of your tire. Tire pressure must be checked regularly to be at optimal levels. Too low and the tire may blow, too high and it will wear faster and possibly fail.