Page 1 of 3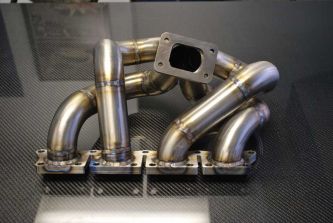 JRP Turbo Headers

JRP is always providing product on the cutting edge of quality. With no exception is their line of turbo manifolds, which are made in house by very experienced welders. These pieces are made to fit many popular engine chassis combinations. All joints are backpurged and double welded for each stainless manifold. There are very rare chances of failure with thick schedule 40 304L SS pipe, holding all the abuse a turbo can build up. All flanges are CNC cut to ensure a precise fit. Exotic thin gauge versions available.
---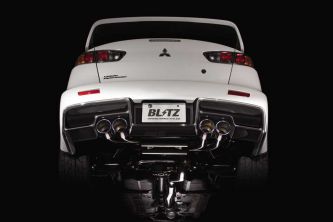 BLITZ
Nur-Spec C-TI Quad Exhaust System for Lancer EVO X
New BLITZ Nur-Spec C-TI quad exhaust system features four 114.3mm diameter tail pipe (two on each side) designed for a more aggressive looking system for the Lancer EVO X. It comes with 80mm piping made of SUS304 stainless steel. The tips are made of Titanium with laser-etched "Nur-Spec" logo. BLITZ has specially designed a new diffuser to accommodate this awesome quad pipe exhaust system. Diffuser is available in FRP (Fiberglass Reinforced Plastic) or Carbon Fiber material. ­ Due to the quad tips, this exhaust will not be compatible with the OEM rear diffuser. BLITZ offers this system with or without diffuser.
---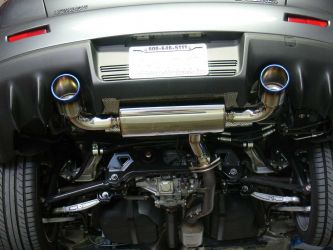 Injen Technology
SES1899TT

Injen Technology reinvents the axle-back system with the all new SES1899TT. Finally, an axle-back system that  delivers the perfect tone at open wide throttle, while generating up to 19 h/p and 16 ft./lbs. of torque.  Made with pride in the US, Injen spared no cost in designing this pre-tuned, track proven axle-back system.   Don't hold back!  Unleash the power within your reach, bolt-on Injen's stainless steel muffler with matching 4.5-inch titanium tips. Low tones never sounded so powerful! 
www.injen.com
---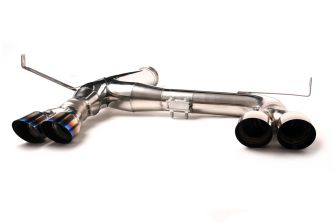 HorsepowerFreaks
E46 M3 Titanium Exhaust
Want the highest flowing and lightest exhaust for your turbo'd or supercharged E46 M3? This is it! There is no muffler or resonator on this exhaust, just straight through "titanium" piping so it flows very efficiently with virtually no backpressure, (but it will also bolt right up to any factory E46 M3 midpipe). This entire exhaust is pure titanium right down to the bolts, clamps and brackets, weighing just 6.3 lbs. compared to the factory exhaust's 52.3 lbs.
www.horsepowerfreaks.com
---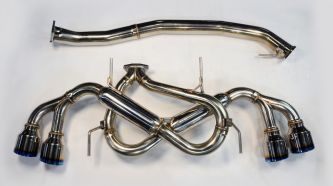 HKS
Superior Spec R Titanium Exhaust

HKS' flagship exhaust system, the Superior Spec R is now available for the Nissan GT-R offering the ultimate in performance, sound quality and appearance. The durable full titanium exhaust system is lightweight and weighs 10kg (22 lbs.) lighter than the stock exhaust system. The large radius piping layout optimizes exhaust gas pressure and temperature allowing peak performance and an aggressive exhaust tone. Dual layer titanium tips reduce heat while the functional slits inside the tips assist in noise reduction. 
www.hksusa.com
Read on for More Products