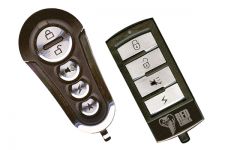 DS18
RC-2907 Red Cobra Alarm
Contact for pricing | ds18.com
The DS18 RC-2907 Red Cobra alarm not only provides security features to your car, but an array of convenient features too. When the alarm is tripped, it sounds the siren and car horn together. The anti-carjack is activated through the doors, ignition, and both of the two remote transmitters. It also adds keyless entry, panic, easy valet, and flashing light outputs.
Excalibur
AL-260-EDP Alarm / Remote Start System
$149.95 | caralarm.com
The AL-260-EDP boasts Excalibur's Virtual Alarm technology, creating their first ever one-button alarm/remote start system. It includes the AU-84TDP data shock sensor and AU-73 compact siren for first-class protection. The two remotes offer lock, unlock, and remote start functions up to 1,500 feet away. It's compatible with gas and diesel engines, automatic and manual transmissions.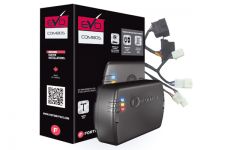 Fortin
EVO-COMBOS
Contact for pricing | fortin.ca
The EVO-COMBOS collection allows you to remotely start and secure an automatic transmission vehicle with one single device - no aftermarket alarm system and remote starter modules required. The preloaded module uses the vehicle horn as a sound monitor and the factory remote as an arm/disarm controller. Remote starting functions are enabled by pressing the OEM remote 'lock' button three times to start your engine.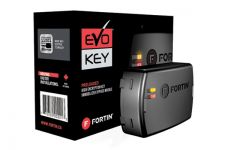 Fortin
EVO-KEY
Contact for pricing | fortin.ca
The EVO-KEY is the ultimate preloaded key immobilizer bypass module that is compatible with more than 3,500 vehicles. This self-learning, low power consumption module offers extreme system stability and is preloaded with super flexible, all-in-one firmware. The EVO-KEY works with DCryptor OEM key copying technology, making the installation possible with only one key required for programming.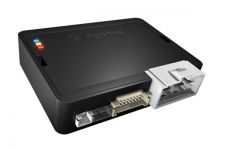 Fortin
EVO-ONE
Contact for pricing | fortin.ca
The EVO-ONE is the world's first device that combines in a single module a high power remote starter, a built-in alarm system and a triple CAN-BUS interface transponder bypass that supports all vehicles. Compatible with most RF-KITS and telematic modules for smartphones, and equipped with five 30 A built-in relays and an impressive collection of T-Harnesses, the EVO-ONE simplifies and speeds-up installations.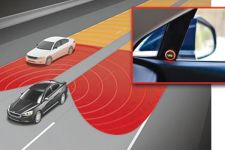 SafetyPlus
BSD-754 New Blind Spot Detection System
$229.95 | crimestopper.com
SafetyPlus by Crimestopper introduces the new BSD-754, a universal blind spot detection system designed for use on all passenger cars and trucks to eliminate blind spots on the rear-side areas of the vehicle. The system has two ultrasonic blind spot detection sensors for the left-rear and right-rear of the vehicle and two auxiliary sensors. The audible buzzer for proximity readings makes lane-changing safer.
Silencer Security Systems
SL-75 Two-Way Remote Start Security System
$399.95 | magnadyne.com
The SL-75 features advanced 915 MHz spread spectrum technology with up to 1-mile range, a five-button two-way command confirming LCD transmitter, four-button one-way transmitter, and a patented two-way transceiver antenna with built-in LEDs and valet override (all 915 MHz). Ignition 1, 2, start, starter interrupt, climate control and parking light relay are built-in for easy installation (second start and third ignition circuit capable).
Soundstream
Tarantula AL.3 Security System
Contact for pricing | soundstream.com
The AL.3 two-way LCD five-channel security system from Soundstream features keyless entry and a built-in starter disable. With an 800-foot range, second car operation, two-stage shock sensor, trunk release, dome light control, and anti-carjacking feature, the AL.3 is convenient as well as secure.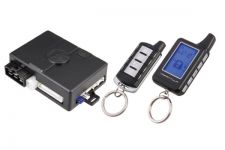 Soundstream
Tarantula ARS.2 Remote Start / Alarm System
Contact for pricing | soundstream.com
The two-way LCD four-channel alarm and remote start ARS.2 system features two transmitters, 2,000 feet of range, second car operation, remote lock and unlock, six-tone siren, and Thermo Cold Start and Valet Secure Service features. On-board relays include parking lights, starter, accessory, ignition 1 and 2. Compatible with both diesel and hybrid vehicles.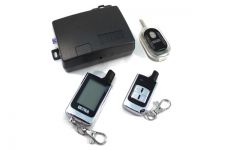 UltraStart
ULT-3295XR Remote Start
Contact for pricing | ultrastarters.com | importel.com
The ULT-3295XR is a remote start system designed for vehicles with an automatic transmission. It has a wide array of features including a range of up to 1 mile, cold start mode, car finder, lock and unlock confirmation and more. It also features an advanced noise immunity system for busy urban areas, and a long-life rechargeable battery.
Viper
SmartStart Security and Remote Start
Contact for pricing | directed.com | viper.com

Classic Viper performance with SmartStart smartphone control. The SmartStart app adds two-way functionality as well as a number of security alerts right to your smartphone. The included remote has a 2,000 foot range and allows you to lock, unlock, remote start, and enter your vehicle without the need for keys.