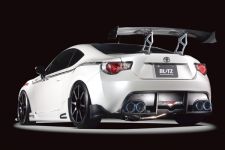 Blitz
Nur-Spec C-Ti Quad Exhaust
$2,940 | optionsauto.com | blitzpowerusa.com
Blitz Nur-Spec C-Ti Quad Exhaust contains two 114.3 mm diameter tips on each side (101.6 mm for Impreza STI) to create an unprecedented aggressive and stylish appearance. Application is available for Mitsubishi Lancer EVO-X, Nissan GT-R and Subaru Impreza STI 2008+. Mitsubishi Lancer EVO-X requires a special rear diffuser to fit with OEM rear bumper.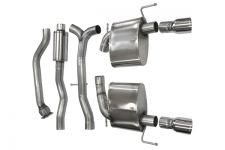 Corsa Performance
Cadillac ATS 2.0L Cat-back Exhaust
Contact for pricing | corsaperformance.com
The exhaust system features patented Reflective Sound Cancellation technology that tunes out undesirable low frequencies that cause drone and creates a clean, high-performance sound under acceleration. Acoustically tuned to complement the Cadillac ATS, the system features a Sport sound level which growls at idle, is robust under acceleration and offers a no-drone cruise experience.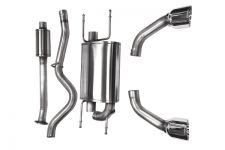 Corsa Performance
Scion FR-S Cat-back Exhaust
Contact for pricing | corsaperformance.com
To maximize the advantages of the Scion's Boxer engine configuration, Corsa offers two cat-back, dual-rear exhaust systems featuring a straight-through design that reduces back pressure to increase engine efficiency and enhance power. Featuring Reflective Sound Cancellation technology that tunes out the drone while cruising.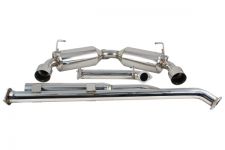 DC Sports
FR-S/BRZ Dual Canister Cat-back Exhaust
$849 | dcsports.com
Bolt on some serious power and aggressive sound with the DC Sports' cat-back exhaust system for the Toyobaru twins. Custom made from mandrel-bent T304 stainless steel for optimum flow, corrosion resistance and perfect fit. This exhaust is dyno-tuned for maximum performance and features Passive Resonance Chamber to tune the tone to be pleasing to the ear.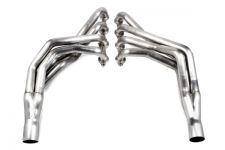 Hooker Headers
S13/S14 LS Nissan Swap Headers
$566.95 to $1,025.95 | holley.com
Available in black high-temperature paint, ceramic coated, or stainless steel, Hooker Headers has the perfect exhaust solution for your LS swap Nissan project. Featuring 1.875-inch primaries and 3-inch hydro-formed one-piece merge collectors, these swap headers maximize horsepower and torque while solving steering rack and frame clearance issues when installing GM's popular LS engine into the S13/S14 chassis.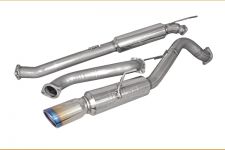 Injen
2014 Ford Fiesta ST Cat-back Exhaust
$800.56 | injen.com
This cat-back exhaust is not only beautiful, easy to install and sounds amazing, but it improves the performance of the peppy 1.6L turbo Fiesta ST. Made of 76 mm stainless steel, this cat-back exhaust comes with stainless cast flanges, stainless embossed muffler and resonator, and a rolled and burnt stainless tip. Estimated horsepower gains of +6, and torque gains of +7 were cataloged on Injen's in-house dyno.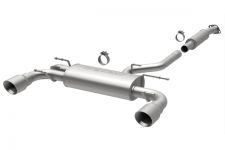 Magnaflow
Cat-back Exhaust System for Scion FR-S
$943 | magnaflow.com
The Magnaflow cat-back exhaust system for the Scion FR-S offers dyno-tested horsepower and torque performance gains and a smooth, deep tone. It's factory fit, mandrel-bent, 100% welded construction offers reliability and an easy install. Backed by Magnaflow's lifetime warranty.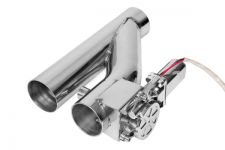 Raceland
Electric Cut-Out Exhaust System
$159 | racelandus.com
The Raceland electric exhaust cut-out gives vehicle owners full control of their exhaust system. Once installed, the cut-out gives drivers the ability to wirelessly open and close an exhaust flapper valve for use in directing exhaust gases past power restricting resonators or mufflers. The electric exhaust cut-out systems are available in 2.5-, 3-, 3.5-, and 4-inch sizes.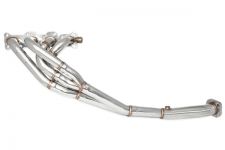 Raceland
Mazda Miata NA/NB Exhaust Header
$159 | racelandus.com
The Raceland Miata exhaust header is ideal for Mazda owners looking to improve horsepower and torque over the RPM range on their vehicles. This stainless steel and cat-less header bolts directly on with OEM-like fitment while retaining factory sensor locations. The mandrel bent piping on this header reduces exhaust obstruction. The Miata header is available for Miatas from 1990 to 2000.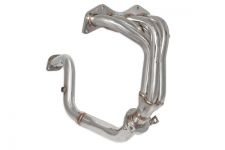 Raceland
Scion tC Exhaust Header
$209 | racelandus.com
The Raceland Scion tC exhaust header has been designed to improve exhaust flow with fewer restrictions resulting in increased horsepower and improved throttle response. The included S-pipe eliminates the power-robbing catalytic converter to ensure the maximum power is released from the engine. Each header is mandrel bent and made from stainless steel. The Raceland tC header will fit 2005 to 2010 model year tCs.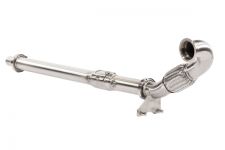 Unitronic
Cat-Back Exhaust for MK6 Jetta/GLI for 1.8/2.0 TSI Gen3
$899.99 | getunitronic.com
Constructed of T304 stainless steel and featuring a free-flowing muffler design, the 3-inch Unitronic Exhaust System for the MK6 Jetta/GLI unleashes the full potential allowing for maximum performance, while maintaining an unobtrusive tone in the cabin. Unitronic's unique V-band fastening system allows for an easy installation and a perfect leak-proof seal every time.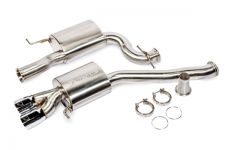 Unitronic
3-inch Downpipe for 1.8/2.0 TSI Gen3
$659.99 | getunitronic.com

Unitronic's 3-inch downpipe for the 1.8/2.0 TSI Gen3 is constructed of T304 stainless steel tubing, T316 stainless steel flanges, and a TIG-welded fabrication. All Unitronic downpipes are equipped with a 200-cell high flow metallic catalytic converter and unique V-band fasteners to ensure a leak proof connection every time.