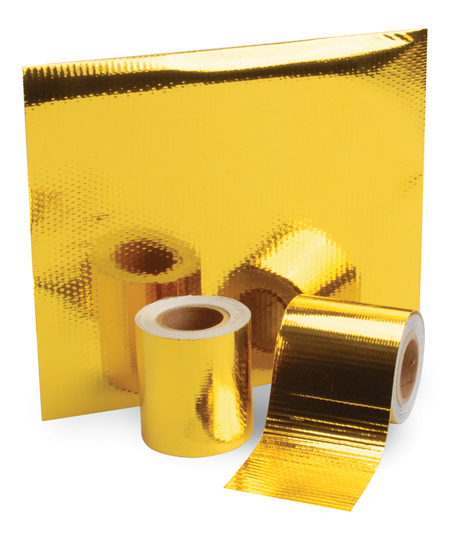 Too much radiant heat can kill horsepower and damage sensitive automotive components. Racers have discovered the multiple uses of DEI's Reflect-A-GOLD, a self-adhesive race film that is used for firewalls, fuel cells, engine covers, intake air tubes, air boxes, engine compartment, bulkheads, suspension, chassis or even the bottom of seats – any place where heat is present.
Clearance, often an issue for modifications, is not a problem with Reflect-A-GOLD. This lightweight, easy to trim film is formable to NEARLY any shape, and provides long term heat protection reflecting 78% of all radiant heat without risk of UV degradation.
Reflect-A-GOLD race film was developed from sophisticated aerospace technology. Made from a metalized polyamide polymer laminate glass cloth, the film is capable of reflecting heat consistently exposed to temperature up to 850°F (454°C). The high-temperature pressure-sensitive adhesive is protected by a release liner rated up to 325°F (163°C).
Now Reflect-A-GOLD is available in either sheet or roll configuration: 12"x12", 12"x24" or 24"x24" sheet sizes, or in one of six roll sizes: 1-1/2"x15 ft., 1-1/2"x30 ft., 2"x15 ft., 2"x30 ft., 24" x 150 ft., or special order factory direct custom cut lengths in widths up to 24 inches.
For more information about DEI's versatile Reflect-A-GOLD racing film and other thermal products, go to www.designengineering.com, call 800-264-9472, or e-mail: This e-mail address is being protected from spambots. You need JavaScript enabled to view it .
To keep up with the latest new products from DEI, like us on Facebook, or follow DEI on Twitter.
Primary Points
Designed for firewalls, bulkheads, engine covers, floors, seat bottoms & more

Capable of handling continual temperatures up to 850°F

Resists UV degradation for long-term performance

Virtually no clearance needed

Adhesive protected by a release liner rated up to 325°F

Lightweight and flexible - trim to size