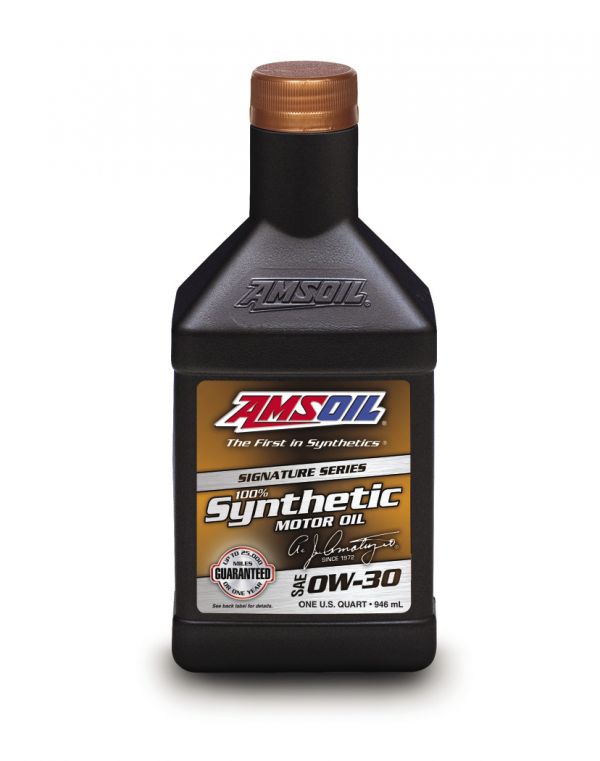 AMSOIL Signature Series SAE 0W-30 Synthetic Motor Oil
AMSOIL SAE 0W-30 Synthetic Motor Oil delivers extraordinary lubrication in automotive gasoline engines. Formulated with industry-premier synthetic technology and premium additives, AMSOIL motor oils exceed the high performance standards of modern engines while providing increased fuel economy and extended drain intervals. AMSOIL withstands the effects of higher horsepower and heat and is engineered to outperform competitive conventional and synthetic motor oils by reducing engine wear, oil consumption and emissions.
MSRP: $10.55/quart (USD)
Visit www.AMSOIL.com for more information.
---
ENEOS Sustina Synthetic Motor Oil
Sustina is a revolutionary full-synthetic motor oil made with innovative technology to provide exceptional sludge protection and long-term, sustained fuel economy. Sustina utilizes JX Nippon Oil & Energy's own W BASE oil technology to maintain stable oil viscosity over a wide temperature range. This allows Sustina to reduce internal engine drag, improving fuel economy up to two percent!
Visit www.eneos.us for more information.
---
Lucas Synthetic Oil Stabilizer

Light enough for an import and tough enough for a semi, Lucas Synthetic Oil Stabilizer can be used in new equipment which requires synthetic oils or any equipment that needs enhanced performance. It can be used to protect new and used transmissions, gearboxes and engines and to control heat in motorcycles, air-cooled engines and drive train components. It also increases oil life by 50 percent and reduces oil consumption and friction for increased power and MPG.

Visit www.lucasoil.com for more information.
---
M7 Pro Oil 10W-40
M7 Pro Oil is specifically formulated to improve horsepower while at the same time protecting the engine during extreme conditions. With a proven combination of power and protection through special formulation, the unique M7 blend has anti-wear additives specifically designed for automotive and race engines that run at high RPM and high acceleration. M7 Pro Oil is a full synthetic and meets the requirements of API SN and ILSAC GF-5.
MSRP: $79.99 (USD)
Visit www.M7WorldShop.com for more information.
---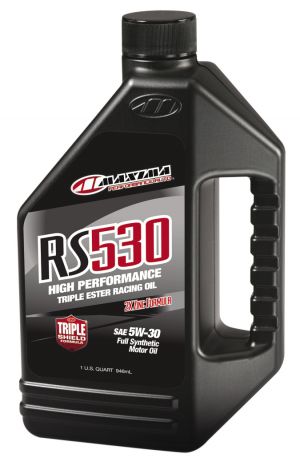 Maxima RS Series Motor Oils
MAXIMA RS 4-cycle engine oil is a full synthetic, triple-ester based race-grade oil for the ultimate in engine performance and protection. The advanced formula contains special anti-wear/extreme pressure additives to protect critical components from extreme loads and peak temperatures generated by high-performance engines. The regenerative, high-viscosity index, synthetic polymer system resists mechanical break-down, increases horsepower and torque and extends engine life.
Available in 0w-10, 0w-20, 5w-30, 10w-30, 10w-40, 15w-50
MSRP: $13.95 (32 oz. quart) (USD)
Visit www.MaximaUSA.com for more information.
---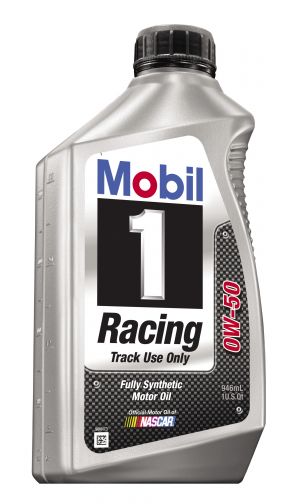 Mobil 1 Racing Oil 0W-50
Mobil 1 Racing 0W-50 is a fully synthetic motor oil specifically designed to maximize horsepower in a wide range of race applications, including highly-loaded flat-tappet engine designs used in the NASCAR Sprint Cup series. Mobil 1 Racing oils were engineered to help on-track vehicles reach the peak of their performance potential. Recommend for longer duration and high-RPM operation where heat build-up may be an issue. Not recommended for street use.
MSRP: N/A
Visit www.Mobil1RacingStore.com for more information.
---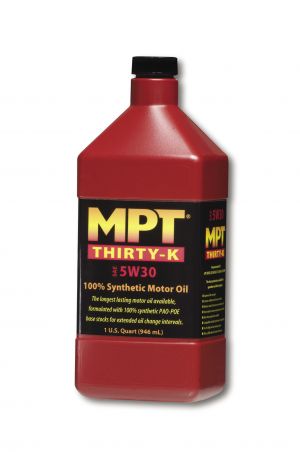 MPT Thirty-K Full Synthetic High Performance Motor Oils

Comprised of 100 percent synthetic ester and polyalphaolefin base stocks with zero highly-refined petroleum or viscosity modifiers, MPT Thirty-K Motor Oils are fortified with the finest additives available, including extra zinc and phosphorous for anti-wear. Special friction modifiers such as molybdenum also guarantee longer engine life, reduced heat and friction and better fuel economy.

MSRP: $14.95/quart

---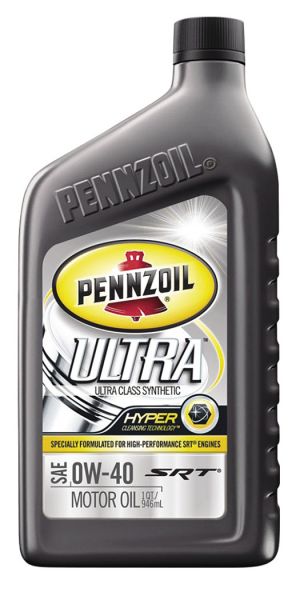 Pennzoil Ultra Motor Oil
Designed specifically to keep SRT engines running clean, Pennzoil Ultra Full Synthetic Motor Oil helps engines to exceed the toughest of industry standards. The proprietary formula aids in the prevention of the build-up of sludge, damaging deposits, corrosion and engine wear while providing oil stability and endurance under extreme conditions. Specially formulated with Hyper Cleansing Technology, Pennzoil Ultra is the highest level of clean your engine can get.
MSRP: N/A
Visit www.pennzoil.com for more information.
---
Permatex Dielectric Grease
Permatex Dielectric Grease is the best choice for today's high-energy ignition and electrical systems. The non-conductive, silicone formula seals out moisture and dirt, inhibiting corrosion to protect electrical connectors and wiring. Permatex Dielectric Grease lubricates and seals the rubber parts of electrical connectors to prevent voltage leakage, and extends the service life of bulbs and lamps. It is also resistant to high temperatures, helping to prevent spark plugs from fusing to the boot.
Visit www.permatex.com for more information.
---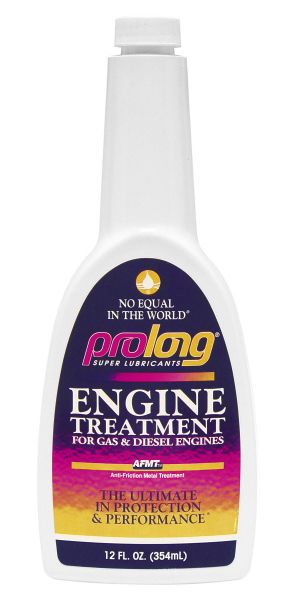 Prolong Engine Treatment

Prolong Super Lubricants Engine Treatment and Booster System protects gas and diesel engines from the two leading causes of engine wear: damaging friction and heat. With its exclusive Anti-Friction Metal Treatment™ (AFMT) advanced technology, Prolong treatment chemically bonds to metal surfaces to generate a protective layer that prevents metal-on-metal grinding. It restores engine efficiency, optimizes fuel economy and protects the engine in the event of oil or coolant loss.
MSRP: $19.99 (USD)
Visit www.prolong.com for more information
---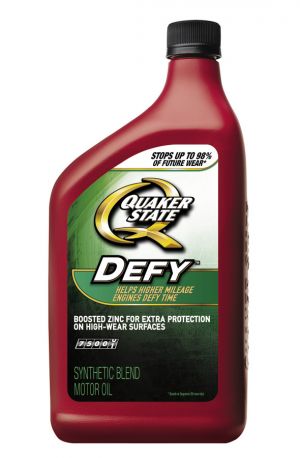 Quaker State Defy Motor Oil
Quaker State Defy Motor Oil is designed to effectively meet the changing needs of engines and help higher mileage engines defy time. Preventing up to 98 percent of future wear to help extend engine life, the synthetic-blend lubricant is formulated to help revitalize seals, reduce leaks and minimize oil burn-off while zinc anti-wear agents target high-temperature and high-wear surfaces.
MSRP: N/A
Visit www.quakerstate.com for more information.
---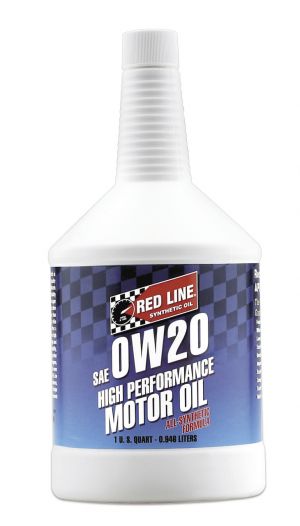 Red Line 0W20 Motor Oil

As Red Line's lightest passenger car motor oil, 0W20 is designed to increase fuel economy and improve cold starts, while providing excellent wear and friction protection across a wide range of operating conditions. It also helps maximize performance with ahigh natural viscosity index (VI), providing thicker oil film in bearings and cams. It is the factory recommended weight for the Scion FR-S/GT86/ and Subaru BR-Z and numerous small cars, hybrids and trucks from Honda and Toyota.

MSRP: $11.49/quart to $45.95/gallon (USD)

Visit www.redlineoil.com for more information.
---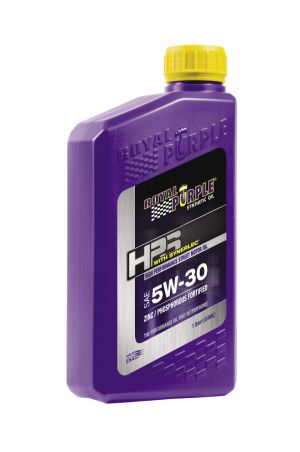 Royal Purple HPS Motor Oil
Royal Purple's new line of HPS street/performance motor oil is designed for vehicles that have exceeded the factory warranted period. Formulated with Royal Purple's proprietary Synerlec anti-wear additive technology and utilizes a more robust zinc/phosphorous anti-wear package than warranty API oil currently allows. It provides exceptional oil film strength and load capability and is a cost-effective alternative to the XPR line of racing-grade oil.
Available in 5W20, 5W30, 10W30, 10W40 and 20W50.
MSRP: $10.38/quart (USD)
Visit www.royalpurple.com for more information.
---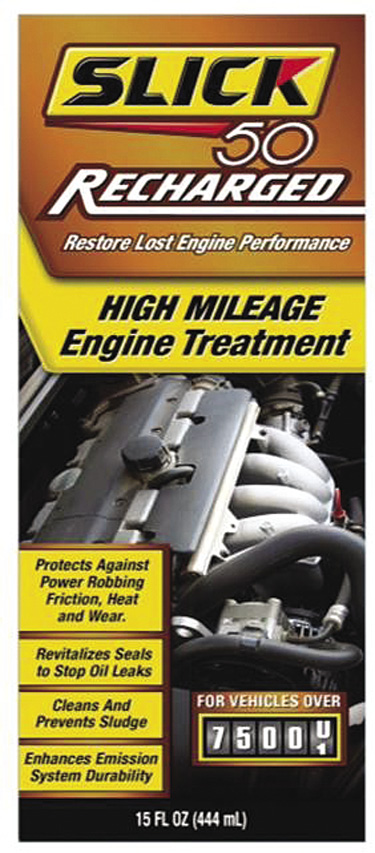 Slick 50 Recharged High Mileage Engine Treatment

The Recharged High Mileage Engine Treatment provides your engine with vital lubricants to keep your car running like new for a longer period of time. This treatment protects against power-robbing friction, heat and water, while revitalizing seals, cleaning and preventing sludge and enhancing emission system durability. It's peace of mind so your high-mileage car runs as if you just pulled it off the lot.

MSRP: $19.99 (USD)

Visit www.slick50.com for more information.
---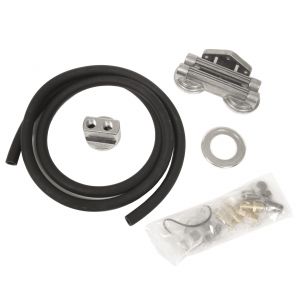 Summit Racing Equipment Oil Filter Relocation Kits
A Summit Racing Oil Filter Relocation Kit is ideal for moving your oil filter away from engine heat or to a more accessible place. All relocation kits include a bypass adapter, filter mount, oil hose, brass fittings, stainless steel hose clamps, mounting hardware and instructions. The kits require a Fram PH8A or equivalent oil filter (sold separately).
MSRP: $40.95 (USD) SUM-G4985-1 (single filter) $50.95 (USD) SUM-G4986-1 (dual filter)
Visit www.summitracing.com for more information
---
Torco SR-1 Synthetic Oil
Torco SR-1 Super Street Series Synthetic Oil is the ultimate purpose-built oil for your high-performance street car. Designed using Torco's 60+ years of experience in developing and producing hardcore racing oils, SR-1 uses advanced CAT-safe oil technology the best in protection and power.
Available in 0w/20, 5w/30, 5w/40
MSRP: $11.60/liter
Visit www.torcousa.com for more information.