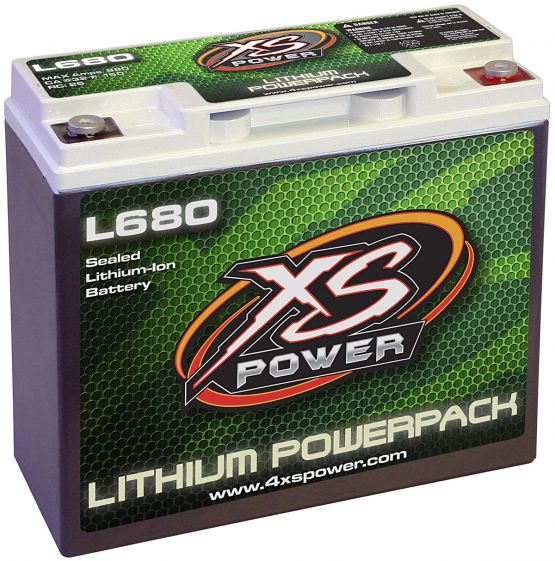 XS Power introduces the L680 Lithium Powerpack, a lightweight racing battery for 12V automotive road racing and circle track applications.  This product joins the ranks of the other track proven lithium ion batteries from XS Power used by top racers in the ADRL, NHRA, and IHRA.
The L680 Lithium Powerpack is fully alternator compatible and weighs only 5 lbs 8 oz.  The performance vs. cost of this battery makes it a great value in a lightweight racing battery for road course, asphalt circle track, and dirt track with alternators.  This 12V Lithium-Ion battery has 25 minutes of reserve and a total capacity of 11Ah.   It can deliver 800A max and 125A continuously which is more than enough to start engines up to 500 cu in. and supplement the alternator's output.  The battery is 185mm L x 81mm W x 169mm H and a full line of battery holders are available at www.4xspower.com.   This battery features fast cell balancing for safety, long life, and maximum capacity.  A unique feature of this battery is the completely solid state MOSFET protection system including automatic low voltage, high voltage, in coming current limiting, over current, and short circuit protection.  In the event of an alternator failure, the L680 can be quickly recharged with an XS Power 12V lithium charger or any 12V AGM compatible battery charger (3A maximum).  MSRP is $1,130.
XS Power is a manufacturer and distributor in Knoxville, TN USA of high performance batteries for racing.  They offer AGM lead acid batteries featuring lead-tin technology, lithium-ion batteries designed for automotive use, as well as a complimentary line of accessories.  Please visit their website at www.4xspower.com or call 1-888-4xspower for more information.