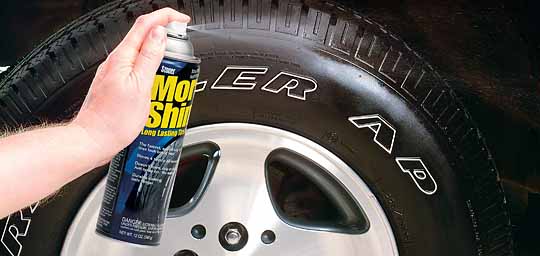 Car buffs now have the opportunity to use a tire shine that's been favored for years by professional detailers, car dealers, and auto enthusiasts.  It's new and improved More Shine from Stoner, Inc.  According to Stoner national product manager John Goldbach, "the product's name tells part of the story – it gives dull tires a 'like new' shine.  The rest of the story is discovered in the convenient aerosol packaging.  One big benefit here is that, More Shine absolutely will not drip, foam, or leave a milky mess that has to be wiped with a rag.  It's the fastest and easiest way to make tires look their best."
More Shine sprays on quickly and easily, instantly restoring color and shine to faded tires.  In fact, a set of four tires can be impressively shined in just 60 seconds!  No mess, no rags, no dirty hands.  The easy-to-apply aerosol performs equally well on dry or wet tires.  Goldbach says the secret is in the formulation -- no water is used like in other products.  In fact, the dressing repels water and water-borne dirt for a longer lasting shine.
It's easier than ever for consumers to purchase Stoner's More Shine, says General Manager, Rob Marchalonis.  "As of March 2006, More Shine is available in newly redesigned, 4-color cans at over 2000 locations throughout the U.S., such as Murray's, Checkers, Shucks, Kragen and O'Reilly Auto," he says.  In addition, consumers can order the product in a kit direct from Stoner that includes 3 cans of More Shine, plus a bonus can of Stoner's no-streak window cleaner, Invisible Glass, for $19.95 plus $4.50 shipping and handling.  A larger, 12-can Complete Car Care kit for $49.95 includes all of Stoner's most popular auto detailing products.  "If they prefer, consumers can order from our web site, www.moreshine.com, which is devoted to all our retail auto detailing products," adds Goldbach.  If the product does not perform to customers' satisfaction, they may return the unused portion within 30 days for a full refund.