Written by Chris Radisic | 09 June 2016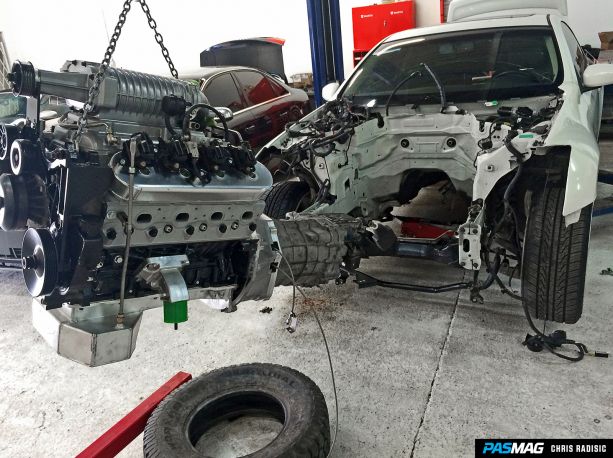 As car enthusiasts, we have all thought about our dream car, on several occasions. Along with that, some of us have also dreamed about the perfect engine inside of our favorite chassis. So, what does it take for that dream to become a reality? Luckily, we have some of the necessary steps it takes to get your project to go from paper to pavement. In this write up we will be referencing an LS V8 swap into an Infiniti G35 Coupe. Keep in mind that this is strictly a guide, however all of the planning and approach should be carried out in a similar fashion. We'll start off with the two golden rules of engine swapping.
RULE #1: PLAN
Just when you think you have planned enough, go over it and plan again. We cannot stress how important this is. There are so many facets to cover before the actual physical part of the swap is started that it can be daunting:
• DO YOU HAVE THE DESIRED CHASSIS?
• WHAT IS THE FINAL GOAL OF THE CAR; TRACK MONSTER OR TASTEFUL, FUN DAILY?
• WHAT POWERPLANT DO YOU WANT?
• WHERE IS THE BEST PLACE TO SOURCE A DRIVETRAIN?
• WILL YOU BE REFRESHING THE MOTOR?
• WILL YOU PAINT THE ENGINE BAY WHILE IT'S DRIVETRAIN-LESS?
These are just the very tip of the iceberg, but essential questions to ask yourself. There will be a million other things that arise as you progress, but these are a great place to start.
RULE #2: BUDGET
This is where you need to be 110-percent honest with yourself, no matter how big or small the dream is. Budget can literally make or break your build. I have seen it happen all too often; someone gets started on a project, but mistakenly didn't factor in a large portion of the swap or an unforeseen event that could take place. At that point, there's no further budget to rectify whatever it is that has occurred, which is a project killer. This is obviously the worst case scenario, but also why the planning in Rule #1 and proper, honest budgeting in Rule #2 play hand in hand with one another.
I use the word "fun" loosely, as it can be stressful and trying at times. Just know that once it is complete, it's one of the greatest feelings and rewards. Take it slow and steady, and the race will be won. Preparation is huge at this point. Have the chassis clean and fully accessible for whatever task you are completing. Be sure that the motor or drivetrain you will be putting in is clean and as complete as possible. The easiest time to tinker or install parts is when the motor is out, so take advantage of that while you can. Think of what aftermarket gauges you will be running, if doing so, and install the sensors for them at this time. On the chassis side, if you even think for a second that a certain wire or section of harness will need to be reused, label it clearly in whatever terms are easiest for you to understand.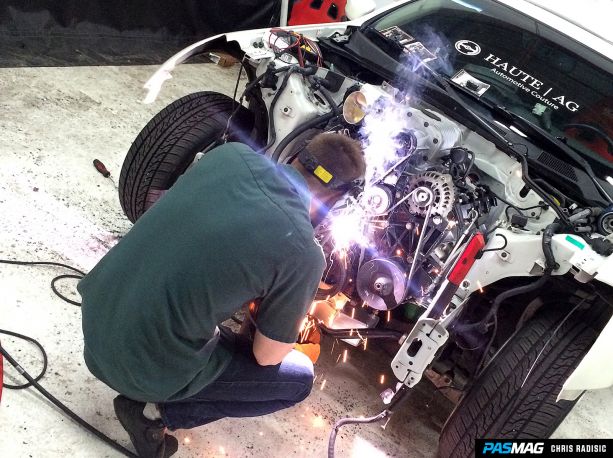 From this point forward, it's really just about taking things as they come and progressing through the swap. Test fit everything before final installations to ensure proper fitment and function. On our build, we had to get the drivetrain situated before taking measurements to have a custom shifter made, along with a one-piece aluminum driveshaft. As we were at a standstill waiting on parts to be made, we continued on with the accessories and everything else around the motor. The engine harness was run, braided stainless lines and a fuel pressure regulator were routed from the tank, power steering lines were fabricated and installed, and heater hoses were attached. After everything was confirmed to fit and work, it all came back out and any necessary modifications to the chassis were made. We had some firewall clearance issues, which were rectified, and once we were satisfied with everything, the engine bay went in for paint.
Once the chassis was back from paint, our custom parts had been made and received, it was time to get to business on final assembly. The drivetrain was installed, shifter and driveshaft were confirmed to fit, then all of the items required to make the package work were carefully laid into place. Once everything was in and the ECU was installed, grounds were in place, it was time for the always nerve racking first start up. We were running a stock ECU with HP Tuners so initial start up wasn't too concerning for us. If you are running a standalone engine management or aftermarket ECU, ensure that you follow their instructions and setups however they are outlined. I always recommend attaching a mechanical oil pressure gauge if you do not have one installed in the car, and make sure to prime the system before starting the vehicle up the first time. This way oil is distributed throughout the system and you aren't starting anything "dry" (turbochargers, cylinder heads, etc.).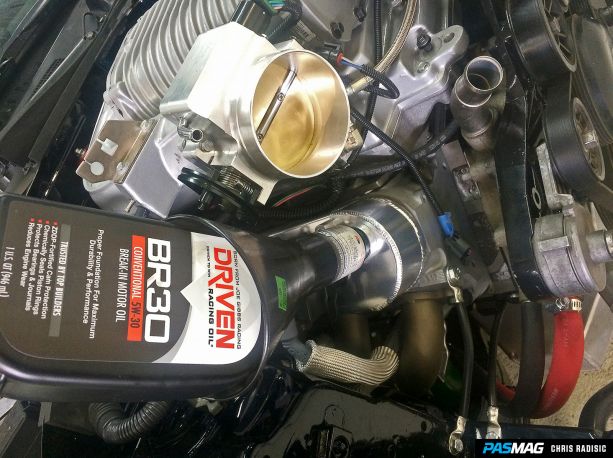 After you have breathed life into your swap (hopefully without too much hassle), it is time to make sure everything is happy. Ensure all fluid levels are proper, loose electrical is tidied up, charging system is functioning, and no leaks are present. If at any time there is an issue, shut the vehicle off and rectify them accordingly. The last thing you want to do, after all of the blood, sweat, and tears, is to compromise your project over something menial. If you have a fresh motor, drain and fill oil after minimal run time.
After this point, for the first several thousand kilometers, I always triple check everything. Make sure pressures and temperatures stay in proper operating range under varying loads. After a few hundred kilometers, I always go over every fastener and bolt that was touched and ensure they are still torqued and in proper position. From there, drive the car as you would in its daily life. Be cautious, but not paranoid. There may be weird noises or smells as things bed in and situate themselves how they will finally settle. Don't be alarmed at every little thing, but be aware. If something seems very wrong, address it however the situation requires. Another step I take when first wrapping up a build is to take a fire extinguisher with me. In all of the chaos that a swap can be, sometimes little things such as oil leaks or fuel seeps can be easy to overlook. And once everything is in motion, if something is to go wrong, it happens quick. Just make sure to be prepared.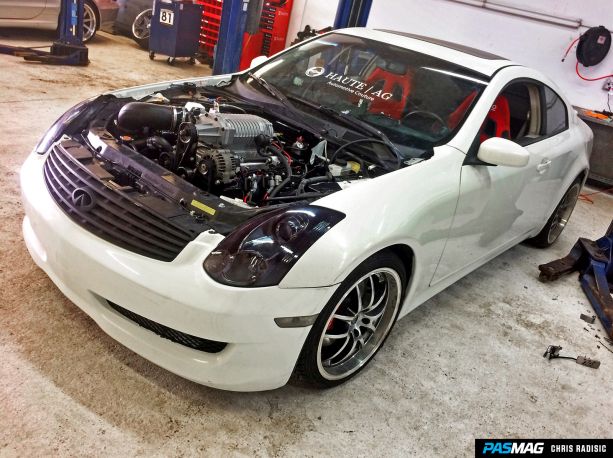 All in all, this is the basic approach we suggest when tackling a motor swap. There will obviously be variations as to what you will need to account for with your swap, all we suggest is you consider all angles before diving in head first. Other than that, enjoy the process, and use it as a learning experience. You will not only learn a multitude of things about your vehicle, but maybe even yourself. As always, happy wrenching, and good luck with those swaps!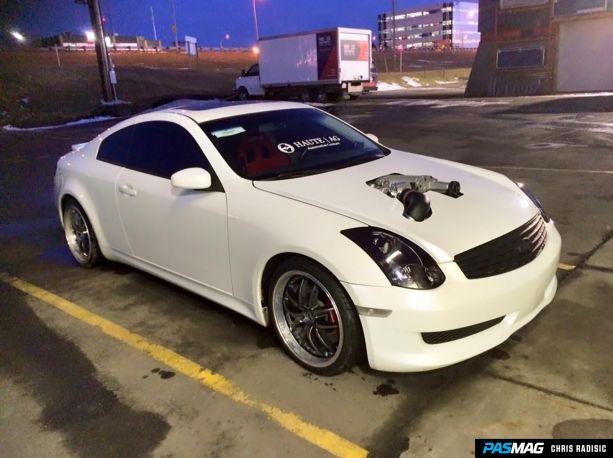 EDITOR'S NOTE: Chris Radisic is the General Manager of Haute AG, an automotive performance, customizing and aftermarket parts sales shop in Calgary, Alberta, and he graciously documented the process of swapping an LS V8 into his personal Infiniti G35 Coupe. Thanks very much, Chris!