Page 1 of 3

Advantages:
StopTech big brake kit gives you the complete satisfaction with new Callipers, two-piece floating directional aero rotors with hats (pre-assembled), stainless steel brake lines, mounting brackets and performance pads.
Info:
StopTech currently offers various caliper colors to choose from: red, black, silver, yellow, blue and Gold. In addition, slotted and cross-drilled rotors are available.
For the purpose of this install, we have chosen red StopTech calipers along with cross-drilled rotors to be displayed behind the car's concave Vossen VVSCV3 wheels.
Tools Required:
Jack & Jack Stands
Impact Gun
17MM 3/8 Drive Socket
18 MM 1/2? Swivel Socket
13MM 3/8 Drive Socket
3/8 Extension
1/2? Breaker Bar
Foot Pound Torque Wrench
7 MM Allen Socket
6 MM Allen Socket
Hydraulic Bleeder Pump
Hammer
1 Litre Bottle
Clear Tube
---
This feature involves one of the most popular brands of brake systems around- StopTech.
We enlisted BMW Certified technician Martin Poplawski to perform our StopTech big brake upgrade at Bimmersport Automotive Inc. in Mississauga, Ontario, a state of the art facility, owned and operated by Charlie Nour since 1999.
A typical first-time installation will take a qualified mechanic about 1-2 hours per axle to perform. In some instances, modifications to the suspension may be necessary and special tools or skills may also be required. If you are comfortable doing a brake change (pads and rotors, etc.), and have basic knowledge of working on cars, the installation of a StopTech big brake kit will not be too challenging. In fact, it will probably be one of the most gratifying upgrades you will perform.
With bigger rotors that have better cooling capacity and the larger surface area keeps heat out of the hubs. This helps the pads cool down and work longer. Minimum rim size is now set to 19" in order to clear the brake Kit. StopTech recommends using any quality name brand or OEM brake fluid that is DOT 4. If this brake system is being installed for track use, you might want to use a racing brake fluid with higher dry and wet boiling points. (Motul 600 is recommended).
It's also a good idea to spread the parts out and check them with the instructions provided by StopTech to ensure all the necessary parts are included in the package. The installation can be performed yourself or, preferably, by a professional.
---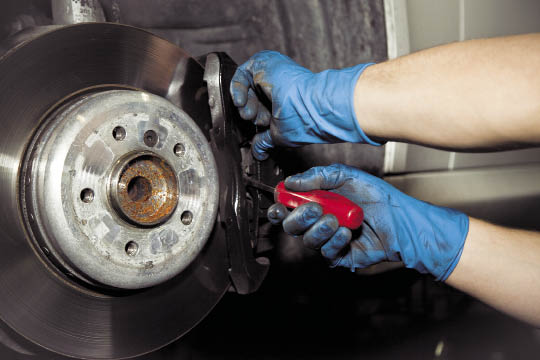 1. Remove the caliper clip, sensor & slider covers using a flat-head screwdriver.
---
2. Remove the caliper slider and the calipers will slide off. Secure the caliper using zip tie off the strut to keep the brake line from stretching.
---
3. Remove the caliper carrier.
---
4. Remove the rotor by unscrewing the 6mm screw holding it in place.