Written by Mike Bonanni. Photos by World Racing. | 24 January 2012
Page 3 of 3
Now we will install the Descendant Racing upper intercooler pipe which should slip into the couplings on the factory mass air flow sensor and intercooler that we loosely fit earlier. Once in, leave the hose clamps loose and begin installing the blow-off valve, connecting it from the upper intercooler pipe to the intake pipe. Once everything is in place, tighten all associated hose clamps. Finally connect the boost source line to the blow-off valve and leave the other end disconnected for the time being, tucking the tube out of the way.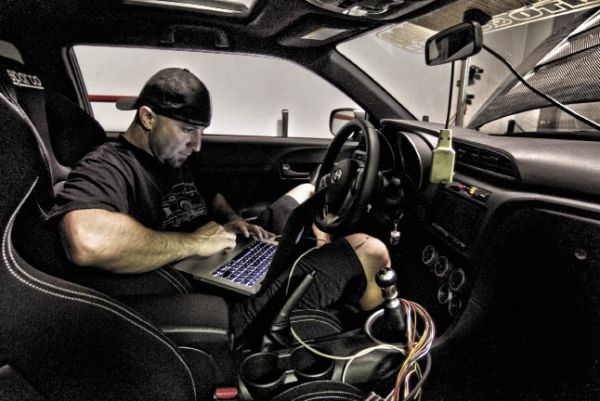 If everything is ok then we can proceed to finishing the install of the AEM F/I controller. Inside the car, finish plugging in all wiring connections and boost/vacuum source to the controller. Once everything is finalized, the last step is to get your car tuned to ensure proper performance and reliability. During the initial tune it is important to continually check for leaks and after your first small pull, check to make sure that none of the bolts have come loose.
Once tuned, our PASMAG project tC2 gained an impressive 100 horsepower at the wheels, a much needed kick to the already fun to drive Scion! The crew at Descendant Racing has done an amazing job with this off-the-shelf turbo kit meeting all expectations of quality, fit, finish and performance!
Moving forward, we will install the wastegate next, loosely attaching it to the exhaust manifold. Install the dump tube and rotate the wastegate to the proper position. Once loosely installed, use the supplied v-band clamp to connect them together and tighten everything up. Next, connect the supplied vacuum port to the wastegate using the supplied banjo bolts and crush washers. Finally, connect the loose end of the boost source line to the vacuum port.
Now that all of the parts are installed, double check your work. Go through and make sure that every bolt is tight, every hose is connected, all parts have proper clearance, and every electrical connection is secure with the exception of the AEM F/I controller which we will install later. Once you have double checked your work, add new oil back into the motor and ensure there are no leaks. While still on the lift or jack stands, re-connect the battery and start the car. Ensure that there are no leaks and everything is sounding and operating as it should. Avoid revving the engine or getting the car into boost at this point as your car is not properly tuned.
Sources
Scion • www.scion.ca