Page 3 of 3
---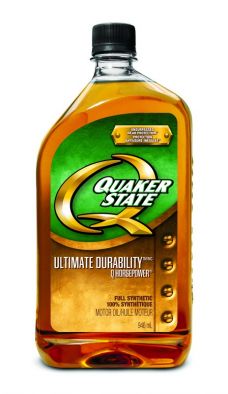 Quaker State Ultimate Durability
Quaker State Ultimate Durability motor oil is heat-activated to protect your car's engine from wear even under the most extreme driving conditions.  In fact, it provides unsurpassed protection against friction related wear. Quaker State Ultimate Durability oil provides improved resistance to engine stress at high RPM's and under heavy loads.
USA - www.quakerstate.com
CAN - www.quakerstate.ca
---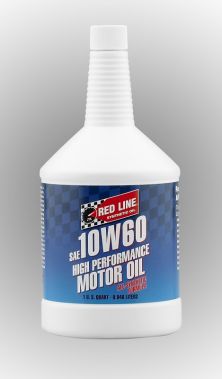 Red Line 10W60
Red Line fully-synthetic 10W60 motor oil is designed for BMW technicians and enthusiasts frustrated with the lack of motor oil options in the 10W60 range. You can now benefit from the performance, durability and availability of Red Line's 10W60 Motor Oil (PN 11704). Including the robust ZDDP antiwear packages one expects from their products, Red Line's fully-synthetic motor oils are engineered from polyol-ester base stocks to offer better fuel economy through reduced friction and offer a thicker oil film at operating temperature than conventional oils and synthetic blends. Sold in Asian markets for years, this product is now finally available for consumers and installers in the North American market.
---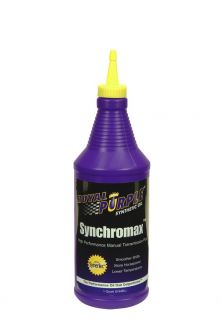 Royal Purple Synchromax
Royal Purple Synchromax is a manual transmission fluid that increases performance and the life of your equipment. It improves shifting, reduces gear noise and increases power transfer to the wheels. It also lowers operating temperatures and provides outstanding wear protection for longer transmission life. Synchromax is recommended for manual transmissions that specify an automatic transmission fluid. Synchromax is fully compatible with all types of friction materials. It provides excellent corrosion and oxidation protection without affecting the soft metals commonly found in manual transmission synchronizers. Synchromax is formulated with Royal Purple's proprietary Synerlec technology for unsurpassed performance and protection.
---
Shell Rotella T6 Full Synthetic
Shell Rotella T6 Full Synthetic oil features an advanced multi-functional, low-ash additive technology in a synthetic base oil designed to provide highly responsive protection that continuously adapts to your driving conditions. Use of selected low-viscosity synthetic base oils further energizes the oil's protective capability that promotes fuel-economy performance with no compromise in durability. Shell Rotella T6 delivers 34 percent better wear performance on average compared to the previous API CI-4 PLUS 5W-40 formulation.  In seven out of seven industry-standard, diesel-engine wear test measurements, Shell Rotella T6 outperformed the previous formulation.
---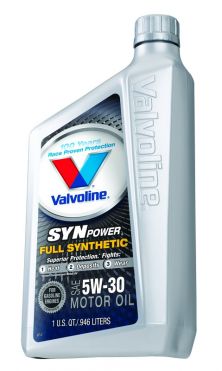 Valvoline SynPower Full Synthetic
You want to protect your engine, but everyday heat, deposits and wear stress engine parts. Valvoline SynPower Full Synthetic Motor oil is formulated to keep your car running its best. With SynPower Full Synthetic you get the ultimate protection against the three major causes of engine stress. SynPower is formulated with full synthetic base oil and premium chemistry that stands-up to extreme temperatures. SynPower flows when the engine is cool, and maintains its protection barrier as engine temperatures rise. SynPower has extra detergents and dispersants to help prevent harmful build-up of sludge, varnish and other deposits in your engine. With all the concern about lower zinc in motor oil, SynPower responded with advanced, more durable anti-wear additives that stay in the oil longer for outstanding protection against friction and wear.