Page 1 of 3
---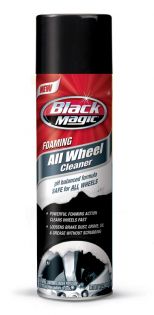 BLACK MAGIC FOAMING ALL-WHEEL CLEANER
The Black Magic Foaming All-Wheel Cleaner is designed with ease in mind. The foaming action quickly loosens brake dust, grime, oil and grease without scrubbing. The Black Magic Foaming All-Wheel Cleaner's pH-balanced formulation ensures it will not haze or pit and is safe for all wheel types.
---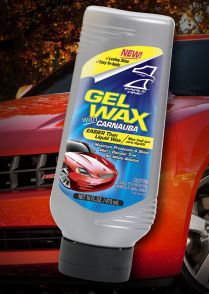 Eagle One Gel Wax
Eagle One has made waxing faster and easier than ever before with the introduction of unique Gel Wax. This unique product delivers a glorious, glossy shine that will last as long as paste but is easier to use than liquid wax. Gel Wax reduces the time and effort required with conventional waxes because it does not need to haze or dry after application. Just apply the wax to one section at a time, wipe off immediately and enjoy the look of a showroom shine.  It doesn't get any easier than this.
1 (800) 432-4531
---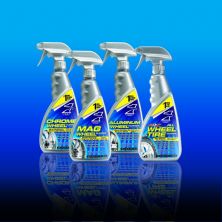 Eagle One Wheel / Tire Cleaners
Eagle One takes the guesswork out of selecting the right wheel cleaner with a lineup specially formulated for chrome, mag and aluminum wheels, and its one-step A2Z wheel and tire cleaner. The unique formulas make it faster and easier to clean and put a lasting and sparkling shine on your wheels. Chrome Wheel is a one-step cleaner that removes brake dust, grime and even rust and will not harm the delicate surface. Mag Wheel is specifically formulated to clean as-cast, older-style alloy wheels and chrome-plated surfaces. Aluminum Wheel is an acid-free cleaner ideal for polished aluminum. A2Z All-Wheel & Tire Cleaner is highlighted by its clinging suds formula that cleans both in one easy step.
(800) 432-4531
---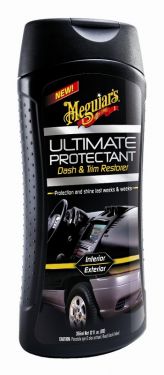 Meguiar's Ultimate Protectant
Meguiar's Ultimate Protectant outlasts conventional protectant products, delivering superior UV protection with long-lasting shine. Ultimate Protectant is ideal to enhance and protect interior surfaces such as dashboards and door panels, as well as exterior trim and moldings. Application is easy – just apply a small amount with a 100% cotton terry cloth towel, microfiber towel or applicator pad and wipe off excess.  It's that simple to create a rich shine that lasts weeks and weeks. This innovative formula dries quickly without leaving behind a greasy residue and withstands washing and rain without streaking. Just one use of this amazing protectant and you will see why it truly is the Ultimate.
Read on for More Products