Page 5 of 5
---
Thermal Exhaust Systems
Thermal Research & Development works closely with import racing professionals to configure optimum exhaust products for both the street and the race track. Thermal Research & Development handcrafts exhaust systems with maximum horsepower as their top priority. Thermal exhaust systems are made of stainless steel and are mandrel bent for high flow through bend areas.
---
Turbo XS Turboback Exhaust
TurboXS releases a 2008 WRX Hatch Turboback Exhaust. This is a complete exhaust solution from the turbo all the way until the muffler tip. The down pipe is a 4-inch bell mouth design which tapers smoothly down to 3-inches at the bottom to connect to their race pipe or cat pipe solution. The melodic boxer engine tone plays through a 3-inch cat-back with a straight through muffler and a 4-inch slashed cut tip. Horsepower gains of the complete system are 29 ft. lbs. and 30 whp gain over a stock.
---
AMS

EVO X Single Tip Catback ExhauST
The AMS EVO X Racing Series Cat-Back Exhaust System is a no-nonsense, all business exhaust system designed to make the most power and shed serious weight off your EVO X. Our exhaust features mandrel bent piping for the best exhaust flow. This system does not have any restrictions like other popular exhaust systems that "neck down" and hurt performance. Like all other AMS exhaust products this Cat-Back is TIG welded with 100% 304 stainless components including the flanges and hangers. The system utilizes factory exhaust hangers and includes a high quality slash cut 4" tip muffler. By simply installing this exhaust system you can expect to see as much as
15+ Wheel Horsepower gains over stock without even re-tuning the ECU!
---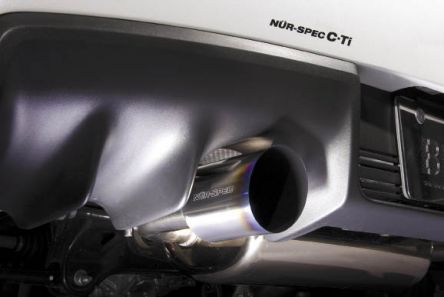 Blitz NUR Spec C-Ti
The Blitz NUR Spec C-Ti exhaust for EVO X is finally here. This full catback exhaust system with 80mm stainless steel piping features a flawless tail tip made of titanium material to look as great as it sounds. The exhaust tone level is 90dB and nets noticeable horsepower, increased performance and more aggressive exhaust note.