Page 2 of 5
---
Prosport headers
Prosport headers are a work of art, you might even be tempted to just hang them on the wall and stare at them all day long! They are fully constructed out of T304 stainless steel, including the flanges and the up-pipe uses Prosport's exclusive 3-bolt flange design between the manifold and up-pipe providing a stable connection without air leaks. With a jaw dropping 45mm inner pipe diameter you can be sure your spent exhaust will exit in a hurry with gains around 11HP and 13ft/lbs just bolted on, with no low end torque lost.
---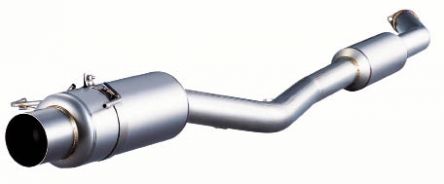 Fujitsubo Super Ti
Super Ti is Fujitsubo's premier exhaust system. It features full titanium construction, large diameter mandrel piping, and high flow muffler. Each Super Ti kit is designed and developed for optimum horsepower and torque while reducing weight. The goal in development is to increase power throughout the RPM range with an emphasis on high RPM power. All components are made of titanium from tip, muffler, resonators, piping, brackets, and hangers. Muffler tip diameter ranges from 100mm to 122mm, and an inner silencer is available separately. TEIN USA is distributing Fujitsubo Exhaust Systems in North America which have been individually checked by Fujitsubo engineers to ensure proper fitment, as well as HP and decibel readings. Available for many performance model vehicles including NSX, EVO VIII, IX, WRX/ STi, Supra, and coming soon for EVO X, new STi, R35 GT-R, and S2000.
---
DAI Techracing Mini Muffler
Techracing now offers a small dimension performance exhaust capable of fitting in small spaces. The muffler is built as a straight-thru design to allow maximum power and a throaty exhaust note. The muffler is finished in a flat black paint to reduce visibility and remain stealth. For great sound, performance gains and a unique look that won't attract unwanted attention, the Techracing Mini Muffler is a solid option for your next project.
---

GT Spec

Gen II Manifold
GT Spec is proud to introduce the new GEN II exhaust manifold for the Subaru WRX/STI. crafted from 14-gauge SUS-304 Stainless Steel. GT Spec headers are tig-welded inside and out to ensure a perfect flow and perfect fit. Compared to the factory exhaust manifold, GT Spec manifolds extract the most power from your EJ20/EJ25 by incorporating a long-tube design that provides improved heat dissipation and noticeable horsepower gains. Manufactured using an industry leading mandrel-bent 45mm stainless steel piping, .5-inch thick CNC machined SUS304 wax-cut flanges and SUS304 02 bungs, not only aids in longevity but allows for the proper flow required for high horsepower vehicles.
Read on for More Products