Page 1 of 2
---
Nardi Deep Corn Steering Wheel
The Deep Corn Line from Nardi is still one of the most demanded by lovers of race cars who appreciate elegance of its design and the comfort of the secure grip. It comes in sizes from 330mm or 350mm, either in black perforated leather or suede leather with black spokes and red thread. For an improved driving feel and superior grip, this wheel from Nardi is sure to impress.
---
Sparco Evo
Sparco steering wheels continue to be the most popular steering wheels on the market year after year because their innovative designs represent the best in style and performance. Sparco steering wheels, unlike many models from other leading manufacturers, can be found in a wide range of sizes to fit your vehicle or application. This selection allows you to find the wheel that fits your specific needs, whether you are driving your SUV on country roads or handling your Civic on the track.
---
---
Dub Design Industries Ultiem Steering Wheel
Dub Design Industries (DDI)  is raising the bar on aftermarket steering wheels. The new Ultiem Steering Wheel line looks more OEM with a beefier horn unit and billet aluminum frame with a solid aluminum flat bottom. It's a sporty yet elegant design that raises eyebrows by not following the same path as aftermarket steering wheels tend to do.
---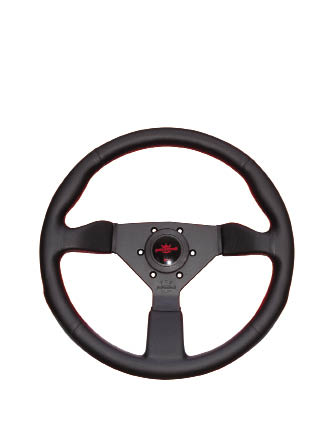 Personal Neo Grinta Wheel
Having a Neo Grinta wheel from Personal is like holding victory in your hands. Choose from 330mm or 350mm sizes and red or black suede or black leather. For superior grip and improved steering feel, Personal offers this and a huge lineup of racing wheels for a variety of applications.
Read on for More Products