---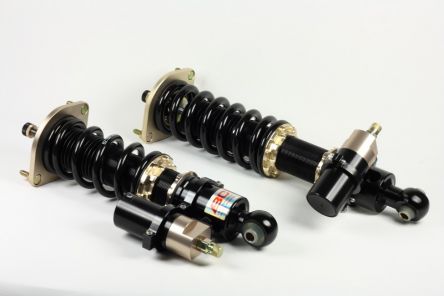 BC Racing
BR & ER Series
www.bcracing-na.com
BC Racing is proud to provide coilovers that strike the best balance between performance and cost. They design the most popular and essential features into their coilovers while keeping the end price down for the consumer. Whether you are cruising down the street, enjoying your favorite twisty mountain road or tearing up a race track BC Racing has a coilover system for you. You get to choose your springs rates, either keeping the recommended spring rates or selecting from available stock. BC Racing will even install the springs for you so you don't have the hassle of doing it yourself. As an added service if you choose spring rates 4k higher or lower than the recommended setting they will revalve the dampers for you. BC Racing believes you shouldn't have to pay a premium price for a quality coilover system.
---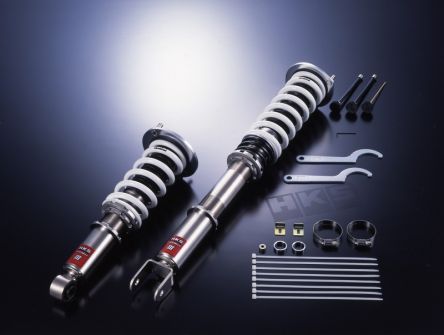 HKS
Hipermax III
www.hksusa.com
www.jrponline.com
The Hipermax III is designed and tuned for street application / daily driving. HKS' all-new hiper linear piston fluid channel system damping system creates a positive relationship between piston speed and damping force, making it possible to produce a suspension that provides track-level control and feedback with exceptional ride quality at the same time. In addition, the Hipermax III is shock-body adjustable (most applications) to allow vehicle height adjustment without affecting spring rate and piston stroke. With the Hipermax III's range of adjustability, precise corner balancing can be achieved. Chrome-plated cylinder shafts provide excellent durability and newly-design rubber upper mounts reduce harshness.
---
Skunk2
Pro-C Coilovers
www.skunk2.com
www.jrponline.com
Skunk2 PRO-C Coilovers offer the latest shock technology featuring an adjustable race inspired mono-tube design for dramatically improved handling and cornering performance. The mono-tube design coupled with oversized shafts and pistons make help make the PRO-C damper extremely responsive and durable. Each PRO-C coilover kit for the '06+ Honda Civic features CNC machined forged billet top mounts with adjustable camber plates and spherical bearings along with, precise 12-way adjustable valving and carefully designed dampening curves for maximum performance and feel.
---
KW Suspension
Variant 3
www.kwsuspensions.com
The KW suspensions coilover for the Nissan GTR enables the owner to lower their vehicle 10-30mm on the front axles and 15-35mm on the rear axles and retains enough travel to handle maximum load and dynamic loads during driving. Adjustable (and independent reacting) rebound and compression damping allows a truly individual performance driving setup for those technically demanding drivers. Compression dampening adjustment is conducted in the low-speed range, while the high-speed set-up, so decisive for driving comfort, has been pre-set by KW engineers.

For More Products Read On

---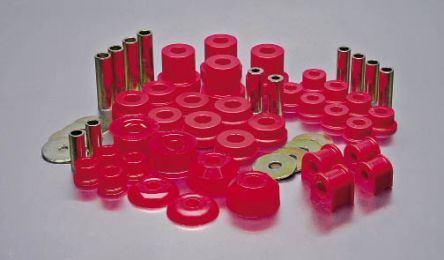 Energy Suspension
Polyurethane System Master Bushings
www.energysuspension.com
Energy Suspension polyurethane system master bushing set improves performance, durability and appearance. They are proven for the street or the track, restoring and replacing distorted or worn out original rubber mounts and bushings better than new. Each Energy Suspension component is engineered to go beyond OEM specs to drastically improve corner to corner handling and maintain front end alignment. Impervious to oils, gases, road salt and atmospheric conditions, Energy Suspension products last 5-10 times longer than conventional rubber.
---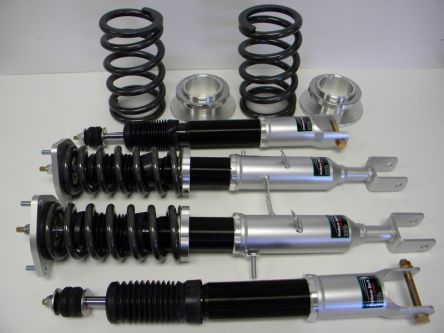 Endura-Tech
350Z Coilovers
www.endura-tech.com
The Endura-Tech Nissan 350Z coilovers feature a twin tube gas damper to steady handling, durability and excellent ride quality. They are a 10-way rebound adjustable gas shock for your driving demands and comfort level. The have 10K (560 lbs/in) spring rates for both front and rear coilovers. The front coilovers come with pillow ball upper mounts and adjustable camber plates.   The rear coilovers will use the genuine mounting parts for a better riding and quieter in noise.
---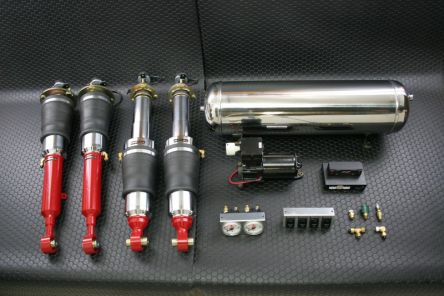 Air Runner Systems
TC-5 Edition
www.airrunnersystems.com
Winding roads and country lanes have never been so fun. A sleek digital interface is paired with 5-way adjustable shocks to make suspension adjustments as simple as pressing a button from your driver seat. The revolutionary TC-5 system is the first air suspension technology to feature automatic dampening adjustment control from your driver seat. The Air Runner TC-5 system offers 6 programmable presets for dampening adjustment to suite your needs under any condition imaginable.
---

STD Standard
Circuit ENR3
www.stdstandard.com
STD Standard ENR3 suspension system is the result of valuable experience in automotive racing. The ENR (External Nitrogen Reservoir) series is available as a piggyback reservoir type or as a remote reservoir type. This circuit suspension features an adjustable reservoir with separate low speed and high speed compression adjustments. The Circuit ENR3 suspension system's cylinders are manufactured with an increased diameter. This STD suspension system is designed for advanced and professional drivers that need great suspension tuning possibility at each and every race track they encounter. All Circuit ENR suspension systems are custom ordered to meet individual driver's needs.

For More Products Read On

---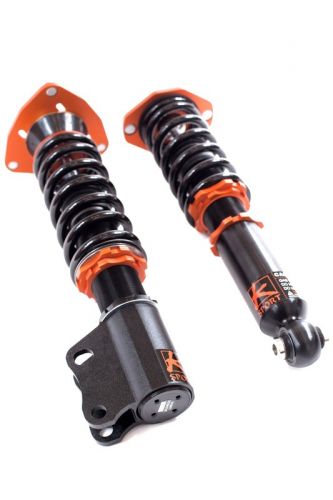 Ksport
Kontrol Pro
www.ksportusa.com
Whether your ride is a daily driver or a race-prepped time attack machine, Ksport has you covered with the Kontrol Pro. The Kontrol Pro damper system has won time attack championships, set lap records and gotten us to and from the office on a daily basis. With 36 Levels of Damping Adjustments, monotube design, available pillow-ball upper mounts and an adjustable lower mount this coilover kit is packed with features for the street or track. The Kontrol Pro features an electroplated shock body and 6061-T6 aluminum components to prevent corrosion while maintaining strength. As with all Ksport coilovers, the Kontrol Pro uses an adjustable lower mount to adjust ride height, rather than adjusting via the spring perches. This allows the car to be raised or lowered without affecting spring rates, or inducing spring bind.
---
SPC Performance
Lexus IS300 Alignment Products
www.specprod.com
SPC Rear Camber Plate is a  bolt and bracket kit provides an additional one degree of positive rear camber change. You will need to elongate the existing camber slot by using 85125 rotary files or equivalent. SPC rear camber plates are ideal for use on lowered vehicles along with our new 67525 adjustable ball joint for front camber change. The SPC Adjustable Ball Joint is designed specifically for the Lexus IS300, this ball joint corrects front camber up to ±1.5°. With an OE quality replacement ball joint, this sliding plate assembly is perfect for vehicles that have been lowered for performance, or retain the factory ride height.
---
Espelir
Active Super Down / GT Springs
www.mackinindustries.com
Espelir offer two distinct lowering springs to meet every enthusiast need. The Active Super Down suspension is the sports spring that makes your car look great with aftermarket wheels, while the ride is kept comfortable. A thorough lowering range from 30mm to 70mm is paired with a spring rate increase of 20% to 30%. To satisfy the performance driver demanding the best performance out of his vehicle Espelir developed the Active GT series. These springs empower a higher spring rate than the Active Super Down and have a 30% higher grade stroke volume.
---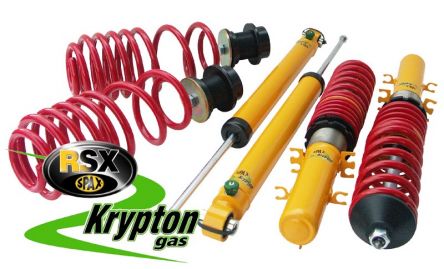 SPAX Suspensions
RSX Coilovers
www.jrponline.com

Leading suspension specialists Spax, now have a height adjustable coilover kit for several new applications. The kit features Krypton Gas filled dampers with stainless steel height adjustment threads and bump and rebound stiffness adjustments. The damper bodies feature an epoxy powder coated finish, and the height adjustment threads are made from stainless steel for long term durability. The package includes cold wound, silicon springs which are stiffer than standard to handle the same vehicle loads within a shorter spring travel and cope with the extreme forces exerted on the car when driven hard.

For More Products Read On

---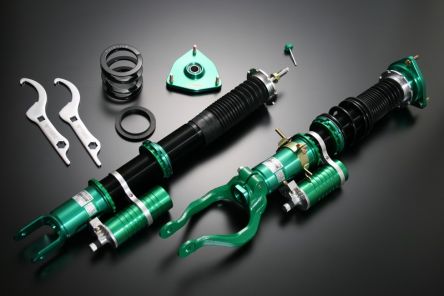 TEIN
Super Racing Coilover
www.TEIN.com
www.jrponline.com

Developed from years of tarmac motorsports support TEIN is able to produce a fully adjustable damper that can be easily tuned for a wide range of usage. Super Racing coilovers can be used on aggressively tuned street cars to track only competition race cars. Product features include mono tube construction, full-length adjustment, individual 16-way compression and rebound adjustment, pillowball upper mounts, and dual EDFC compatibility. The full potential of Super Racing dampers is achieved when used with R-compound, semi-slick, or slick tires.
---

V-MAXX
Coilover Systems
www.v-maxx.info
V-MAXX offers a complete range of coilover suspension kits to give you a maximum flexibility in setting up the perfect ride height for your car. V-Maxx products are produced according to highest quality standards with sporty, well balanced spring-damping characteristics and high quality components. V-Maxx coilovers feature on-car height adjustment and galvanized steel struts and gas shocks for high durability.
---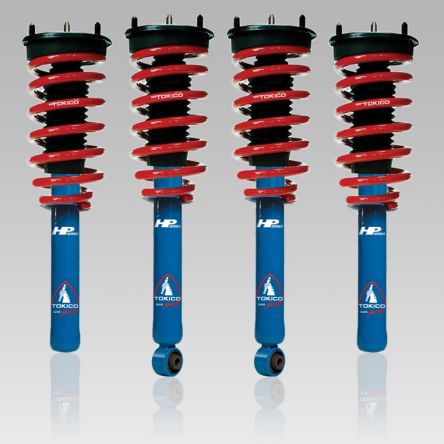 Tokico
HP Series
www.tokicousa.com
www.motovicity.com
Tokico has been manufacturing shock absorbers for over 65 years. Tokico Performance shocks have many features that are unique in their design, and earn their reputation as a premium shock absorber. The heart of Tokico's HP Series is their unique piston design. The multi-stage variable aperture valve system, with precision plates and orifice control, creates the unique flexibility and accuracy in its damping abilities. The oil lubricant is also specially compounded for resistance to breakdown and minimal viscosity change due to temperature. Backed with a limited lifetime warranty, the HP series are a "must have' upgrade for vehicles with lowering springs and heavier aftermarket wheels.
---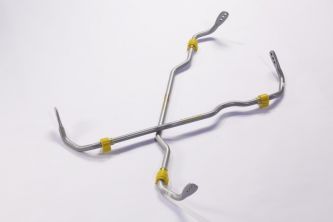 Whiteline
Sway Bars
www.whiteline.com.au

www.turn14.com
The fitting of bigger Whiteline sway bars is still the best dollar for dollar handling improvement you can make, as cornering loads are spread more evenly across the tires to deliver more grip and improved tire wear! Whiteline adjustable sway bars allow their stiffness to be altered by increasing or reducing the length of the lever arms. This permits the roll stiffness to be tuned for different situations without replacing the entire bar. The stiffer the bar, the more force required to move the left and right wheels relative to each other. This increases the amount of force required to make the body roll. Whiteline adjustable sway bars offer from 2 up to 4 points of adjustment allowing in some cases 10 distinct stiffness settings for precise handling bias adjustment.
For More Products Read On

---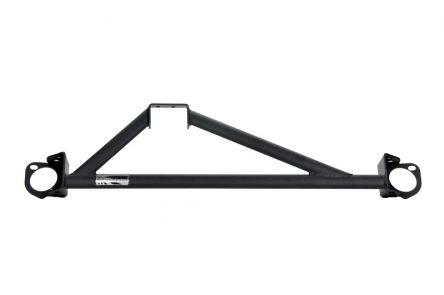 Password JDM
3-Point Front Strut Brace
www.passwordjdm.com
Password: JDM bars are individually hand crafted in the USA from 6061 aluminum. Password:JDM claims to offer the strongest aluminum bars in the market that far exceed the competition in both form and function. One of the biggest problems with most bone stock unibody cars straight from the factory is shock tower flex, a condition in which the shock/strut towers will flex under hard cornering resulting in a sloppy suspension feel.
---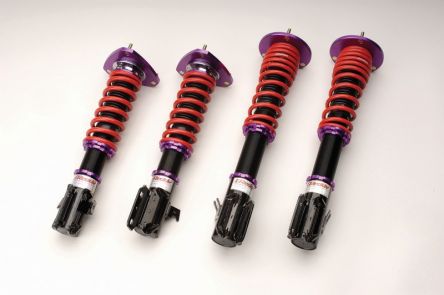 GReddy
Type S Suspension Kits

www.greddy.com
www.jrponline.com
Designed for the optimum balance of traction, comfort, and adjustability, GReddy Type-S suspension kits offer the finest features like: large 46mm diameter pistons in a Mono-tube shock, 32-way adjustable damping, adjustable base and spring perches, thick billet upper mounts, and a lightweight coil springs. Instead of the common heavy spring rates, that offer harsh rides and easily loose traction on bumpy American roads, Type-S systems utilize a relatively softer spring with a longer stroke to maximize traction on the streets and track. An added benefit of this is also a comfortable ride for the street. Applications available for many popular Japanese vehicles.
---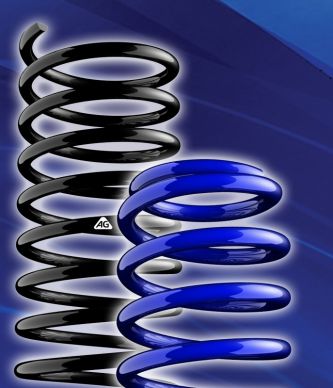 AG Suspension
Cartel Springs
www.dbmotoringgroup.com
AG Suspension springs are engineered to dramatically improve your vehicle?s performance and appearance. AG Suspension lowers your center of gravity, reducing squat during acceleration, body roll during cornering and excessive nose-dive under braking. AG Suspension also reduces excessive fender-well clearance when installed in conjunction with larger than factory wheel and tire packages. Every AG Suspension kit is designed and tested by our engineers to deliver aggressive good looks and high performance handling, without ever compromising safety or ride quality.
---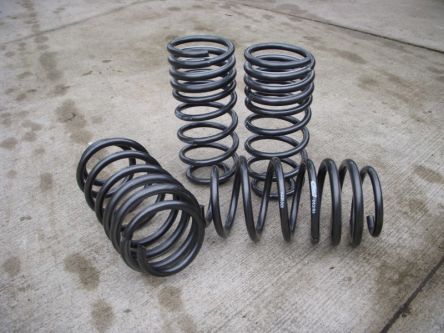 Eibach
Pro-Kit Springs
www.eibach.com
www.motovicity.com
Eibach Pro-Kits offer well-engineered lowering springs paired with an upgraded spring rate to compensate for the lower ride height with a sporty feel. Eibach is known worldwide for their high quality springs and suspension components. Eibach's attention to detail and quality is backed by a 'million mile warranty' against sagging and other failures, which gives the owner added peace of mind. The Pro-Kit is powder-coated in a durable charcoal grey metallic paint and available for many popular platforms.
Read on for More Products

---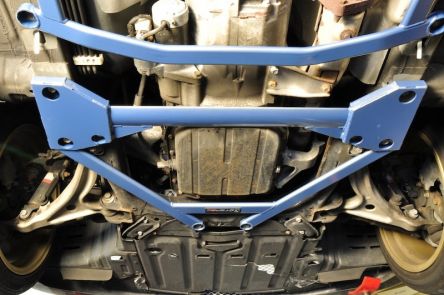 GT Spec
Chassis Bracing Line
www.gtspec.com
GT Spec is glad to announce the newly revamped and with some new addition to the Mazda RX-8 bracing line. The new line includes a new design 6 point front strut brace, and 6 point rear strut brace. New to the line are the fender reinforcement brace, 6 point front lower tie, 4 point mid ladder, rear lateral, and rear tie brace. If you are drifting, road racing, auto crossing, time attack, or even daily driving there are many advantages and improvements that can be made with the installation of these braces.
---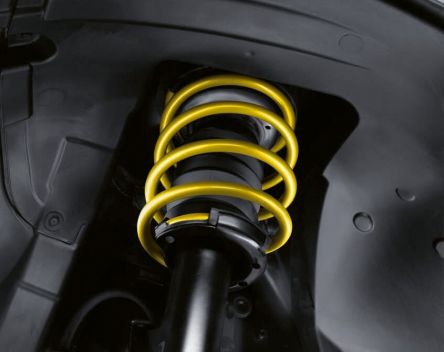 BMW Performance
1 & 3-Series Suspension Tuning
www.bmw.ca/performance
Ultra-stiff BMW Performance shock absorbers, suspension struts and anti-roll bars are all designed to deliver a pure sports-car ride, with a set-up that has been fine-tuned over countless hours of high-intensity testing. The result is a level of responsiveness that will enthrall all who experience it, on straights and on corners alike. For more visit your local BMW retailer.
---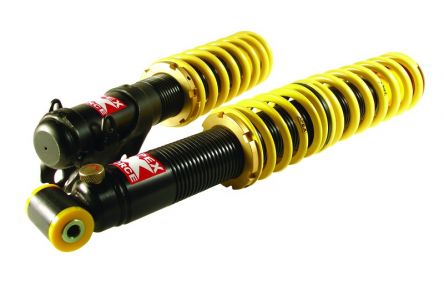 APEX
Suspension Systems
www.apexsuspension.ca
www.directautoimport.com
The complete APEX Suspension Systems shocks and springs line is available at Direct Auto Import. Produced in Holland, with strong road racing heritage APEX is the suspension component of choice for enthusiasts and professionals alike.
---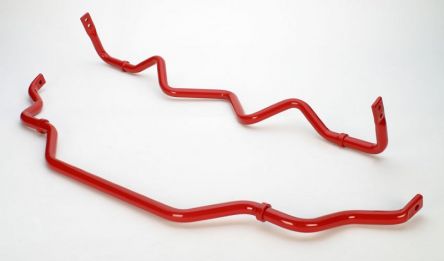 Stillen
Sway Bars
www.stillen.com
Stillen Sway Bars maintain feel and control by balancing the vehicle and keeping your car from rolling excessively in the corners, they also play a critical function by keeping maximum tire contact with the road where as factory sway bars are often way too small for true performance. Stillen bars are made from high strength aircraft grade steel; such a strong material is required for maximum torsional strength and durability. The Rear sway bar of the kit is adjustable, allowing drivers to adjust the ride from 7% to 70% stiffer than stock, making the vehicle pleasant on the street and aggressive at the track.
Read on for More Products

---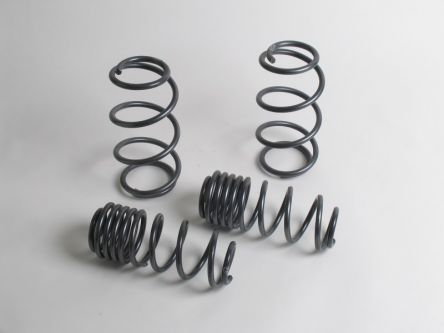 Progress Technology
Honda Fit Suspension
www.progressauto.com
The Progress Group has developed a rear anti-roll bar and sport lowering springs for the Honda Fit. The rear anti-roll bar is 19mm solid, alloy steel that bolts directly onto the rear axle beam for an easy, bolt-on installation. This new anti-roll bar system will improve chassis balance, quicken steering response and minimize body roll while cornering. All Progress anti-roll bars are manufactured in-house, feature precision MIG-welded ends and are powder coated metallic gray. Combine the rear anti-roll bar with the all-new Progress sport-lowering springs. These springs feature sport-tuned rates and a modest drop of 1.2 inches in the front and 1-inch in the rear. They have been developed for use with OEM or sport dampers. The springs are cold wound, shot peened, pre-set, and include a lifetime warranty.