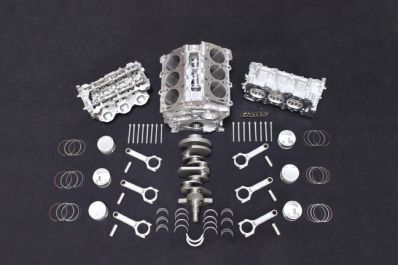 GReddy
VR38DETT Engines
GReddy is now offering rebuilt Stock VR38DETT engines for the R35 GT-R. With 480hp on tap and supercar performance, the GT-R can now make unreal amounts of horsepower with the GReddy short and long block engines. Hand-made in Japan, these fully built 3.8L and "4.0L big bore" offer all kinds of performance scalability. For extreme power, GReddy also offers a 4.0L Stroker and 4.3L Stroker version in both short and long block formats! If you are looking for a spare engine to build, need to replace your blown engine, or need an engine that will handle 1,300whp, GReddy has what you need! GReddy also carries many engine upgrade parts.
For more visit www.greddy.com
---
Blox Racing
Tuner & Competition Camshafts

BLOX Racing offers enthusiasts a high performance line of Tuner and Competition Series camshafts in several different profiles. All camshafts are designed and manufactured using the latest software and casting technologies, then CNC-ground to precise tolerances and performance specifications. Each camshaft profile designed offers increased horsepower and torque across the entire RPM range. Tuner Series camshafts are designed using standard, OEM lobe designs while Competition Series camshafts are designed and cast with wider primary and secondary lobes. Although both types offer increased power and torque, Competition Series camshafts place less stress on the valvetrain and provide greater stability at extreme RPM's. Consequently, all camshafts are cast using the same materials and standards as OEM sources. Available for Honda VTEC engines (K-Series, B-Series, D-Series, and H-Series), Mitsubishi Evolution VIII, IX 4G63 engines.
For more visit
www.bloxracing.com
---
HKS
SR20DET Step 1 Cams
The redesigned HKS Step 1 camshafts provide improved performance in the mid to upper RPM range enabling a wider power band that continues up to the factory rev limit. The new camshaft profile has an 11.5mm lift that is similar to the Step 2 camshafts, but can still be used with the stock valve springs without any valve timing adjustment and modifications to the cylinder head.
For more visit www.hksusa.com or www.jrponline.com
---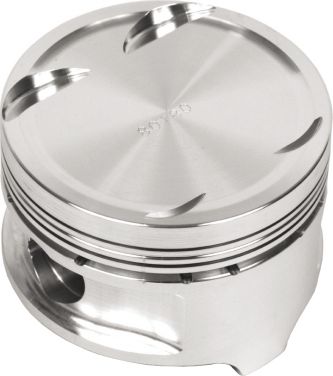 Ross Racing Pistons
Mitsubishi 4B11 Piston


Evo X owners are dialing up the boost, adding nitrous and approaching 1,000hp power levels. The internal stresses and heat in these tiny 4B11 engines is ludicrous. Without a doubt, the pistons are the most critical component for containing these incredible cylinder pressures. To meet this challenge Ross designed the strongest forged piston available with a 9.0:1 compression ratio. They are forged out of 2618 T-61 aluminum and feature extra reinforcement in the pin area and pin boss-to-skirt interface. This allows the piston to retain its shape under massive boost pressures and extreme rpm.
www.rosspistons.com
---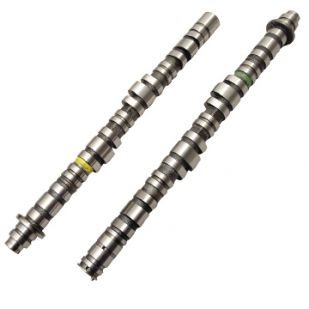 Kelford Cams
Honda K-Series Cams
Kelford Cams announces their new line of Honda K Series camshafts, engineered to compliment horsepower levels from 225 to 450 in naturally aspirated applications. Since the early 1990s Kelford Cams has recognized the growing worldwide demand for high-performance valvetrain products to suit Japanese and European multi-valve engines. Kelford's specialist knowledge, modern CNC grinding equipment and innovative design systems have helped them become a world leader in the camshaft market. Make power with Kelford Cams.

For more visit www.kelfordcams.com or www.motovicity.com (888-SPEED-16)
Read On For More Products
Brian Crower
EVO X Gaskets
BC gaskets are made in Japan and deliver the ultimate sealing capability even at extreme boost pressures. They feature Individual die cut layers of stainless steel with superior consistency compared to other leading gaskets. These inferior brands are constructed with beads that are too high profile, are prone to fatigue and lose spring effect and consistency of sealing pressure in a relatively short period of time, which results in leakage. BC gaskets are pre-coated stainless steel with a consistant 0.2 micron layer of Nitrile rubber that completely fills the cylinder head surface. Even a newly resurfaced cylinder head and/or block has a surface finish or roughness between 10 to15 microns and this Nitrile rubber completely seals the surfaces at operating engine temperatures, unlike the FKM type which is not suitable for filling the surface roughness because the material's heat resistance is too high. Basically, the FKM does not melt to fill into the surface roughness to provide the proper seal.
For more visit www.briancrower.com
---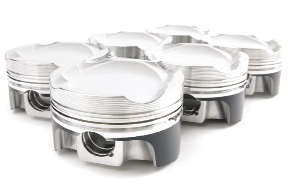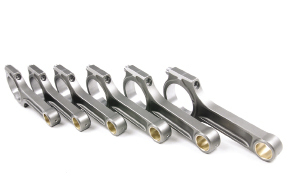 HPF
BMW M3: Pistons, Rods & Motors
The HPF stage 2.5, stage 3 and stage 4 engines are built to handle horsepower in excess of 1200rwhp. These motors have virtually zero taper, zero ovalization and the cylinder walls and ring clearances are set to within .001-inch using state of the art SUNNEN machines. Every engine is torque-plated prior to boring and honing to eliminate ovalization that occurs when the head is torqued down. There is no difference in the build between these stages. These builds are designed so that the end user can upgrade to a higher stage at a later time without rebuilding the engine.
For more visit www.horsepowerfreaks.com
---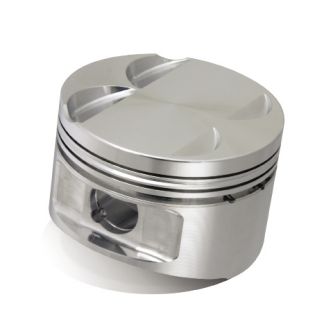 JE Pistons
Honda B-Series VTEC Pistons
JE Pistons has announced the expansion of their Honda product line to include purpose-built drag racing pistons for all Honda B-Series VTEC engines. The new pistons are forged from high-strength 2618 alloy and feature an E85 and race gas friendly 10.0:1 compression ratio. The overall design has been adjusted to meet the needs of today's high horsepower Honda drag race engines. This includes a thicker crown, increased top ring land and a shorter, stiffer wrist pin. The piston crown is a flat top design that is ideal for optimal flame travel.
For more visit www.jepistons.com
---
ARP Fasteners
RB26 Head Studs
Replace your stock head bolts with ARP heavy duty head studs for added durability. The ARP stud design helps the head and the block equalize the pressure better thereby creating a much more even and consistent seal under high compression and boost. It is recommended to replace the head studs/bolts with a new set if the head bolts are ever loosened due to metal fatigue. Reusing old and possibly warped or stretched head bolts/studs will sacrifice the seal between the head and block and may cause head gasket leak. This is a great an easy upgrade when doing an engine rebuild or building a race motor for popular vehicles including: Nissan, Honda, Mazda, Toyota, Scion, Subaru, Mitsubishi and more.

For more visit www.turn14.com or www.arp-bolts.com
---
JGYCustoms
VQ35 Sleeves
JGYCustoms has now decided to take the leap into the VQ market after years of SR20 development. With the 350z and G35 performance market steadily increasing the master engine builders at JGY have helped to develop a revolutionary new sleeve for the VQ35 engine. From the factory, the VQ35 engines are an open deck design which is great for N/A setups. When going to a turbo application, everything changes. The JGY VQ sleeves completely eliminate the open deck design. JGY VQ sleeves feature a factory size bore but can be taken all the way to 103mm. These are the sleeves to have if you are looking for performance from your VQ35 engine.
For more visit www.jgy.cc
---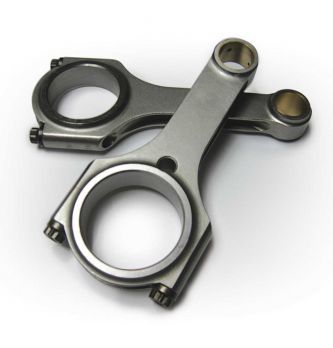 SCAT
H-Beam Connecting Rods
SCAT H-Beam sport compact connecting rods are all made from a 4340 steel 2-pc forging for ultimate strength and durability, with a special doweled cap for exact cap-to-rod alignment, extra profiled clearance for stroker applications and come standard with ARP 2000 3/8-inch bolts.
For more visit www.scatenterprises.com
---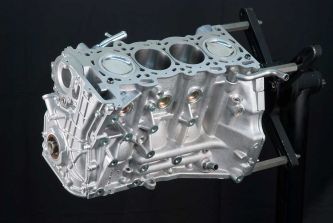 Tomei
Short Block Assemblies
Tomei now has a new revised product range or Performance Short Block Assemblies. These are all built right here in our Tokyo Japan HQ and is built from ONLY completely brand new parts. All parts from the block to the bolts on these are Tomei Products and brand new OEM parts. These Short Block Assemblies like the complete long motor assemblies are assembled in our climate controlled rooms here at TOMEI to the tightest clearances and strictest of Tomei standards for ensuring the highest quality and durability of these assemblies. As used by many performance shops in Japan and internationally for end users from Street use cars to Professional purpose built race cars.
For more visit www.tomeiusa.com