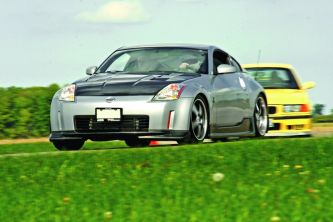 maximize them, but they're certainly not capable of handling major upgrades. If you have been following our Project 350Z build, you'll know we've added a number of bolt-on upgrades in addition to an innovative STS turbocharger system. The rear-mounted STS turbo kit has distinct efficiency benefits and had been reported by others to crank out over 400 whp! In our case, Project Z was fast, but definitely wasn't as close to that big power number as we'd like. The performance at a recent track day proved that it needed to be dialed in and tuned properly, as the car has plenty of power waiting to be found.
We recently heard about new Nissan-specific tuning software called UpRev. While it sounded good on paper, we were wary about using a new tuning method on such an expensive VQ engine. The UpRev Engine Management Solutions provides data collection and calibration systems for popular Nissan and Infiniti vehicles so that they can make more power! Essentially, UpRev is a tuning software program (Cipher or Osiris) with an OBD2-to-USB hardware connector that allows a tuner (or owner with tuning knowledge) to tune a vehicle and unlock the full potential of a car. By connecting the vehicle's onboard computer to a PC, a single tune or various tunes can be added to the supported vehicle applications – Nissan's 350Z, Frontier, Armada, Titan and Infiniti's G35, M35 and M45.
The software and UpRev Osiris system allows for a vehicle to hold multiple tunes simultaneously and the ability to switch between tunes on-the-fly while driving. This feature gives the driver the ability to switch from a progressive daily driving tune to an aggressive race tune, and even to a limited valet tune that can be set with a rev limit of 2,500 rpm and a maximum speed limit.
Osiris Engine Management for Nissan and Infiniti VQ35 & VQ37 engines
PC based re-flash system lets the user to flash their ECU with customized tuning
Osiris flash service is a mail-in service for customers to mail in their ECU for a one time recalibration
Osiris standard includes Cipher software and 3 eTune updates providing custom tuning for your vehicle
Osiris Tuner is for DIY owners who are familiar with and capable of tuning their own vehicles. A great alternative to a Stand-Alone ECU and Piggyback systems

UpRev referred us to the tuning experts at Advance Power House (APH) in Toronto, Ontario which is authorized to tune using UpRev software. We had seen a few of the APH builds like their insane Power House Amuse S2000 at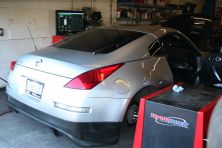 local shows and knew their builds were the real deal. We connected with Ed and Brian at APH who checked out the Z and took it for a spin. After a quick evaluation, they both agreed the car was healthy and offered good power, but the tune itself was a mess and power delivery could be made much smoother and improved with UpRev.
Our 350Z put down 240 whp and 238lb-ft when it had zero mods on it, but even with a turbo kit installed our 350Z had a hard time cracking 300 whp, which was not acceptable. APH tuning specialist Brian explained he would be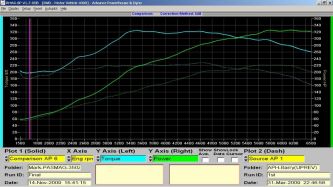 able to use the UpRev Osiris software to extract more potential from the STS turbo system using the supplied 450cc injectors. However, for maximum tuning gains we would need to upgrade to the 660cc Deatsch Werks injectors (which is planned for later this season).
With that in mind, Advance Power House hooked our 350Z onto the dyno and got to work. Within a few pulls, we discovered the injector duty cycle wasn't anywhere near where it could be. This meant we could throw more boost at it because the fuel was adequate. Our Project 350Z is still driven daily, so it has to start, idle and warm-up with all of the functionality we expected. As the day went by, APH continued to find and extract more power from our 350Z and eventually finished with a number around the 345whp range, but advised us to settle on running a nice, safe number that produced a little less jam. Making 325 whp at 5600 rpm, our 350Z isn't going to set any records… but it's a lot faster than it was before and it's driving dynamics have been significantly sharpened, as it now pulls hard and steady throughout the power band. Plus, the torque is the real story here, with a matching 325 lb-ft. of juicy flatness! Our beefy torque number stays over 300 lb-ft. from 3,400 rpm to 5,400 rpm, meaning our Project 350Z is ready to get down and dirty at any speed… anytime.
The best features from UpRev are that their systems can be custom tuned for a wide variety of modifications, so it can provide the best tune for each custom vehicle. Just as easily as UpRev can provide the best tune for a turbo upgraded application, we've even seen UpRev unleash the most surprising power gains from simple mods, like an intake and exhaust system.  Stick around, as we add more high-octane fuel to the fire and chase 400 whp on the stock bottom end of our Project 350Z.
Source:
UpRev
Osiris Tuning Software
www.uprev.com
Advance Power House
Installation & Tuning
www.advancepowerhouse.com