With the winter season in full effect, many tuning enthusiasts (southern states excluded) face challenging cold weather conditions with ice and snow at every turn. We've teamed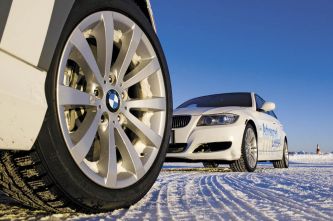 up with the tire experts at Continental Tires and the driving experts at BMW Driver Training to experience the toughest conditions and sharpen our skills in snow.
First of all, this was a unique and educational experience since any driver training we've done has always been on dry pavement. It was amazing to have the chance to take part in the first BMW winter driving training course since the old one, was held in Montebello about five years ago. Now the revised course is taking place at the amazing ICAR facility in Mirabel, Quebec under loads of Canadian snow!
The day started far too early, but once all of us "students" arrived, signed in and had breakfast we went into the classroom for the official start of the day. We were introduced to our instructors: Pierre Savoy, Philippe Letourneau and Jean-Francois Veilleux. After introductions, we started the in-class theory learning about ABS systems, Continental winter tire technology, driving techniques (like how to control oversteer and understeer) and of course about the systems that BMW has on their cars to help improve safety in poor weather conditions.
One half of the students would be driving turbo BMW 335i's and the other half in diesel-powered BMW 335d's all equipped with Continental Winter Contact 225/45R17s. The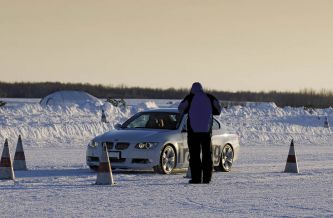 tires and alloy wheels used are all offered through BMWs winter tire package from their dealers. We were assigned a manual 335i and proceeded to the first exercise. To get us warmed up, we did some slalom tests with all the traction and stability systems activated. Then we tried it again with the BMW ETC system that allows some wheel slip and lastly we turned off all the computer aids to really have some fun and see the difference traction control can make. During the slalom, we were shown proper hand positioning and instructed not to shuffle them around the steering wheel like a ham-fisted journalist.
After we had become comfortable in the cars and how the stability systems work, we started our first actual exercise, emergency braking. To make it really interesting, the instructors disengaged all the systems including the ABS! It was a great exercise that really proves you have to look to where you want to go and how to properly avoid accidents in any situation. It was an exercise where a lot of cones got eaten. At the wrap up, the instructor put the systems back on to show how much they really help…it was impressive when comparing them side by side.
The next exercise was one we were exited about from the start, learning how to control over and understeer. We got to try out the different techniques on how to control them on a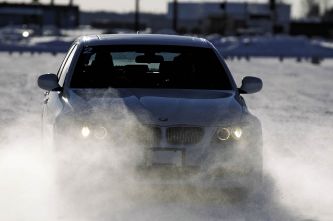 huge circle skidpad. Now we were ready to swap cars with the other group and found ourselves driving an automatic BMW 335d. The torque of this car was impressive and really ripped through all kinds of snowy conditions.
The next exercise was our area of expertise; how to control a sustained drift on an hour-glass shaped course layout. We had lap after lap of sideways snow action! It was all about being smooth on the throttle, looking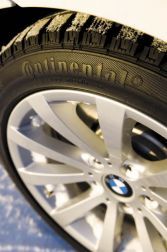 where you want to go and doing it perfectly together. We received some compliments from our instructor and two other students in our group, but then again, we're all about drifting!
The last event was a competition style event. It was an AutoX-style ice race that put all the students against each other on a course that combined everything we learned during the day into one action filled race and the winners would get some special prizes. The course started out with a reverse 180, then into the accident avoidance braking zone into a full-throttle run around the skidpad. The final section led into a series of S-turns, a slalom course and finally a stop-box. Any cone that was hit during your run would be a 3-second penalty added to your total time. We each had one practice run and one timed run. Even though it was just for fun, this was still a race! Once we all finished our runs we went indoors for debriefing and to find out who won. They named off the 3rd place, then 2nd place and then they named first place. As soon as they said the winning car number, we couldn't believe it…we won and did the PAS Magazine name proud! In the words of our favorite fictional NASCAR driver Ricky Bobby, "If you're not first, you're last!"
If you find yourself facing the harsh realities of winter each year, we'd suggest the BMW Winter Driver Training in one way or the other especially for those living in areas such as Canada. The equipment enabled our BMW test cars to perform exceptionally well with the Continental Winter Contact tires biting though the loose snow and ice to maintain sure grip and good road manners under these conditions.