Page 1 of 6
Every year we load up the coolers, round up our stable of PAS Magazine project cars and book a full track day at nearby Toronto Motorsports Park and call it a "work day." Although it's guaranteed to be a great time, an editorial event like this really requires loads of logistics and planning to make it go off flawlessly. Editorial staff Mark "Brazilionaire" Pereira and Dave "Hollywood" Pankew got the wheels in motion months beforehand placing the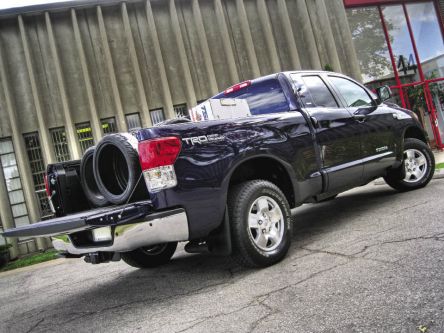 call out to a few gracious tire company contacts, as we planned this issue's annual PAS Tire Review on a real race track. Notice, I didn't say tire comparison, but rather a day long test at maximum speeds along with our full impressions on the street too.
In order to ensure this process went smoothly, we enlisted the help of our friends at Toyota Canada, who lent us a 2009 Toyota Tundra TRD Package to reliably haul our dozens of wheels and tires around in style. We dropped off all the goods with the experts at Wheels Direct (www.wheels-direct.com), who hooked up the professional mounting, balancing and installation of all our wheels and tires for the track event. The supportive and generous Wheels Direct staff earned major props for doing such a great job and even staying open after hours for us, as we frantically worked all night in preparation for our Annual Performance Tire Review.
Speaking of supportive partners, wheel manufacturer TSW (www.tsw.com) really stepped up and sponsored our track event, supplying all of the high performance wheels used  in our evaluation review. TSW has a strong history of manufacturing top-quality premium wheels for enthusiasts and with the high speeds and torture testing we had in store for these tires… we really needed to go with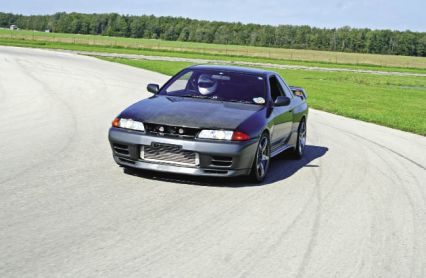 a brand that delivers good looks and great performance on or off the track. TSW certainly came through and we can't thank them enough for outfitting our test cars. To check out some of the wheels we used or other available applications for your specific ride, visit www.tsw.com
For our Annual Performance Tire Review, we aimed to test a few ultra high performance street tire submissions evaluated on our on-going STS turbocharged project 350Z (Z33). Our hardcore track prepped Project Skyline GT-R (R32) was selected to evaluate a more extreme performance tire with a lower wear rating, meaning they would grip harder in the process of wearing faster. Four companies (BF Goodrich, Dunlop, Marangoni and Toyo) stepped to the forefront and were willing to have their tires put on our project cars and reviewed under serious loads. We also opened up track time to our other PAS project cars, industry partners and freelancers so we could all enjoy a full day out of our offices and shops. These cars had current rubber underneath them, giving us a chance to gain impressions side-by-side and set up a few fierce battles on the track.
Toronto Motorsports Park is a 3.0km track with no elevation changes. There are two fast straights and lots of tight turns including an exciting chicane. The track surface is nice
and wide allowing areas for passing and all kinds of performance maneuvers to allow us to review our tires. We could run the track clockwise, counter and perform all kinds of acceleration, braking and cornering tests on the wide open straights.
A relatively new player on the North American scene, Marangoni is a product of fine, high quality Italian craftsmanship. Much like other Italian brands, Marangoni prides itself on admirable attention detail, and it shows. Like every Italian product you can tell it doesn't have the mass-produced feel you might find with mainstream brands. Even without a proper scale on hand, we noted the high quality built Mythos was just slightly above the average tire weight in our OEM sized lineup being evaluated. Don't let its increased weight fool you, as it shouldn't alarm buyers since the Marangoni Mythos is superbly stiff in the corners and offers highly stable performance, which is only accomplished with more premium quality belting. The Marangoni Mythos offers quiet road manners and provides sure foot grip performance on the dry track. Around town it doesn't transmit much of the road imperfections into the cabin and deals with potholes quite admirable in our experience. Although we were unfamiliar with the Marangoni brand, all of our staff were pleasantly surprised with the overall solid performance, value and class quality of the Marangoni Mythos. Overall, the Marangoni Mythos is a highly suggested, quality-made UHP tire option well worth a closer look, plus it's available in a range of most popular OEM sizes.