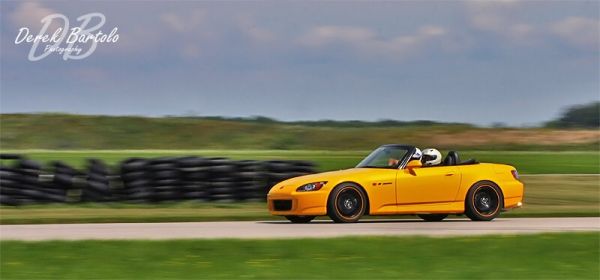 After a load of great response to our second annual tire test, it was once again time to round up the latest rubber and see how they stack up on a race track and in real world conditions. We selected some of the latest designs out there to get a glimpse at what is the most popular tire category for tuners, Ultra High Performance. Now before you go on thinking this is a shootout and one tire will be crowned king, this is a report of each tires abilities, merits, features and highlights – not a head-to head comparisin. A scientific approach is needed to compare tires against each other and in this case, we selected three tires for three separate cars with very different designs.
As you may know, if you want high performance out of your tire that is only one aspect that may sacrifice others in order to achieve it. Tires are seasonal and an ultra high performance tire or maximum performance tire is only capable in warmer temperatures. And less tread may give you better dry grip but the traction will be worse the rain. Plus, the softer rubber compounds are perfect for dry grip but they wear much quicker than the rest during your daily commute.
We loaded up our Toyota FJ Cruiser support vehicle courtesy of Toyota Canada headed out 10-deep to Toronto Motorsports Park. What the 3.0km road course lacks in elevation changes, it more than makes up for in features and speed. With a wide front straight, into a wide 90-degree right, it is possible to top 200km/h (125mph) in a quick car. The tight chicane and hairpin make for some exciting moments while navigating the course. With near-perfect conditions, it was time to head out and lay a beat-down on these tires while recording all the data using a V-Box Performance Meter and a trusty laser thermometer.
---
The Weapons:
Honda S2000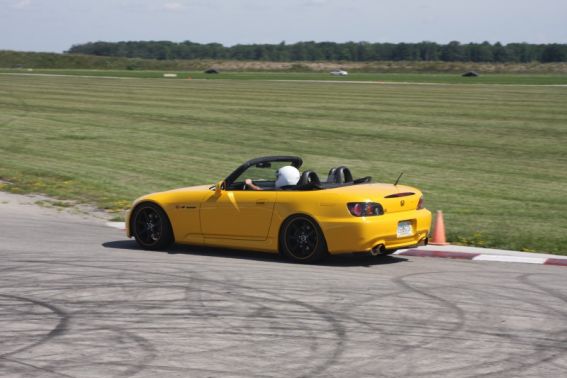 Since its debut, the Honda S2000 platform has been highly debated on the forums. With a polarized view of the car, for everything it may lack, it most certainly makes up for on a race track. You hear complaints of no power and no torque, yet when driven at the limits this car has the instant-on acceleration and the throttle steer you want. Truth be told, until it was clipped from the lineup last year, the S2000 probably was the best bang-for-the-buck roadster next to the MazdaSpeed Miata. With the only suspension mods on this one being a set of BC Racing ER Series coilovers and adjustable SPC ball joints, it was clear the S2000 needed more rubber underneath it. The OEM Bridgestone Potenza RE050s were both tired and undersized, so the hunt was on for more contact patch from a tire with a similar UTQG rating and well-rounded performance for track and street.
Nissan 350Z Turbo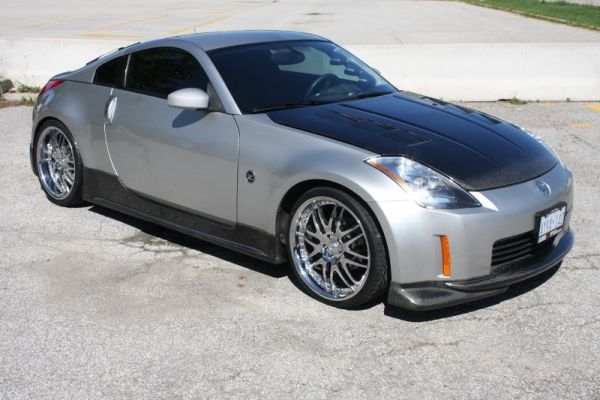 The mighty Z received a bump in horsepower resulting from a new tune on the STS Turbo earlier this year. With the ability to light up the tires and a need to keep this heavyweight under control, we wanted to find something comparable to the current rubber. The Z rolls on a couple sets of wheels, one for track and these massive 20-inch wheels on the street. Since the Z isn't seeing as much of the track as it used to, we wanted an ultra high performance tire that would deal with the street and see what it could do on the track. People think we are nuts for tracking 20-inch tires…and they would be correct.
Nissan Skyline GT-R
Currently putting down 450whp on pump gas at only 18psi, the Garrett-powered Skyline is definitely not for beginners. The car is light, AWD and generates some serious g-Forces in every direction. The GT-R has rolled on some serious tires in the past like Toyo R888s, Nitto NT01s and even full slicks but it was time for some landing gear that was more street-able. Since the car is still plated it sees light street duty including conditions like: rain, potholes and loose surfaces the DOT race tires aren't always up to the task.

Falken RT-615K
200-AA-A
Made in Japan
225/40R18 & 265/35R18
Y-Speed Rated (186 mph or 300 km/h)
PROS: Excellent dry grip with resistance to high temperature performance drop. Proven in competition.
CONS: Could be better in the rain
VERDICT: An exceptionally well-rounded DOT race tire that you can drive on the street with its 200 wear rating. The tire is capable and predictable whether it is the first lap or the last.
Today's sports cars, sport sedans are extremely versatile and Falken designed a tire that could keep up with the demand. Although Falken is well known for their exploits in the drifting world, they have been equipping touring cars and Time Attack cars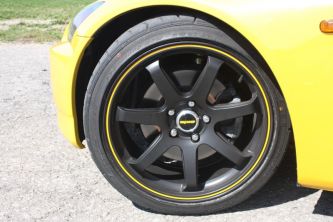 with the AZENIS for years. The latest version is the AZENIS RT-615K, a tire name you recognize but the 'K' portion is all new for this year to distinguish the many upgrades on the tire over the previous RT-615.
Having logged many miles on and off track, we can honestly say that the RT-615 is one of the more memorable DOT race tires of all time. It looks great, wears well and when equipped on our lightweight BMW in last years test, the tire provided lap-after-lap of serious grip. The tire never protested or squealed and showed little signs of wear after substantial use. We were eager to see how Falken could improve upon such a solid design because it almost appears as if they didn't change the tread pattern at all.
The improvements are in the compound of the tire itself. The compound is a Motorsports-grade cap that maintains grip as the temperatures rise on track. The molded 8/32-inch tread design reduces tread squirm and therefore decreases the wear over time. The new RT-615K also features a solid center rib to minimize wheel slip under acceleration, especially on the straights. The tread depth and the tusk positioning to channel away water are said by Falken to improve wet weather performance and reduce hydroplaning making it an improvement over the previous design. Best of all, the new proprietary casing design, bead apex and turn-up technology means that less heavy steel belting was needed to achieve improved stiffness. The end result is an 8-percent reduction in rotating mass!
While driving, the tire is more noisy than the OEM tire that the S2000 was equipped with but in a minimalist open-air roadster, you hear and feel everything. The wet grip was fairly sure-footed but we wouldn't recommend charging into any standing water with guardrails nearby either.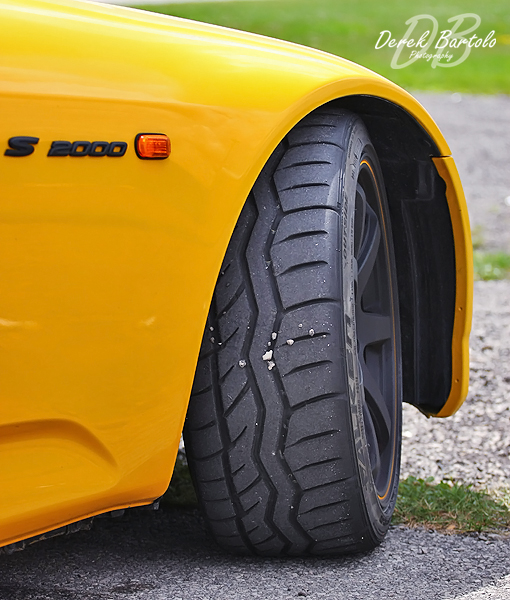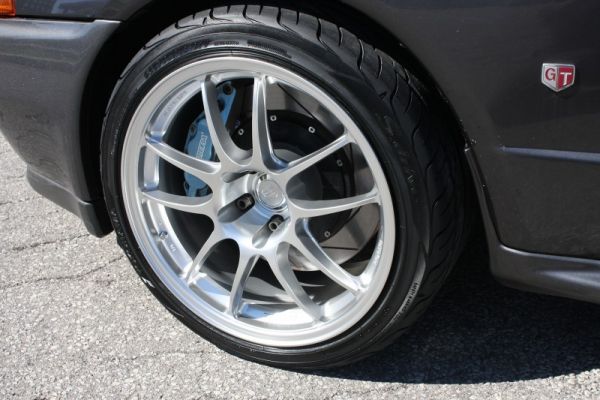 Yokohama S-Drive

www.yokohama.ca
300-AA-A
Made in Japan
265/35R18 all around
Y-Speed Rated (186 mph or 300 km/h)
PROS: Excellent dry grip, wet grip, low noise and a capable performer for a 300 wear rating
CONS: None
VERDICT: When it comes to high performance street, Yokohama has the market covered with several UHP tires and sizing for nearly everything. While they may be lacking in the DOT race tire department, they more than make up for with their huge range to accommodate, sports cars, tuner cars and sport sedans.
Since I have owned many Yokohama products over years, they always get top marks for a variety of uses. As other Japanese (and Korean) manufacturers brought more affordable Ultra High Performance tires to market, Yokohama has fought hard to remain competitive. While staples like the A048 tire held Yokohama's reputation, they continued to release many great products and even a Luxury & Exotic line called Advan but the S.Drive is clearly the best of all worlds. The tread pattern looks highly aggressive and it has an attractive sidewall from any angle.
The S.Drive (or Sport Drive) is Yokohama's Ultra High Performance summer tire developed for the drivers of sports cars and high performance sedans.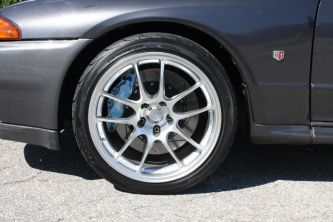 While its dry grip is said to be fantastic, Yokohama's technological advancements have resulted in extraordinary handling on wet roads. Like all summer tires, the S.Drive radial is not intended to be driven in near-freezing temperatures. The S.Drive features Yokohama's proprietary silica-based compound that maximizes contact between the tire and the road to enhance grip in both wet and dry conditions.
The seductive directional tread design features independent shoulder blocks, notched intermediate ribs and a continuous center rib for a constant connection to the road. The wide circumferential grooves with angled walls optimize cornering traction in dry and evacuate water to resist hydroplaning. The S.Drive's internal structure includes twin steel belts reinforced by joint-less nylon cap plies and belt edge strips for ride stiffness and a minimal approach to reduce weight.
Although this is a long-life 300-AA-A tire, you certainly wouldn't know it considering the unreal dry grip the tire has. Typically the slower the wear, the harder the compound and less grip but not the case with the S.Drive. The turn-in was sharp and  the tire gave minimal audible warning when it was about to let go, it just was ready for more. The Skyline GT-R requires a lot of tire underneath it since it is so fast and corners so hard but the S.Drive definitely proved to be an ideal street tire for this platform.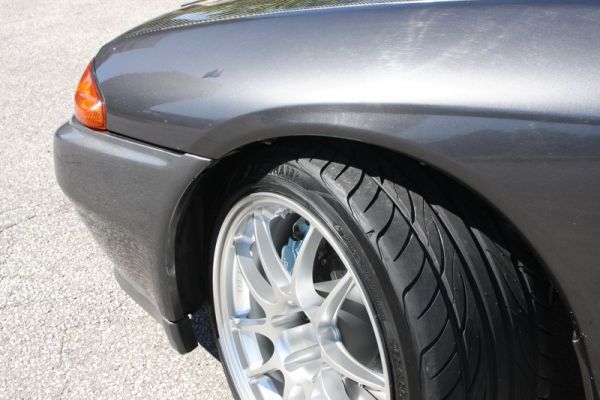 Hankook V12 Evo K110
280-AA-A
Made in Korea
245/35R20 & 285/30R20
Y-Speed Rated (186 mph or 300 km/h)
In recent history, Hankook has been making huge progress with performance and competition tires. When it comes to price-to-performance ratio, Hankook has ranked high in recent years and this newer version of the Ventus V12 Evo K110, boasts not only the industry's longest name but solid performance for 3-season use as well. The distinct design of the V12 Evo offers optimal handling and braking performance and even features the company logo embossed in the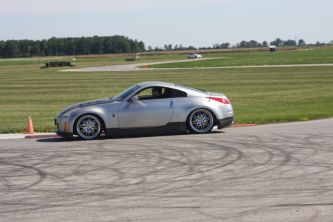 center rib. The wide circumferential tread grooves allow this directional tire to channel water away from the tread and keep your car connected when water piles up on the road.


With a UTQG rating of 280-AA-A, it is in the same category as many ultra high performance tires with decent wear characteristics. Aimed directly at sport sedans and sports cars, the V12 Evo will provide decent wear characteristics for those that would like to get some life out of their tire. The extended life is usually at the expense of performance, yet Hankook is still able to maintain the 'AA' traction rating for plenty of grip in different conditions. If you need top end speed, Hankook has that covered with a Y-speed rating of 300km/h or 186mph, more than most cars will even reach. The V12 Evo is available in 17-inch to 20-inch sizes and even comes in supercar sizing up to 305/25R20!
We weren't really sure what kind of performance we would expect out of the Z with the 20-inch Hankook V12 Evo tires underneath it. We can say that it did hang quite nicely with our S2000 that was in the neighborhood of 100whp less. The S2000 definitely had to be driven at the limits to keep the Z at a distance. As the laps went on, it was clear that the Hankook Ventus V12 Evo is not a track tire but very capable street tire that will more than handle spirited driving on public roads and with its 280 wear rating, for many miles to come.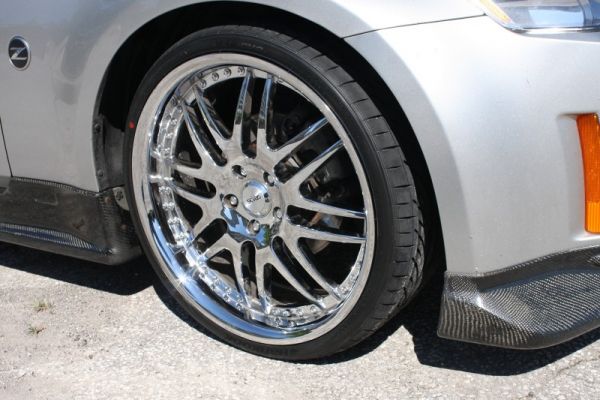 SPECIAL THANKS:
Falken Tire
RT-615K Tires
www.falkentire.com

Toyota Canada
FJ Cruiser Support Vehicle
www.toyota.ca

Hankook Canada
Ventus V12 EVO Tires
www.hankooktire.ca

Yokohama Canada
S.Drive Tires
www.yokohama.ca

TSW Wheels
Strip & Willow Alloys
www.tswwheels.com
Toronto Motorsports Park
Road Course & Drag Strip
www.torontomotorsportspark.com
Second Time Around Tire
Installation & Balancing
www.tirestires.com
Stance Factory
Installation & Balancing
www.stancefactory.com
Can-Alignment
Alignment and Corner Balancing
www.can-alignment.com
SPC Performance
S2000 Camber Ball Joints
www.spcperformance.com

V-Box Performance Meter

www.vboxusa.com