---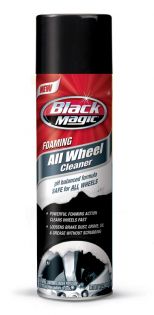 BLACK MAGIC FOAMING ALL-WHEEL CLEANER
The Black Magic Foaming All-Wheel Cleaner is designed with ease in mind. The foaming action quickly loosens brake dust, grime, oil and grease without scrubbing. The Black Magic Foaming All-Wheel Cleaner's pH-balanced formulation ensures it will not haze or pit and is safe for all wheel types.
---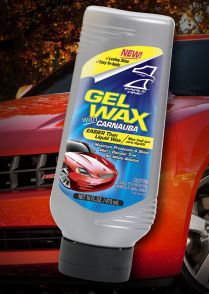 Eagle One Gel Wax
Eagle One has made waxing faster and easier than ever before with the introduction of unique Gel Wax. This unique product delivers a glorious, glossy shine that will last as long as paste but is easier to use than liquid wax. Gel Wax reduces the time and effort required with conventional waxes because it does not need to haze or dry after application. Just apply the wax to one section at a time, wipe off immediately and enjoy the look of a showroom shine.  It doesn't get any easier than this.
1 (800) 432-4531
---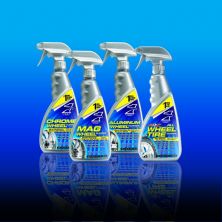 Eagle One Wheel / Tire Cleaners
Eagle One takes the guesswork out of selecting the right wheel cleaner with a lineup specially formulated for chrome, mag and aluminum wheels, and its one-step A2Z wheel and tire cleaner. The unique formulas make it faster and easier to clean and put a lasting and sparkling shine on your wheels. Chrome Wheel is a one-step cleaner that removes brake dust, grime and even rust and will not harm the delicate surface. Mag Wheel is specifically formulated to clean as-cast, older-style alloy wheels and chrome-plated surfaces. Aluminum Wheel is an acid-free cleaner ideal for polished aluminum. A2Z All-Wheel & Tire Cleaner is highlighted by its clinging suds formula that cleans both in one easy step.
(800) 432-4531
---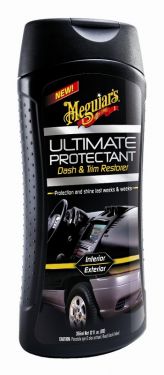 Meguiar's Ultimate Protectant
Meguiar's Ultimate Protectant outlasts conventional protectant products, delivering superior UV protection with long-lasting shine. Ultimate Protectant is ideal to enhance and protect interior surfaces such as dashboards and door panels, as well as exterior trim and moldings. Application is easy – just apply a small amount with a 100% cotton terry cloth towel, microfiber towel or applicator pad and wipe off excess.  It's that simple to create a rich shine that lasts weeks and weeks. This innovative formula dries quickly without leaving behind a greasy residue and withstands washing and rain without streaking. Just one use of this amazing protectant and you will see why it truly is the Ultimate.
Read on for More Products
---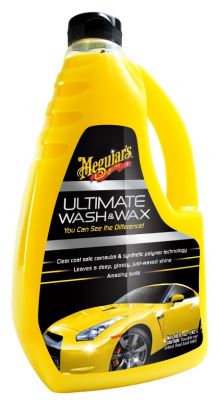 Meguiars's Ultimate Wash & Wax

While traditional "wash and wax" products can be weak on suds, shine and protection, Meguiar's all-new 2010 Ultimate Wash & Wax proves different. In fact, this unique formula, made from an exclusive blend of carnauba and synthetic polymers, delivers both protection and a glossy "just-waxed" shine, while you wash. Plus, the ultimate sudsing action safely lifts dirt and grime, enhancing the appearance of any automotive exterior, and all in just one easy step. Meguiar's Ultimate Wash & Wax is the perfect way to clean and shine your car's finish in-between regular waxing, thereby boosting protection and glossiness.  Meguiar's Ultimate Wash & Wax is compatible with all Meguiar's washes and waxes.
---
Shining Monkey Car Care Products

Shining Monkey introduces a full line of high quality of car care products, aimed specifically at the demanding consumer. Shining Monkey strives for customer satisfaction and puts innovation and market research into all their products. The superior quality of Shining Monkey products is apparent on the show circuits such has Hot Import Nights and Cavallino Classic in Palm Beach, Florida. Shining Monkey has a full line up of detailing products from high quality carnauba wax to interior detailing products to keep your ride looking great.
www.shiningmonkey.com
---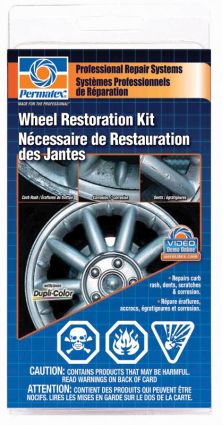 Permatex Wheel Restoration Kit

The do-it-yourself repair solution for restoring your damaged metal wheel surfaces to a "like new" silver appearance. Permanently repairs various unappealing wheel damage including curbside rash, corrosion, rust, pitting, scuffs, dents and scratches - no need to purchase a new wheel or locate a refurbishment shop. The Wheel Restoration Kit contains the key components needed to make a professional repair including the popular Dupli-Color high performance silver wheel paint to restore wheels to their original silver metallic finish. This silver wheel paint is track tested with improved resistance to chemicals, brake dust, heat and chipping leaving a wheel finish that is reflective and durable. 
---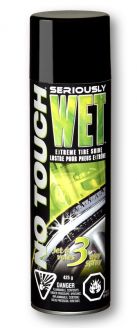 Permatex No Touch Seriously Wet

If you're serious about your ride... you're serious about your tires too. So why not spoil your tires with an extremely intense glossy wet shine? No Touch Seriously Wet has an impressive extreme shine that's so potent, so serious, it will leave other tire shines in awe. Seriously Wet will dress up any tire, any time - just spray and walk away. So dress to impress and drench your tires with No Touch Seriously Wet. You'll be sure to soak up all the attention.
Read on for More Products
---

INOVA Spray Wax
INOVA Spray Wax stands alone as the exclusive aerosol car wax on the market. Breakthrough macroparticle technology delivers an even spray across a greater surface area — guaranteeing your entire paint surface is protected. The ultra long-lasting bond preserves an all-season shine, and keeps your car in mint condition. Experience this innovative, high-performance product, and you'll never go back to your regular wax.
---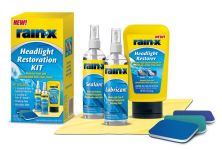 Rain-x Headlight Restoration Kit
Over time, headlight lenses can become oxidized, rendering them hazy and yellow. This causes headlights to shine less brightly. The new Rain-X Headlight Restoration Kit provides a deep clean to yellowy and hazed headlights with the use of a specially designed polish and sealant. Don't replace headlights when you can restore them and improves safety with clearer headlight lenses.
---
Invisible Glass Ultimate Glass Cleaning Kit
Get superior cleaning power and invisible clarity with the new Invisible Glass Ultimate Glass Cleaning Kit. Invisible Glass' non-abrasive, non-streaking formula contains no soaps, foams, scents, or dyes – eliminating streaky residue often left behind by other glass cleaners. The Ultimate Glass Cleaning Kit includes Invisible Glass aerosol and trigger bottle, Invisible Glass wipes canister, Reach & Clean glass cleaning tool kit, two packets of Invisible Glass with Rain Repellent wipes (two wipes/packet), Invisible Glass Headlight Restoration Kit, 20 individually packaged Invisible Glass Lens Wipes and one microfiber glass cleaning towel.