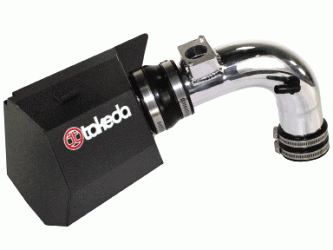 Takeda USA Short Ram Intake for Mitsubishi Lancer GTS

Takeda USA has released the Takeda Retain ShortRam sealed intake for the 2009-11 Mitsubishi Lancer GTS L4-2.4L (part number TR-4203P). The Takeda Retain Short Ram sealed air intake mounts to the factory intake box increasing air volume and improving air velocity for increased horsepower, torque and improved throttle response. TR-4203P utilizes a specially designed 1-piece clear coat anodized polished aluminum intake tube to guide the air into the motor and provide an aggressive style. Takeda air intakes use the brand new Pro Dry S filter from aFe, which uses a progressive synthetic media, requiring no oil to recharge for maximum convenience and filtration. The Pro Dry S filter is 99.2% efficient so it prevents dirt and debris from entering the motor. All Takeda air intake systems come complete with polished aluminum tube(s), Pro Dry S performance air filters, urethane couplers, clamps and all hardware necessary for a simple installation. In recent testing, part number TR-4203P produced an astonishing 20hp and 20lb-ft. of torque.

For more visit www.takedausa.com
---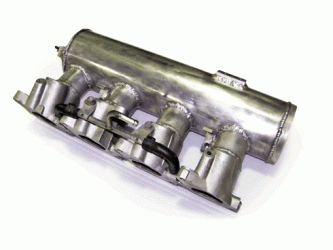 JGYCustoms Pro-Sport SR20 Intake Manifold
From many years of building and testing FWD SR20 engines, JGYCustoms has learned that the factory intake manifolds leave much to be desired. That's why they've designed the Pro-Sport intake manifold for high-port SR20 engines. It's a needed upgrade when performing high-boost applications or just looking to make peak power on an NA motor. The JGYCustoms Pro-Sport intake manifolds are made completely out of aluminum and include all boost and vacuum fittings. JGY also designs their manifolds to accept any throttle body the customer chooses. The manifolds feature large port-matched equal length runners to optimize power and flow efficiency. All of JGY's Pro-sport manifolds are made to accept the factory style fuel rail or any aftermarket one. These are designed for the full time racer but great for the budget hobbyist as well.
For more visit
www.jgy.cc
---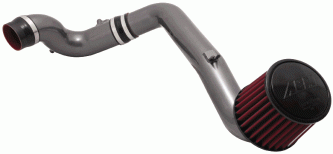 AEM Intakes Cold Air Intake for Acura TSX
For the 2009-10 Acura TSX 2.4L, AEM introduces a cold air intake system in Gunmetal Grey. Specifically designed to boost power and acceleration, this new cold air system uses a mandrel-bent aluminum intake tube engineered to reduce restriction and intake temperature. The intake tube is routed through the fender placing the filter behind the factory fog light on the driver's side. This allows for ingestion of cool outside air for better performance. The system also comes with AEM's oil-free Dryflow air filter designed to produce high air flow with great filtration and performance. The air filter is also washable and reusable. Dyno-testing demonstrated an estimated increase of 10 horsepower at 6,600 rpm with the use of this intake system. The cold air intake system for the TSX comes with a Limited Lifetime Warranty and will deliver Dyno-proven power gains and an agressive engine sound.
For more visit
www.aemintakes.com
or
www.jrponline.com
---
Agency Power Subaru STi Intake
Agency Power designs and dyno tests its intake systems in house, in the USA. As new popular models come out, Agency Power is busy finding more horsepower and torque with its products. Every new product is tested on their in house Mustang Dyno for maximum performance. Vehicles need more air flow to make more power. Not only is air flow important, but how that air gets into your car's motor is an essential factor. With vehicle computers becoming more and more advanced, precision engineered products are necessary to optimize performance. Focused on quality, function, and style, Agency Power has developed a full line of high quality intake systems for today's popular vehicles. Agency Power's intake kits feature quality materials like CNC aluminum, carbon fiber, silicone couplers, and strong clamps. To keep the cool air separated from the engine heat when necessary, Agency Power has developed heat shields which are included in appropriate kits. The heat shields and intake tubes are powder coated in a textured finish.
For more visit
www.agency-power.com
---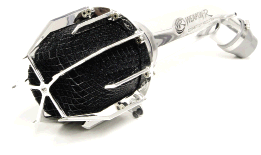 Weapon-R Dragon Intake

The award-winning Weapon-R Dragon Intake System is CNC Mandrel Bent out of 6061 aluminum and then TIG-welded by hand to ensure a positive seal and proper fitment. Each intake system is carefully tuned by matching the engine's displacement, air intake capacity and air speed to the intake system's tube size and length that will maximize every engine's performance output. The famous "Dragon Filter" provides maximum airflow, with the protection of high quality dense polyurethane foam and features a computer CAD-designed and flow bench-tested velocity stack.

For more visit www.weapon-r.com
AEM 370Z ETI Cold Air Intake

For the 2009-10 Nissan 370Z, AEM introduces the all new ETI (Electronically Tuned Intake System) in Gunmetal Grey. This new electronic design prevents the need for any tube downsizing at the MAF sensor and allows the intake tube to maintain its full diameter, resulting in more air flow to the throttle body. The AEM Intake system yielded a maximum gain of 9.67hp at 7,100RPM over the stock intake system on the dynamometer. AEM engineers designed a pair of 2.75-inch mandrel bent inlet tubes that originate at the throttle body and route to the left and right wheel wells for optimal location for a cool air source. Oil-free DryFlow air filters are then mounted to the inlet tubes. The oil-free technology is very durable and easy to clean.

For more visit www.aemintakes.com
---
Turbokits.com Kia Forte Intake
How about unlocking an additional 11hp and 11lb-ft of torque from your Kia Forte? The TurboKits.com Cold Air Intake does just that. Sedan, Koup or 5, 2.0L or 2.4L, MT or AT! That's right, there are options to cover all Forte owners. The sound can be described as pure bliss! Stay tuned for the Kia Optima SX Turbo Project!
For more visit
www.turbokits.com
---
Ractive Superflow Intake Kit
This Ractive intake system will fit the 2005-2010 Mazda 3 and comes complete with polished aluminum tubing, stainless steel clamps, breather filter and welded mass flow sensor bracket to ensure the engine gets a steady supply of cold air. The heart of the kit is the famous Ractive dual cone Superflow filter itself, which has been proven to breathe freely while effectively filtering out micron sized particles to protect your engine. Ractive extreme performance air intake kits are available for most popular vehicles.
For more visit an authorized Ractive dealer or call 416-299-7384
---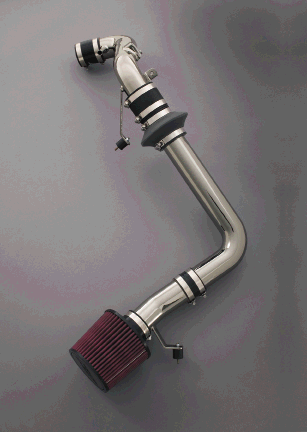 TRD Cold Air Intakes

The dyno-tested TRD cold air intake system creates more horsepower and torque by bringing cooler, denser air to your engine from behind and below the headlight area. It features a patented high-flow, low-restriction air filter and mandrel-bent aluminum tubing that allows for smoother airflow to the engine. It also incorporates a patented air bypass valve that virtually eliminates any chance of hydro-lock due to unwantde water ingestion.

For more visit www.trdusa.com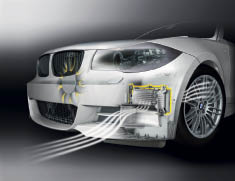 BMW PERFORMANCE Air Intake Systems

The system that allows the engine of your BMW to breathe might just take your own breath away, particularly if it is the BMW Performance Air Intake System. Special air pipes and filters ensure that the engine is always provided with the optimum amount of air. As a result, the cylinders are evenly filled, and are able to produce more power and more torque. The system also gives the engine an aggressive sound that wouldn't sound out of place on the racetrack. Breathe easier and go faster. Available for specific 1 Series and 3 Series models.

For more visit www.bmw.ca/performance
---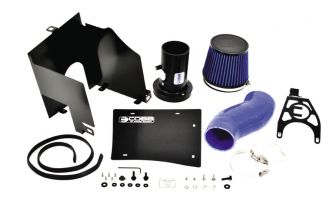 COBB Tuning SUBARU Intakes
The C.A.R.B. certified COBB Tuning SF Intake utilizes a custom design to optimize flow for increased performance. The custom conical cloth filter feeds air to a CFD-designed velocity stack featuring COBB Tuning's unique air flow straightener grid. This straightener grid is specifically designed to smooth air flow as it passes the Mass Air Flow sensor for precise readings. This eliminates the "dead spots" experienced by other aftermarket intakes due to turbulence. No other aftermarket Subaru intake system utilizes all of these critical design elements. Available for all turbo Subarus.
For more visit
www.cobbtuning.com
---
HKS Racing Suction Reloaded Kit

HKS Racing Suction Reloaded Kits have been developed as the leading intake system for high performance applications. Each kit features an HKS Reloaded filter and aluminum suction pipes that have been tested for optimal air flow.
For more visit www.hksusa.com
---
Password:JDM Dry Carbon PowerChamber

The Password:JDM PowerChamber design makes more useable horsepower for normal and performance driving conditions. The Password:JDM Dry Carbon PowerChamber delivers real life useable HP throughout the power band. Engineers spent hours upon hours designing this PowerChamber to deliver true performance. This product is available in Dry Carbon Fiber or Dry Carbon Kevlar.
For more visit www.passwordjdm.com
---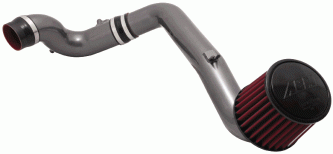 K&N FILTERS Nissan 370Z INTAKES
The K&N High-Flow Intake System for the 2009-10 Nissan 370Z 3.7L, increases horsepower by 14.2 hp at 5600 rpm over the stock intake configuration. To achieve such a performance increase, K&N replaces the original dual-intake assembly; including the air boxes, air filters and intake tubes with an all-new intake design. The new system draws air through K&N High-Flow Air Filters that increase airflow and never need to be replaced. Protecting the cone-shaped air filters, and isolating it from engine heat, are powder coated heat shields that replace the stock air boxes. As it passes the filter, air travels through K&N mandrel bent aluminum tubes that are formed and shaped, in the design phase, to drive a more laminar flow of air to the car's engine.
For more visit
www.knfilters.com
---
Racing Beat RX-8 REVi Intake Kit

Racing Beat offers this extremely popular REVi Intake Kit for use on all RX-8 applications. Designed to offer performance improvements without sacrificing drivability, the Racing Beat REVi RX-8 intake system is the final result of hundreds of hours of dyno sessions and on-road testing. Experience improved power and performance - without the overwhelming intake roar associated with traditional open-element RX-8 air intake kits. Each Racing Beat REVi kit includes an exclusively-designed genuine K&N air filter element.
For more visit www.racingbeat.com