Name: Michelle Sanchez
Location: Las Vegas, Nevada
Birthday: February 24th
Height: 5'0
Weight (lbs.): 102
Measurements: 32D-24-32
Ethnicity/Nationality: Filipino
Recent Experience:
INNOVATIVE TREND clothing - Michelle Sanchez "Pacquio," 2011

MISS SPOCOM 1st Place bikini contest winner ANAHEIM, 2011

Super Street Magazine TOP 15 Models - 15th Anniversary October Issue, 2011

Two in the Shirt "T.I.T.S" Clothing - Michelle Sanchez "Heart Breaker," 2012

MISS Super Street Magazine December/January Issue, 2012

Super Street Bike Magazine - Model of the Month April, 2012

Vegas Rated Magazine - Marquee Day Club Model July, 2012

Two in the Shirt "T.I.T.S" Clothing - Michelle Sanchez "Sleigh," 2012

Model for Models in the Trunk MITT feature 2011

Model for Fresh Windowing Tinting 2011

Model for SpoCom Anaheim August 2011

Model Two in the Shirt feature 2011

Model for Models in the Trunk MITT feature 2012

Model for MBJunkies feature 2012

Model for Tekken at EVO convention Las Vegas 2012
The Interview

PASMAG: Where are you from? And, are you currently living there? If not, where are you currently living?
Michelle Sanchez: Born and raised in Kauai, Hawaii and currently living in Las Vegas.
Does your personality match your Zodiac sign? Describe.
Yes, I'm a Pisces. We are sweet and feisty.
What would you say are your strengths as a model?
The curves I got from my momma.
What is your best beauty secret?
The gym; keep it fit, keep it tight.
Where can we see you?
In Las Vegas, of course.
What are your future plans (long term goals)?
I aspire to be a world traveller. Being born and raised on little Kaua'i has always made me curious to see what else is beyond the Pacific Ocean.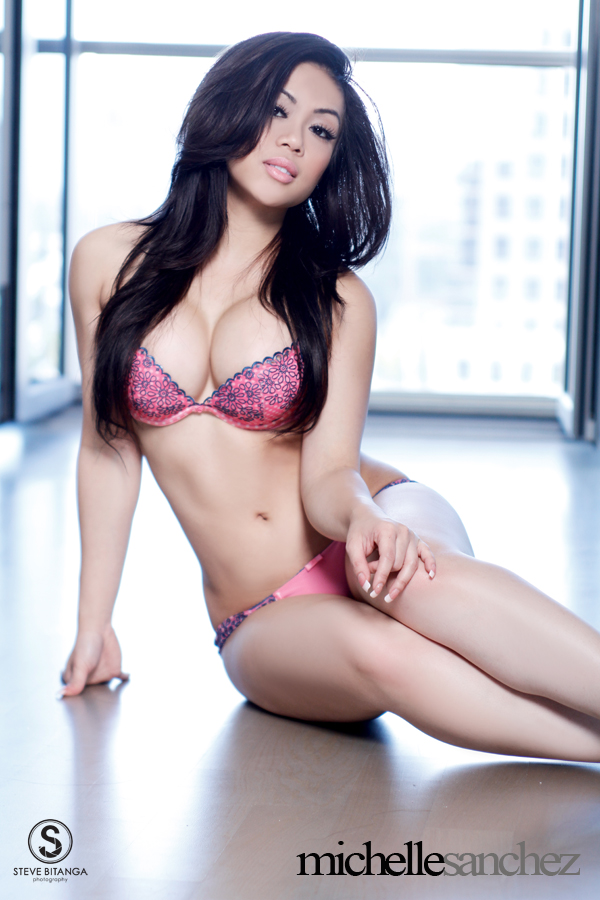 Do you drink? If so, what do you drink? If not, why do you not drink?
Seldom. If I do drink, I prefer feminine drinks like Riesling, champagne, or Midori Sour.
What is the best present you received? What is the best present you gave?
The best present I have received is going into work and seeing the entire office filled with various flowers that I got from my high school sweetheart, and then going into school and at every class, there was a different gift waiting for me. There was a card, balloons, a box of chocolates, roses, a bear, and a necklace. Things like that was stuff you'd only see in romantic movies.
The best present that I've ever given would probably be a Louie Vuitton wallet. At the time, I didn't even own any Louie Vuitton or matter of fact, anything extravagant for myself. I got it because it was a going away gift for someone important to me and I wanted it to symbolize future success in their new journey.
Where (restaurants) do you like to eat? What do you order? Why?
Oh I love food! If I'm with my good friends, I'll always order dessert first. My friends know I do this because I hate leaving restaurants and being too full for desserts.
What do you do on your spare time?
I enjoy working out in my spare time or spending time at the spa. Anything that is relaxing, basically.


How do you keep in such excellent shape? Explain your daily/exercise routine.
I'm naturally petite; however, I have thick thighs that I inherited from my mom. So when I work out, I focus more on the lower portion of my body. I'll use the elliptical machine, treadmill, or I'll run and do squats.
Are you big on first impressions? What do you first notice on a man?
Extremely; it's all about the chemistry and eye contact.
What's on your travel itinerary? Are you planning to go to any events in the future and/or vacation with your family, friends or 'significant other'?
I just got back from the Philippines and am planning on going to Tokyo sometime this year. Tokyo has always been a dream place for me.
How would you like your boyfriend to propose to you?
Well, if I had a long-time boyfriend, anything backed up with deep thought would definitely win my heart over. It takes someone that truly loves you to put in the time and effort into planning something special for such a special occasion.
Marriage song; what song would you like played on your wedding night? Why?
I'm not sure. I haven't thought that far ahead yet.
Any shout-outs or last words?
Thank you to my family and friends for always supporting me. I know it sounds cliché, but I'm always so thankful to have such a great handful of people who I know truly love me. <3