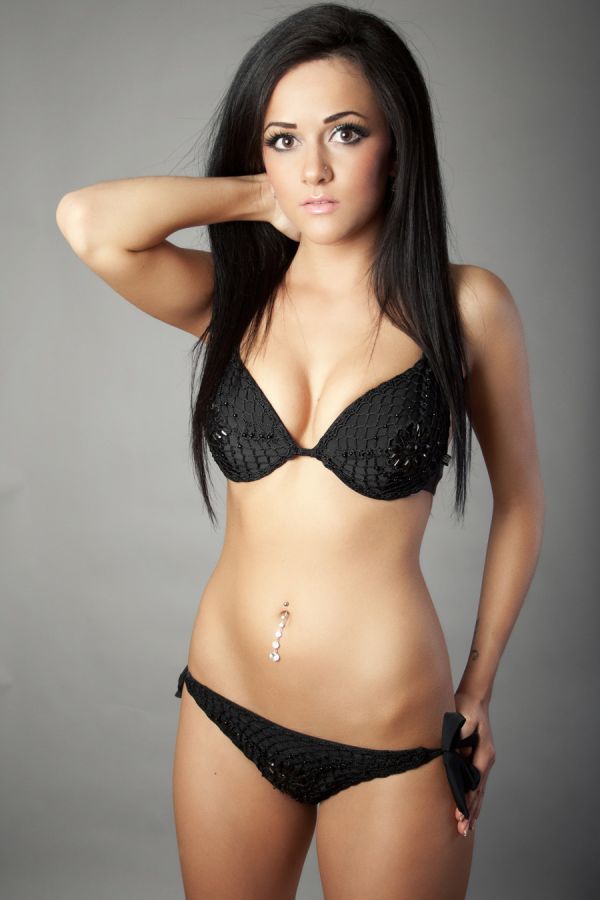 The Essentials

Name: Dana Mich
Location: Hannon, Ontario, Canada

Check out Dana's ModelMeyhem profile

Birthday: September, 24th

Height: 5"5
Weight (lbs): 105
Measurements: 32D-25-34
Ethnicity/Nationality: Canadian/Italian
Experience: Avatar promo model, official ring girl of Hennessy Sports, Camera & Video expo model, Ed Hardy swimsuit fashion show model, Joy Couture fashion shows, Honda Indy promo model, Casino Rama show girl model, and more.
The Interview

Where are you from? And, are you currently living there? If not, where are you currently living?
Toronto/Hamilton, Ontario.
Does your personality match your Zodiac sign? Describe.
Libra - one good looking goddess! All the Zodiac Goddesses are good looking, but the Libra Goddess has that special glow that comes from having a heart that sincerely loves everyone. Being born under Libra, we are fair minded and a gentle soul, possessing a firm way of resolving conflicts between the people we love. The Libra Goddess is the word "grace" in all its senses. Although I don't really believe 100 percent of what my Zodiac sign tells me, this describes me very well. I even have the word grace tattooed on my hip.
What would you say are your strengths as a model?
My fit, but curvy body. Big eyes and a great smile with straight white teeth! I also have long hair that is ALL REAL! (may I note, everything about me is REAL!) I love working with other people and I am super confident and out going with a sense of humour. Everyone who works with me has a great time.
What is your best beauty secret?
A good diet! I love to eat healthy.
Where can we see you?
Everywhere and anywhere! I do the most random things, people always tell me they recognize me. I do tons of different things and love to stay versatile.. and classy.
What are your future plans (long term goals)?
Modeling just kind of happened for me, but my main goal is acting. I love to sing as well. We will see what God has in store for me.

Do you drink? If so, what do you drink? If not, why do you not drink?
I drink socially. I like to drink wine, preferably white, but I'll drink red as well. I don't like to get black-out wasted because it just isn't a professional or classy thing to do.
What is the best present you received? What is the best present you gave?
I'm really good at listening to other people so I pick up on what they want, I love to give a good gift! I've given too many great gifts to narrow it down!
Where (restaurants) do you like to eat? What do you order? Why?
Depends on what I'm feeling like. I love sushi and Indian food, but spicy chicken is always my favourite.
What do you do on your spare time?
I play beach volley ball in the summer and ski and snowboard in the winter. I attend church regularly and love to spend time with family and friends. Love going on hikes, doing yoga and staying fit in general.
How do you keep in such excellent shape? Explain your daily/exercise routine.
Key for me is keeping a healthy diet. I also love to go on hikes, play volleyball, ski, snowboard and do yoga.
Are you big on first impressions? What do you first notice on a man?
I ca'nt help but notice appearance first. I like a scruffy man with a great smile. Once we start talking, I look for a sense of humour, intelligence, honesty and kindness.
What's on your travel itinerary? Are you planning to go to any events in the future and/or vacation with your family, friends or 'significant other'?
Nothing. But always game for ANYTHING.
How would you like your boyfriend to propose to you?
Doesn't really matter to me, I'm not the "Bride Zilla" type. As long as I love the guy and he loves me, that's all that matters.
Marriage song? What song would you like played on your wedding night? Why?
NO IDEA!
Any shout-outs or last words?
I'm really down to earth and can make the best out of any situation. I love to keep it classy while modeling and wont hesitate to say no if you cross my boundaries. I love to smile & keep a positive attitude no matter the situation.