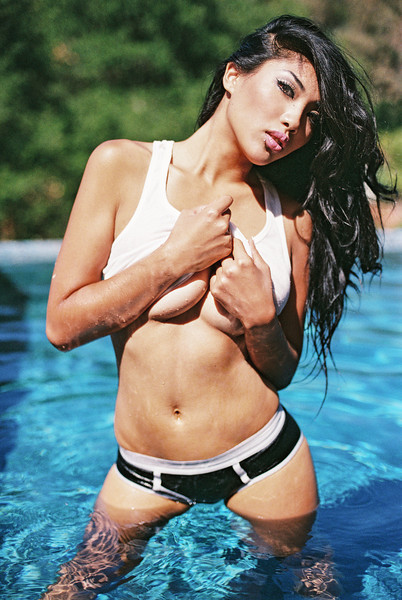 The Essentials

Name: Lena Love
www.facebook.com/lenalovelovesyou
Birthday: February 15th
Height: 5'8
Weight (lbs.): 125
Measurements: 36C-24-36
Ethnicity/Nationality: Laos
Experience:
Infamous Car Show 2012
Torc with PASMAG 2012
JDM Sport INVADES///RELAXING IN SOCAL 2012
Texas Showdown Carshow 2012
BIMMERFEST 2012
Motion Car Show 2012 Entered Bikini Contest
Wekfest 2012
Filipno Fiest 2012
Extreme Autofest 2012
HIN 2012 Entered Gogo Contest
Autocon 2012
Extreme Auto Fest 2012 Entered Bikini Contest
Spocom 2012
LS Series Showdown 2012
Nisei Show Off 2012
The Interview

Where are you from? And, are you currently living there? If not, where are you currently living?
I'm from San Fernando Valley and have been living in the area for 23 years. I currently reside in North Hollywood.
Does your personality match your Zodiac sign? Describe.
I'm not into Horoscopes, but people say the shoe fits.
What would you say are your strengths as a model?
My personality and sense of humor.
What is your best beauty secret?
Get a lot of sleep.
Where can we see you?
You can see me at upcoming events and possibly at some clubs/bars, shaking what my momma gave me.
What are your future plans (long term goals)?
I really want to go to school and become an Automotive Technician, and when I get certified I want to open up a shop.
Do you drink? If so, what do you drink? If not, why do you not drink?
I don't like drinking, but I'll drink on special occasions. When I drink, I'll take shots of Patron or sip on fruity mix drinks.
What is the best present you received? What is the best present you gave?
I received a lavender laptop (one of my favorite colors). I was so happy. The best present I've given was a chalk board/white board stand with drawers to my niece.
Where (restaurants) do you like to eat? What do you order?
Krua Thai or Pizza Hut. At Krua Thai I will order papaya salad, sticky rice, larb gai, and tom yum goong. At Pizza Hut, I will order a large pan pepperoni pizza with Italian sausage, jalapenos and bacon bits. Oh, and an order of the hottest traditional wings.
What do you do on your spare time?
I like to go bowling, hang out with family, watch movies, dance, clean, pay bills, and schedule shoots.
How do you keep in such excellent shape? Explain your daily/exercise routine.
Thank you! I don't work out, but I should.
Are you big on first impressions? What do you first notice on a man?
No, not at all; I notice his lips.
What's on your travel itinerary? Are you planning to go to any events in the future and/or vacation with your family, friends or 'significant other'?
I really want to go to Singapore, Hawaii, or Brazil. I'm planning on going to many events, hopefully HIN Hawaii in December and possibly stay for a little two week vacation with friends.
How would you like your boyfriend to propose to you?
Never thought about that, I like surprises.
What song would you like played on your wedding night? Why?
Reynard Silva - I Hide. I love this song!
Any shout-outs or last words?
Shout out to my JDM Sport family! Thank you to all my supporters and fans, I love you guys! For updates and upcoming events please visit me at www.facebook.com/lenalovelovesyou or follow me on twitter: www.twitter.com/lenaloves_you_