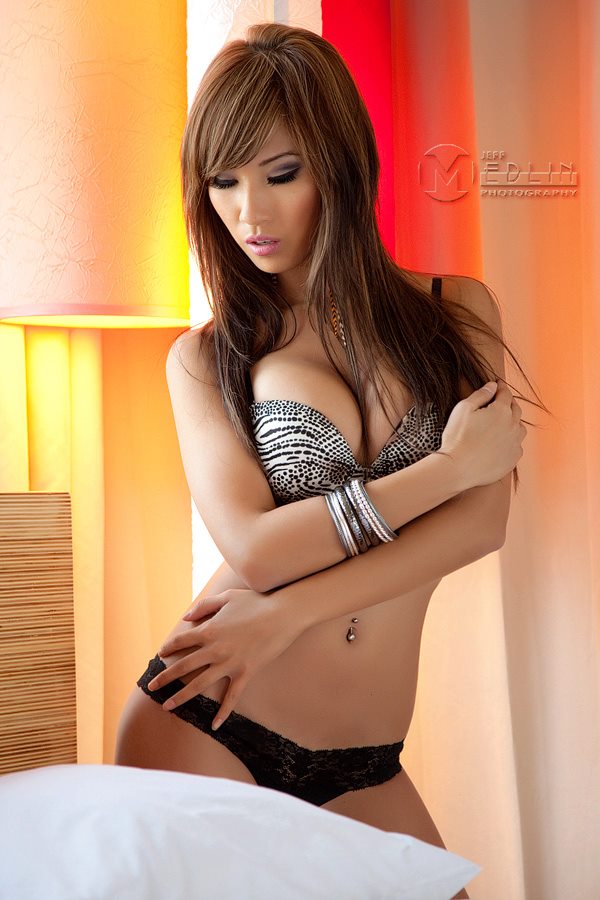 Photos by Jeff Medlin Photography
The Essentials
Name: Mimi Le
Birthday: October 29th

Location: Fort Worth, TX
Zodiac Sign: Scorpio
Height: 5'5"
Weight: 110lbs
Measurements: 34C-24-34
Ethnicity: Laotian

Turn-ons: Prudence and creativity.
Turn-offs: Rudeness, bath breath, lairs and cheaters.
Pet Peeves: Sticky and wet stuff.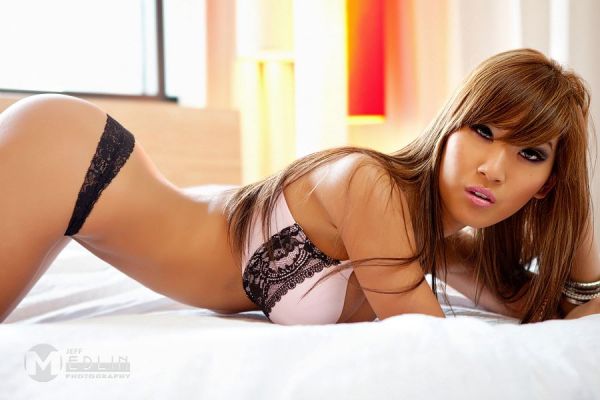 The Interview
Does your personality match your Zodiac sign?

Yes, I think so. I am observant, caring, independent and ambitious. When I want something, I am determined to get it.
What were you like growing up?
I grew up with four brothers so I was a tomboy growing up. I played football and video games in a dress. I was girly, but loved to play in the mud.

How long have you been modeling?
I have been modeling for 8 years.
What would you say are your strengths as a model?

My eyes and smile. =D
Do you have any birthmarks, scars or tattoos?

I don't have any tattoos. I have my belly button pierced.
Describe yourself in 3 words or statements.
Outgoing, humble, and diligent.
What is your best beauty secret?
Take vitamins, eat healthy, take care of my mind and body.
What do you look for in a guy?

I look for a guy that is caring and humble. He would have to get my attention by not trying too hard and be a little mysterious. I can't stand it when guys become too clingy.
What gets you in the mood?
Soft passionate kisses. ;)
How do you feel about pick-up lines? What was the best line that was used on you?

I think pick up lines are funny. "Crap, something is wrong with my phone, [me: Oh really, what's wrong?] It's just your numbers not in it." Yes, it actually did work. He's now my boyfriend.

What's the weirdest thing that has ever happened to you on a date?

The weirdest thing that has ever happened to me on a date is this guy kept talking about himself, and about how he wanted to take care of me. I thought it was weird because it was our first date. He probably thought I was gold digger, but he was wrong. After that date, I never talked to him again.
On a scale of 1 to 10, how wild are you in the bedroom?
I don't kiss and tell. ;)
What do you wear to bed?
Boy shorts and a tank top.
What item of clothing or accessory makes you feel the sexiest?
Sexy lacey bra.
Have you posed in the nude? If so, how did it make you feel?
No, never pose nude.
Where can we see you?

Avid golfer magazine, cover of ASM magazine, cover of Amped Asia online magazine, Miss January HotRod 2004, Sprint Epic online commercial, Arby's online commercial clip, Who Wants to Date a Celebrity show (Pilot).
What is your dream car?

White Nissan GTR with VRS-15 on 20".
Do you have many traffic violations? Any stories you'd like to share with us?
I have not had any recent tickets (*knock on wood*). The last time I got a ticket was 5 years ago because I didn't make a complete stop at a stop sign.
With any 'spotlight' type of job, you are looked upon as a role model. What advice would you give out to aspiring models?
Be confident in yourself. Always keep an open mind, and an open path for life.
Words to live by?
YOLO (You Only Live Once).
Any shout-outs or last words?
I want to thank my family, boyfriend, friends, and fans for supporting me throughout my whole modeling career. Without you guys, I don't know how I would of made it this far. I love you guys!