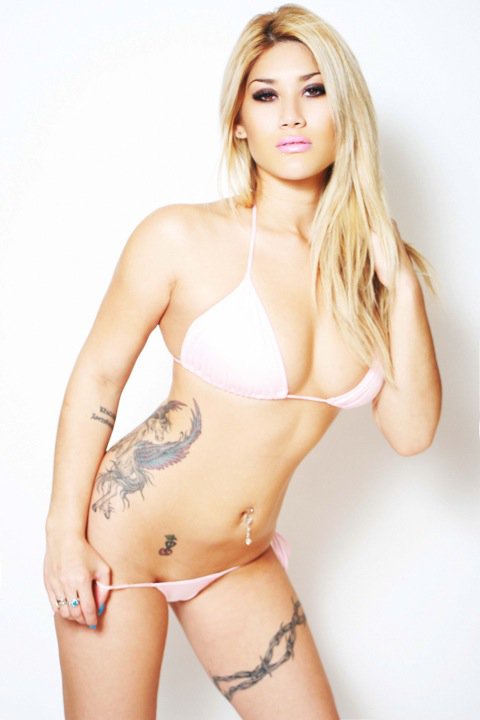 The Essentials
Name: Mandy Monroe
Birthday: May 19th

Location (City, State/Province): Toronto, Ontario
Zodiac Sign: Taurus
Height: 5'1"
Weight: 125lbs
Measurements: C34-25-36
Ethnicity (Mother/Father): Mother=Russian/Father=Chinese
Turn-ons: Honestly, and loyalty!
Turn-offs: Liars, cheaters, and 2faced people!
Pet Peeves: Stupid people, hahaha.
The Interview
Is "Name" your real name or model name?
My first name is real! But that last name is my model name, inspired by my idol, Marilyn Monroe.
What were you like growing up?
I was a bossy little princess/brat! And I was always my own person, I was a little leader!
Does your personality match your Zodiac sign? Describe.
Definitely. I am a Taurus to a tee. As stubborn as it gets, and as loyal as it gets!
How long have you been modeling?
I've been modeling on and off since I was about 16.
What would you say are your strengths as a model? (Ex. body, eyes, smile, certain poses and emotions...)
Honestly, everything, but if it weren't for my ethnicity, I don't think it would have worked out the way it has. My background has helped a lot, I wouldn't have my exotic looks without it!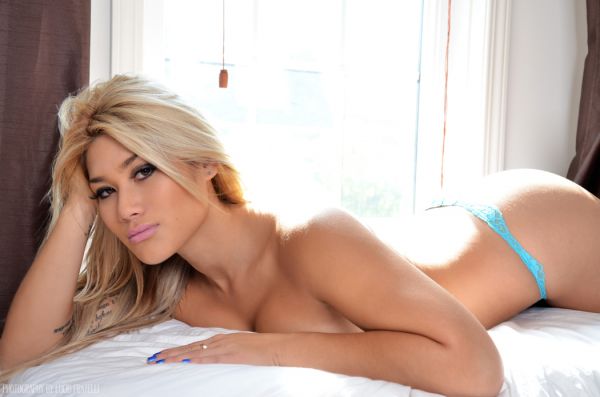 Do you have any birthmarks, scars or tattoos? Please state "what", "where", "how noticeable?"
I have 15 tattoos that are all quite noticeable!:
Chinese symbol for Dragon on back of neck, 4 tribal zodiac signs inside left forearm, tribal sun and Russian writing inside right forearm, Marilyn Monroe quote "A wise girl kisses but doesn't love, listens but doesn't believe & leaves before she is left" inside right upper arm, Grandmothers Russian writing inside left upper arm, barbed-wire around left thigh, Pegasus right side rib cage, tiger (stripes) left shoulder blade, tribal cherries near right hip bone, a tribal songbird design on my left forearm, and a star on my lower right side of my back above my bum.
Describe yourself in 3 words or statements.
Honest, unique, passionate.
What is your best beauty secret?
Drink LOTS of water!
What do you look for in a guy? What would he have to do to get your attention and to keep you interested?
I look for honesty and loyalty which I have found! And no guy can get my attention, trust me lol.
What gets you in the mood?
Nice surprises :)
How do you feel about pick-up lines? What was the best line that was used on you? Did it work?
No pick up lines work on me! And I have heard them all, and I guess off the top of my head I can think of: How much milk did you have to drink to look that good? lol..
What's the weirdest thing that has ever happened to you on a date? How did the rest of the night go?
I've never really done the whole 'dating' thing!
On a scale of 1 to 10, how wild are you in the bedroom?
That's for me to know and you NOT to find out!
What do you wear to bed?
Booty shorts or nothing.
What item of clothing or accessory makes you feel the sexiest?
6" high heels!
Have you posed in the nude? If so, how did it make you feel?
I have, and I didn't mind, I'm comfortable with myself, just wish I'd make it to Playboy!
Where can we see you? (Ex. shows, TV, magazines, etc)
You can see me in 2 calendars next year (2013) for Asian Mystique, and Auto Body Hotties sold in Calendar Clubs everywhere! Also in my own 2012 calendar which you can purchase at www.mandymonroe.net. And in May 2012's issue of Urban Ink Magazine. And I will be on the cover of The Horse Backstreet Choppers magazine this summer! You can also catch me in quite a few music videos, and online magazines, check out my website for a list of my credits :)
What is your dream car? What modifications/upgrades would you make, and why?
My dream car is a sexy 1981 Chevrolet Camaro! I would make it baby blue with sparkles! I love muscle cars!
Do you have many traffic violations? Any stories you'd like to share with us?
I have 3 speeding tickets, lol. I am a speed demon, what can I say?
With any 'spotlight' type of job, you are looked upon as a role model. What advice would you give out to aspiring models?
Never let anyone say you are not pretty! Every girl is pretty in her own way, and I always say, I'm not everyones cup of tea! Nobody is!
Words to live by?
Don't live with regrets! Every single thing that happens in life is a lesson learned, and was meant to be.
Any shout-outs or last words?
Thank you to all my fans who have supported me all the way, and for accepting me the way I am! I truly appreciate it! And please don't be shy! Go and like my page and keep up with me every day! At: www.facebook.com/modelmandymonroe