Written by Randi Bentia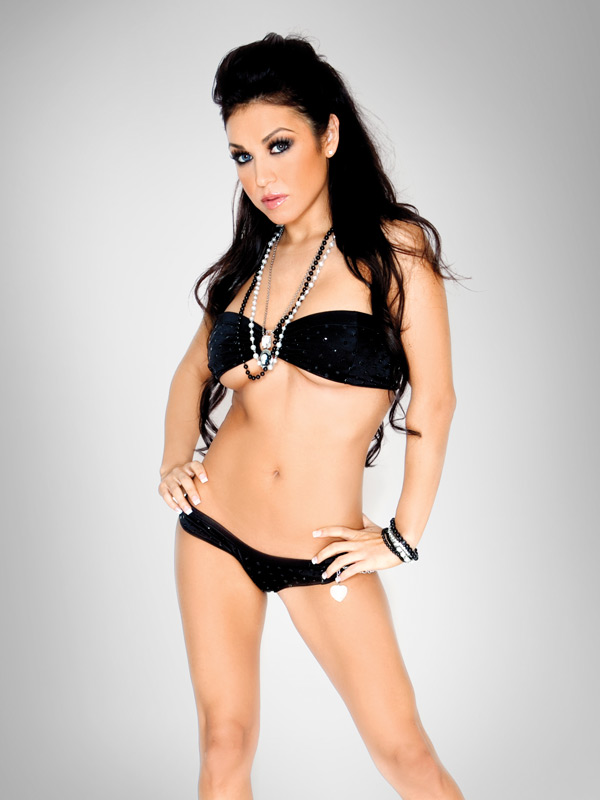 What do you get when you mix brains with beauty? Well, you wouldn't end up with SoCal hottie, Sabrina Jane just yet. This fun and energetic Orange County, CA girl is also very creative and expresses herself through drawing, painting, fashion design and even experimental cooking. So, we're guessing that if she is into cars as well, Sabrina is the stuff dreams are made of. This dream girl is hardly high maintenance since she values intelligence far more than material things or "swagga". Sabrina also values that in herself as well, listing her "knowledge" as her most prized possession. Since she has been in the business for many years, her career has skyrocketed from a small car show back in 2003 to shoots in the Playboy suite at the Palms hotel, and now to the cover and pages in PAS Magazine!. Read on to find out what makes this bombshell have a beauty that is more than skin deep.
---
The Essentials
Zodiac Sign: Aquarius
Height: 5'1"
Measurements: 34D-23-33
Ethnicity: Caucasian/Hispanic
Hometown: Palm Springs, CA & Orange County, CA
Turn-ons: I like a guy who can make me laugh without being cocky or too into himself. He would have a clean and neat style, someone sweet and shy and who thinks I'm the most beautiful and greatest thing in the world.
Turn-offs: Bossy or clingy guys who fall in love too quick or pressure me into doing things I don't want to. Cheaters, liars, idiots and guys who talk about money. Ugh, I don't care what kind of car you drive dude, or where you got your watch! I'm unconcerned with those material things.
Pet Peeves: People who embrace slang or Ebonics as a primary means to communicate, as opposed to those who concern themselves with annunciation and proper use of the English language in order to cement the structural integrity of language and society in America for years to come. "Cool guys" who lay their quick-witted lines while wearing sunglasses at night should only be embarrassed for themselves. Intelligence is WAY more attractive than "swagga."
---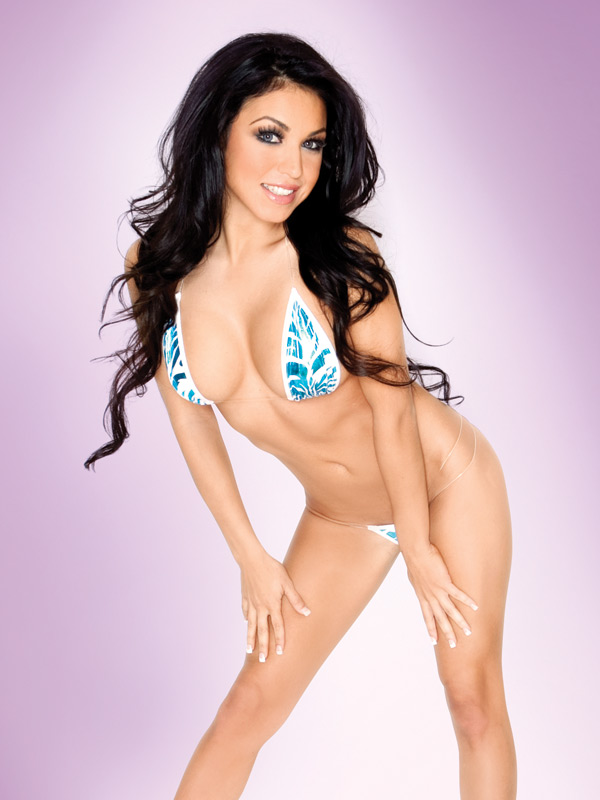 PAS: Where are you from? Where are you currently living?
Sabrina Jane: I grew up all around Southern California. When I was younger, I lived in Palm Springs and mostly went to high school in Orange County. I live in the OC now.
PAS: How long have you been modeling for?
Sabrina Jane: Since about 2003. So, around 7 years?! However, I wasn't modeling much then as I was busy with school. I started modeling much more in 2006 when I graduated from college.
PAS: How did you get your start in modeling?
Sabrina Jane: My friend set me up on a shoot. I received a few posters from that shoot and my girlfriend took me to a car show. I made a lot of money that day for no one knowing who I was! Then everyone started booking me, for everything. I'm much more savvy now. I know how this industry works. I cast a lot of girls and book a lot of girls now.
PAS: What's the best part of being a model?
Sabrina Jane: Getting paid, hands down! I don't care too much for the attention, but playing dress up and meeting new friends is so much fun too.
PAS: What would you say are your strengths as a model?
Sabrina Jane: All of them! I'm confident in shoots and it shows in my photos. So, I shoot quickly. I'm not ever worried about how I will look from a certain angle. I'm good from any angle and have no stretch marks or cheesy tattoos. Photographers love me for these reasons.
PAS: Describe yourself in three words or statements.
Sabrina Jane: Determined. Smart. Fantastical.
PAS: What are some of you modeling highlights so far?
Sabrina Jane: Too many to name. Let's just say…Cover Model for PASMAG!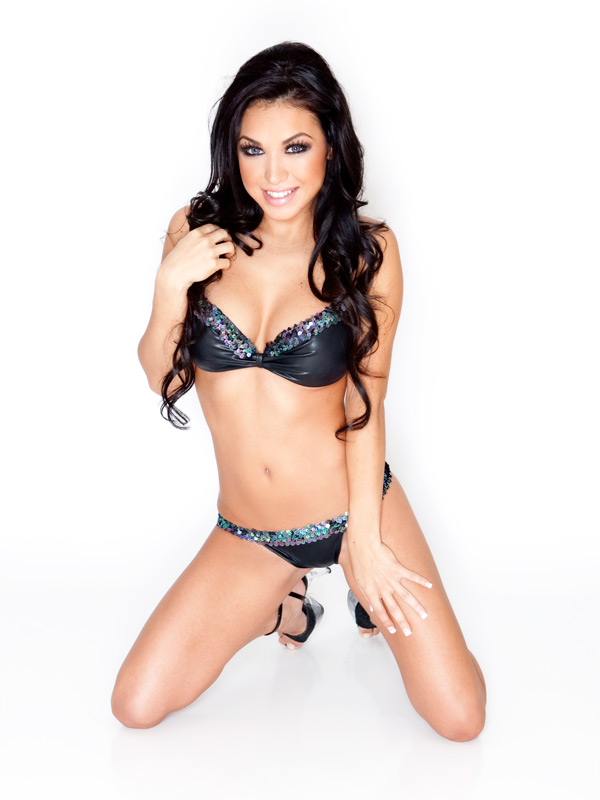 PAS: Tell us your likes or dislikes about modeling?
Sabrina Jane: I always like shooting and seeing how the pictures turn out. I don't like a lot of shady people you meet in the modeling industry though. I can spot them from a mile away though, so it's not too bad.
PAS: What is your best beauty secret?
Sabrina Jane: I really don't have one. I hardly blow dry my hair. I guess that's one.
PAS: How do you keep in such great shape?
Sabrina Jane: I eat junk food and soda… I never work out. I despise the gym because I don't like creepy people watching me.
PAS: What is the strangest photo shoot that you've done?
Sabrina Jane: I'd have to say my first Michael Vincent shoot at the Playboy Suite at the Palms was the strangest. My hair was 2-feet high with a peacock feather in it and celebrities got in the way of our shoot, so I was over it and just left. Everyone was drunk and sloppy; the girls were fake and irritating. I left early to do something else. That was a strange party/shoot though.
PAS: What is your best physical feature?
Sabrina Jane: Everyone picks something different. My ex-BF says it's my boobs. I like my eyes. Everyone likes my hair & my butt too.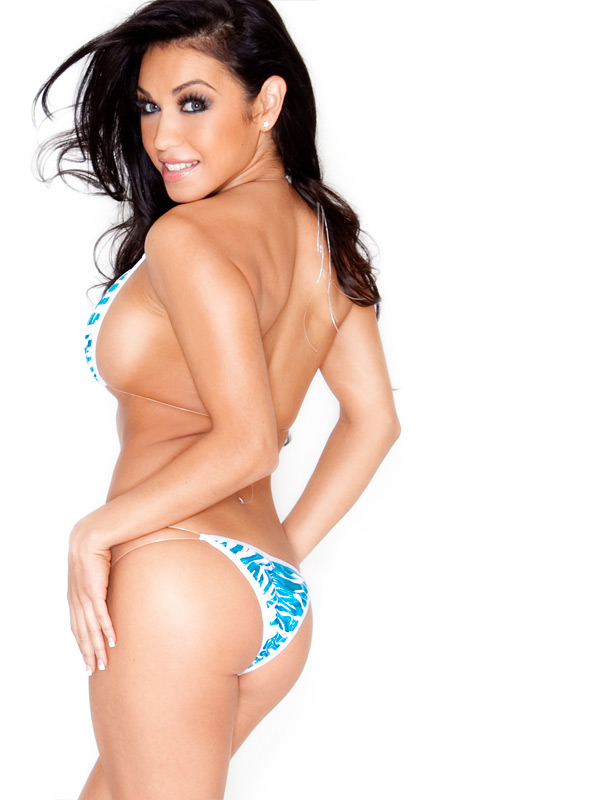 PAS: What traits do you like most about yourself?
Sabrina Jane: I'm sassy, clever and quite a ham, so I get along with everyone. It's rare someone doesn't like my personality. I'm real and I tell it like it is as eloquently as possible. I tell the truth but with tact.
PAS: What traits do you dislike most about yourself?
Sabrina Jane: I tend to lag. I don't have patience for insolence and can be pretty vengeful at times when someone deserves it. And BOY, do they deserve it!
PAS: What do you most value in your friends?
Sabrina Jane: The fact that I can tell them anything. Trust and knowing they will keep my secrets and/or forgive me always.
PAS: Can you tell us about your first kiss?
Sabrina Jane: My first kiss was with this guy I thought I was totally in love with. He was a total tool. I remember I was so nervous my leg was shaking. He screwed me over BAD, but they always come crawling back.
PAS: What is your top unfulfilled fantasy?
Sabrina Jane: Making love on the beach in the rain with the man I'm going to marry. I just got to find him now!
PAS: Do you have any birthmarks, scars or tattoos?
Sabrina Jane: I have a scar on my knee from hot glue dripping out of a glue gun during Sabrina's arts & crafts time. It sucks but it's not too noticeable.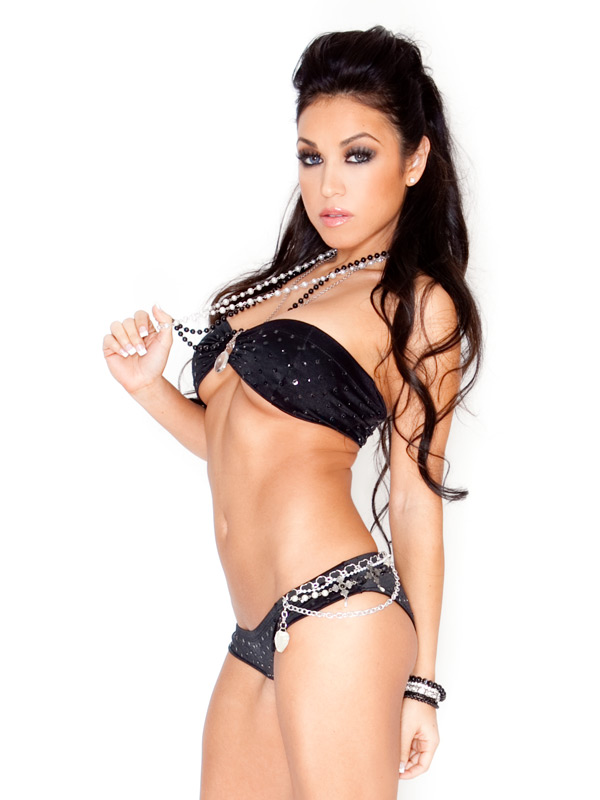 PAS: Do you have any pets?
Sabrina Jane: Just the sassiest, most beautiful cat ever created on the planet! I call her the "Queen of Life". I've had her since I was like 13 or 14 and I'm just absolutely in love with her!
PAS: What do you like to do for fun?
Sabrina Jane: Cooking, cleaning, painting (oil & acrylic). Design work (branding, retouching, sewing). Dancing, organizing, shopping, drawing and singing. And shopping!
PAS: What frightens you the most?
Sabrina Jane: Passing away without letting the people I love know how much I appreciate them. Spiders frighten me. Even more… killing spiders!
PAS: What's your most prized possession?
Sabrina Jane: Knowledge. The knowledge I possess is far more valuable to me than anything else I can think of. It's the first thing in my head. I'm glad I've had the training I've had and the experience I have in all kinds of things.
PAS: What is your idea of perfect happiness?
Sabrina Jane: Loving your work, loving your life and accepting with perfect understanding the people in it, where they stand and what they mean to you and you to them…and my cat living forever.
PAS: What is your favorite type of food?
Sabrina Jane: Beef. Every way it's served. Jerky is my favorite, but only a certain brand. Also pasta dishes, pickles, ice cream, mashed potatoes and my famous homemade gravy.
PAS: What is your dream car?
Sabrina Jane: An invisible one that can fly! They haven't made them yet… so, I'd settle for an Aston Martin.
PAS: Who is your favorite recording artist?
Sabrina Jane: Lyla Dee! Other than her, it would be Gwen Stefani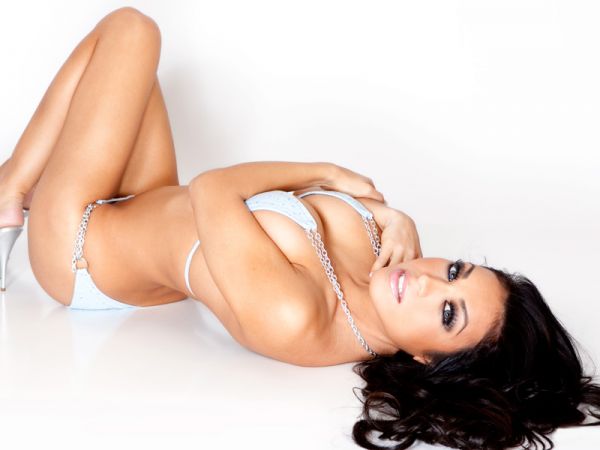 PAS: What is your favorite quote/lyric?
Sabrina Jane: There's WAY too many! The latest one is by Loretta Lynn. It goes "…it'll be over my dead body, so get out while you can, 'cuz you ain't woman enough to take my man!" She's hardcore!
PAS: What's the best prank you ever played on someone?
Sabrina Jane: Well, I wrote all over an ex-boyfriend's body with a permanent maker while he was asleep. That was fun! That was ages ago. I wasn't mad at him. His friend and I thought it would be funny.
PAS: If you had one wish, what would it be?
Sabrina Jane: To fly or to be invisible. Or both!
PAS: What is your greatest regret?
Sabrina Jane: Trusting dirt-bags.
PAS: Who are your heroes in real-life?
Sabrina Jane: My mom. She's sassy. She's a smarty pants and she works sooo hard! She's preciousness.
PAS: What was your worst childhood experience?
Sabrina Jane Hiding from the boys at recess in the bathroom! Traumatizing!
PAS: Have you posed in the nude?
Sabrina Jane: Nope. But maybe I will!
PAS: What quality do you like most in a man?
Sabrina Jane: Faithful and trustworthy.
PAS: What quality do you like most in a woman?
Sabrina Jane: The same as a man.
PAS: What can a guy say to make you melt?
Sabrina Jane: That I send a bolt of electricity through his body when he's 10 feet away.
PAS: What would make you slap a guy?
Sabrina Jane: Finding out he cheated on me 10 times since we met.
PAS: How do you seduce a guy?
Sabrina Jane: I don't have to. I've never tried it.
PAS: If you're planning it, how many kids do you want to have? Do you have any names picked out?
Sabrina Jane: 2 or 3. Basil and Garlic
PAS: Size or Stamina?
Sabrina Jane: Neither matters a lot to me
PAS: Tell us about any upcoming projects of yours?
Sabrina Jane: Revising www.sabrina-jane.com!
PAS: What current, past or future projects are you most excited about or are the most memorable for you?
Sabrina Jane: I'm working on a Swimwear Line. It's called "Stage Style". Aside from that, I'm working on expanding my graphic design business called "Sight Candy".
PAS: With any 'spotlight' type of job, you are looked upon as a role model. What advice would you give out to aspiring models?
Sabrina Jane: Don't take any crap from anyone! Make sure you get your money! Never ever do any crappy motel shoots or shoot with anyone without good references.
PAS: Do you have any shout outs or last words?
Sabrina Jane: I want to say aloha to my besties: Tara Love, Diana K, Philly F, Tickles, Wheenit, Dadwink, Avalynn and Bepper. I love my friends and family. Be on the lookout for "Stage Style" (www.stagestyleonline.com) on the runways, shoots, events and performance stages everywhere! I want to thank all my fans for being sassy! Sabby loves you!
{yoogallery src=[/images/phocagallery/sabrinajane] width=[150]}