Written by Randi Bentia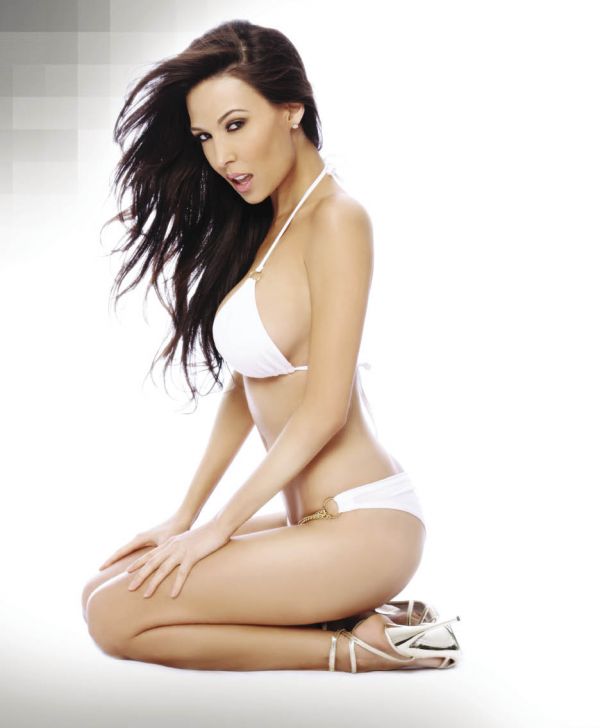 With a striking combination of beauty, brains and ambition, there is definitely a lot more to Jenny Milstead than meets the eye, which is quite a statement in itself. The Texas-born brunette stands out, due in no small measure to her exotic Korean, German and Cherokee Indian ancestry, which definitely made an impression on us when we first met her on Hot Import Nights circuit. Since then she has built an impressive modeling resume in print and on television. Despite a busy day job, Jenny has also earned a Bachelor's degree in Political Science, a teaching certificate and a real estate license. All of which gives new meaning to the term 'well-rounded'.
The Essentials
Name (First/Last): Jenny Milstead
Birth date (mm/dd/yyyy): June 5th
Location (City, State/Province): Las Vegas, NV
Zodiac Sign: Gemini
Height: 5'7"
Weight: 110 lbs
Measurements: 34, 24, 36
Ethnicity: Korean, German and Cherokee Indian
Turn-ons: Intelligence, Charisma, Articulation, Ambition
Turn-offs: Ignorance
Pet Peeves: Bad Drivers, Flaky People
Website: WWW.JENNYMILSTEAD.COM
PASNATION Username (http://pasnation.pasmag.com): JENNYMILSTEAD
The Interview
Where are you from? And, are you currently living there? If not, where are you currently living?
I was born in Texas, moved to Southern California when I was about 13 years-old and moved to Las Vegas in 2006.
How long have you been modeling for?
Since I was 18.
How did you get your start in modeling? Were you discovered?
I actually applied to be a Hot Import Night Model online and got a call back immediately! It allowed me to recognize that I did indeed have a look that fans would admire and wanted to see more of.
What would you say are your strengths as a model? (ex. body, eyes, smile, certain poses and emotions...)
My strengths include my strong work ethic and professionalism. I am a free spirit and very easy going. And I am not too hard on the eyes…lol
Describe yourself in three words or statements.
Strong, Sexy, Sweet.
What are some of you modeling highlights so far?
Shooting for Playboy Magazine and now shooting the cover of PASMAG!
Does your personality match your Zodiac sign? Describe.
I am a true Gemini. I have masculine qualities to my personality and I am an extrovert! I consider myself an Alpha-Female.
Tell us your likes or dislikes about modeling?
I love meeting all of the new friends I have made over the years. Unfortunately there are people that make promises and don't intend to follow through. I believe you should say what you mean and mean what you say! There are not only "flaky models" in the industry.
What is your best beauty secret?
I use Neutrogena face wash and when I apply my daily face lotion I combine my foundation into it for sheer natural coverage
How do you keep in such great shape?
I eat well and work out! I wish I could say I didn't have to!
What was the first major event that you modeled at? What made it most memorable to you?
The first major event that I modeled at was a HIN event. It was fun and made me realize that this was definitely that I want to do.
Who is your favorite model or celebrity of all time?
I like Jenny McCarthy…Funny, Smart and Hot!
What traits do you like most about yourself?
I love the fact that I don't like to give up. I hate failure and want so much more out of life and want to affect change.
What is your top unfulfilled fantasy?
Flying off on a private jet to a secluded island and vacationing for at least 2 weeks. No cell phones, Internet or stress.
Do you have any birthmarks, scars or tattoos? Please state "what", "where", "how noticeable?"
None at all.
Do you have any pets? What kind?
I have an American Bull dog and a cat that hang out and play together all the time.
What are your hobbies? Any hidden talents you'd like to share with the world?
I love to read, work out and go to the beach
What is your favorite food?
I love Italian, Mexican and Korean. Yes, in that order.
Who is your favorite recording artist and genre of music?
I love House Music!
Do you have any weird habits that no one else knows about?
Not really…I am an open book to those close to me
What's the best prank you ever played on someone?
Not really the prankster type.
What is your dream car?
I currently own my dream car. I have a Maserati Quattroporte Executive GT…I love it!
What do you look for in a guy? What would he have to do to get your attention and to keep you interested?
I look for good looks, dark hair, in shape and taller than me. He has to be smart and enjoy intellectual conversation wherein we are not arguing about politics but rather exchanging ideas on a mature level. He's got to be funny, easy-going and NOT Needy!
What gets you in the mood? What are some of your turn-ons?
Cologne. The smell acts as an aphrodisiac. And a good glass of wine is nice as well.
How do you feel about pick-up lines? What was the best line that was used on you? Did it work?
Pick up lines are good as long as they aren't too cheesy. If it is presented in a manner that suggests that you have a sense of humor, you're in! I had a guy once recognize that I was Korean and say hello to me in the native language. Not really a pick up line, but it really impressed me because he was able to recognize my ethnicity which many can't do right off the bat.
So what is the weirdest thing that has ever happened to you on a date? How did the rest of the night go?
Off the top of my head….hmmm…running into someone else that I was dating at the time…awkward.
On a scale of 1 to 10, how wild are you in the bedroom?
I'm a 10 for sure….I like to let it all go
What do you wear to bed?
That depends on if I am sleeping alone or with someone. Just me alone, I will be in a comfy oversized shirt. With someone? Well probably nothing at all.
What item of clothing or accessory makes you feel the sexiest?
A sexy lace bra and panties with a pair of high stiletto heels!
Have you posed in the nude? If so, how did it make you feel?
Yes, I have posed in the nude. I am comfortable with my body and love the human image in its raw form.
What do you most value in your friends?
My friends are the same group of girlfriends from high school! They are loyal and have my back. Always there for me and never let me down.
Who are your heroes in real-life? Why?
My heroes would be the single, working mother who busts her butt and still manages a home, goes to work and takes care of her children. Independent women, where ya at? LOL
If you could have one superpower, what would it be and why?
I would have super intelligence and discover the cure for cancer and AIDS
Tell us about any upcoming projects of yours?
Well, I will be gracing the cover of Girls of Lowrider and hosting several events in the Las Vegas area.
With any 'spotlight' type of job, you are looked upon as a role model. What advice would you give out to aspiring models?
I would advise models to not be the stereotypical model. Show up on time to jobs and try not to cancel jobs. Just view it as a business, which it is, and you will do very well!
Do you have any shout outs or last words?
I hope you enjoy my pictures as much as I loved shooting them for you!