Written by Randi Bentia | Photography by Steve Bitanga (www.babeblvd.com, www.stevebitanga.com) » Hair & Makeup By Monica Caldera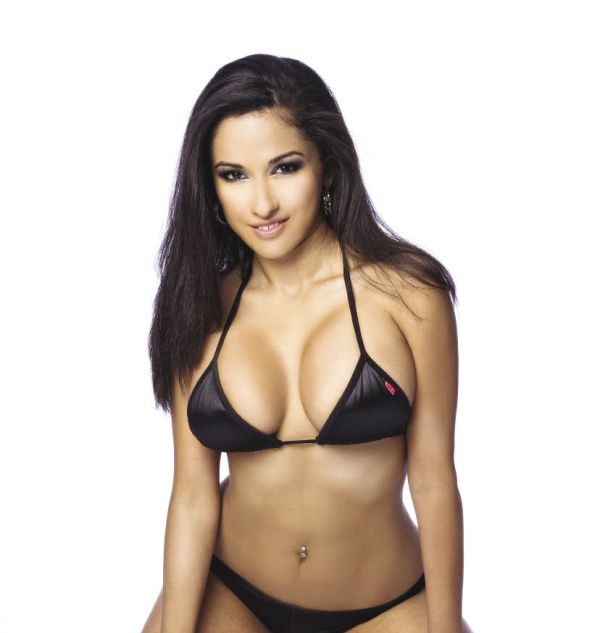 Whether it's posing for magazines like Playboy and Maxim or on the set of a music video shoot, Sandy Garza's bubbly personality and Girl-next-door looks always gets her noticed. Hailing from Texas with a Mexican background, Sandy attributes her hard-work mentality to her father and dedication and drive to succeed to her mother. Honesty and intelligence is the key to her heart, but you better be able to keep up with her dance moves too.
---
Where are you from? And, are you currently living there? If not, where are you currently living?
I was born in Pasadena, Texas and am currently living in Houston.
How long have you been modeling for?
4 years
How did you get your start in modeling? Were you discovered?
I participated in Maxim's Hometown Hotties. I placed top 100 among thousands of applicants. I was so stoked!
What would you say are your strengths as a model? (ex. body, eyes, smile, certain poses and emotions...)
I would say my smile and voice. I'm a very bubbly girl so I always make it a point to have fun at every shoot or gig.
Describe yourself in three words or statements.
Ambitious, versatile and humble.
What are some of your modeling highlights so far?
Any magazine I've done is a major highlight. I'm grateful for every opportunity.
Does your personality match your Zodiac sign? Describe.
Yes. I'm ambitious and I wear my heart on my sleeve.
What is your best beauty secret?
I moisturize before doing make-up and right before I go to bed.
How do you keep in such great shape?
Zumba and kickboxing. I got to show off my Zumba dance moves at the PASMAG shoot.
What is the strangest photo-shoot that you've done?
This music video I was in with Baby Bash and Stooie Bros. The video concept was a crazy hotel party. With that said, I was a cheerleader flirting with a man dressed in a banana suit.
What was the first major event that you modeled at? What made it most memorable to you?
Playboy Special Editions. It was the stepping stone to everything I've done since then.
Who is your favorite model or celebrity of all time?
Eva from America's Next Top Model. I got to meet her recently at the Playboy Mansion.
What traits do you like most about yourself?
I'm very family oriented.
What is your favorite food?
Sushi and Indian food.
Who is your favorite recording artist and genre of music?
Pitbull and Akon. My iPod is so diverse it's unreal! I don't have a specific favorite type of music.
Do you have any weird habits that no one else knows about?
I grind my teeth while I sleep, so I've been told.
What is your dream car?
A Mitsubishi Spyder.
What do you look for in a guy? What would he have to do to get your attention and to keep you interested?
I don't have a type of guy. Their looks attract me at first somewhat, but mostly it's the way he treats me. That wins me over every time!
How do you feel about pick-up lines?
I prefer a good intellectual conversation over a pick-up line. Engage me with your mind!
What do you wear to bed?
Tshirt and sweats. But when it's hot... NOTHING!!!
What item of clothing or accessory makes you feel the sexiest?
Heels! You can never have too many heels. Oh yeah and eyelashes!
Have you posed in the nude? If so, how did it make you feel?
Yes! It was really exciting!
What do you most value in your friends?
Loyalty
Who are your heroes in real-life? Why?
My parents, first and foremost. My mother was a full-time mother to me and my two brothers. She always took me to all my orchestra concerts and dance recitals. My dad has the best work ethic ever. He loves his job and always goes with a smile on his face. I also salute the military. They sacrifice their lives protecting our country.
Tell us about any upcoming projects of yours?
I plan into getting into acting and television.
With any 'spotlight' type of job, you are looked upon as a role model. What advice would you give out to aspiring models?
Height/color/gender has no barrier in achieving your dreams.
Do you have any shout outs or last words?
Nothing worth doing is going to be easy. So with that said, WORK HARD!!!
---