Written by Randi Bentia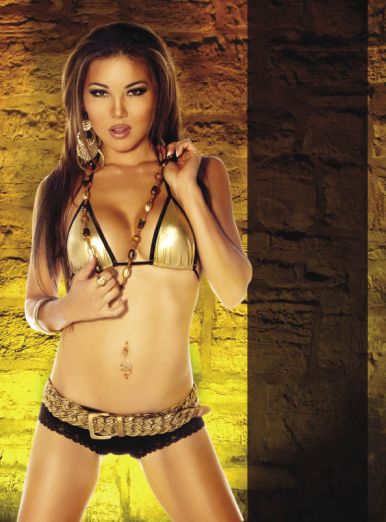 One look into the eyes of Lisa Fleming is enough to realize that this mischievous little hottie can melt even the coldest heart. Self-described as "Crazy, smart and caring," Lisa has a little bit of everything to keep her fans happy.
Growing up as an Army brat, Lisa is used to seeing men come to attention, only now it comes from all the onlookers at the shows and events she attends. As for her army upbringing, forget the tanks and missiles, just dropping Lisa into hostile territory would no doubt bring a ceasefire – or at least produce a different kind of ground warfare. I don't think anyone reading this would mind spending some time in a fox hole with this stunning beauty.
Lisa grew up wanting be a model, but her interest was on the runway instead of the car scene. But, as always in life, that direction changed after she and some friends raced their cars in high school – Lisa had a souped up Integra GS-R back then. She was attending car shows when a photographer picked her out of the crowd and she made the transition to the tuner scene.
But there's more to Lisa than just a smoking look. She is a regional partner with PsychoTrance Entertainment. The company is an event and club promotion outfit and Lisa keeps herself busy by planning events throughout California.
The list of DVDs and magazines she has appeared in are countless – just prior to our photo shoot for this issue, she was busy posing for the Super Street 2007 calendar and was the September cover girl for D Sport magazine. At the 2006 SEMA show she had a stranglehold on showgoers as the crowd around the Versus Motorsports booth grew every time the Sacramento-native was signing autographs and giving away posters. But 2007 marks the biggest moment of her career. In January she will make her first appearance at the Tokyo Auto Salon and you can be sure she'll leave showgoers in the East just as breathless as those in the West.
Lisa has fun-loving zest for the scene and likes to sit back and enjoy everything she has in life – she even overcomes a fear of flying to attend shoots all over North America. I think it's safe to say that there would be more than a few guys ready to help her get over her nerves on flights should the need arise.
---
THE ESSENTIALS:
Birthdate : April 26
Sign of the Zodiac : Taurus
Measurements : 34C-24-34
Nationality : Korean, Caucasian
Hometown : Sacramento, CA
Turn-ons : A man that can handle anything
Turn-offs : Fake people
---
PAS: Describe yourself in three words.
Lisa Fleming: Crazy, smart and caring.
PAS: What's the best part of being a model?
Lisa Fleming: Being able to write-off getting my nails and hair done, make-up, clothes, etc.
PAS: Tell us your likes / dislikes about modeling?
Lisa Fleming: My likes are being able to travel everywhere and meet new people from other cities. Dislikes are when you have to do a beach shoot in December in San Francisco!
PAS: What is the strangest photo shoot you've done?
Lisa Fleming: Doing a shoot at a nude beach (even though I wasn't nude); having to keep a straight face when a man is running right across the camera!
PAS: What frightens you the most?
Lisa Fleming: Flying… even though I fly almost every weekend I hate flying! Alcohol has helped a bit when I fly…
PAS: What is your idea of perfect happiness?
Lisa Fleming: When you're happy with your surroundings and the people you are with and happy with yourself. Money doesn't matter… money comes and goes, but being happy is what's most important.
PAS: What is your dream car?
Lisa Fleming: Mercedes SLR.
PAS: Who is your favourite recording artist?
Lisa Fleming: Tupac.
PAS: What is your biggest regret?
Lisa Fleming: Letting people get in the way of my career and not being able to start earlier.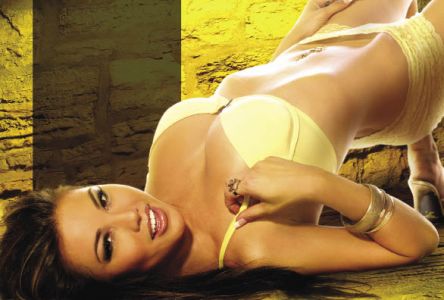 PAS: What do you do for fun?
Lisa Fleming: I like to hang out with my good friends and just do simple things like go eat, play pool or go bowling.
PAS: What is the sexiest thing about a man?
Lisa Fleming: When he tries to do whatever it takes to see me smile.
PAS: What can a guy say to make you melt?
Lisa Fleming: He can sing "One Wish" by Ray J to me.
PAS: What would make you slap a guy?
Lisa Fleming: If he said something perverted to me.
PAS: Do you want kids, and if so, how many?
Lisa Fleming: I want four kids. I think a big family is nice to have. I'm the type that would love to take trips with the whole family to an amusement park or something. But that's wayyyyy later!
PAS: What current, past or future projects are you most excited about or memorable for you?
Lisa Fleming: Just finished doing a DVD for Racesauce. I've been working with Hite (Korean beer), Greenbottle DVD, Race Factory DVD, Version C Calendar, Formula D Calendar, SunAuto Calendar, more ad stuff and being a Regional Partner of Psychotrance Ent. LLC – be on the lookout for our parties all over the US. I'm most excited about going to Tokyo for the Auto Salon in January! I really want to expand my modeling overseas.
PAS: Any shout-outs or last words?
Lisa Fleming: I just want to give a shout-out to SunAuto, Formula D, Bombshell Poker and all of my friends… I have too many so I don't want to name any because if I forget one, I'm screwed! Laughs Don't forget to check my website (www.lisakimfleming.com). Muah!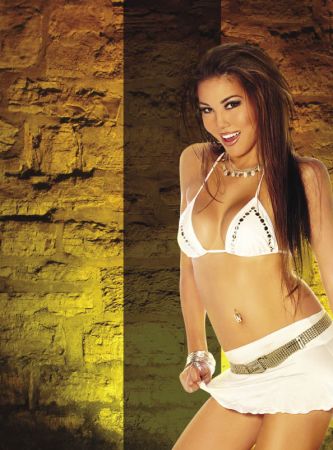 {yoogallery src=[/images/phocagallery/910_Lisa_Fleming] width=[150]}